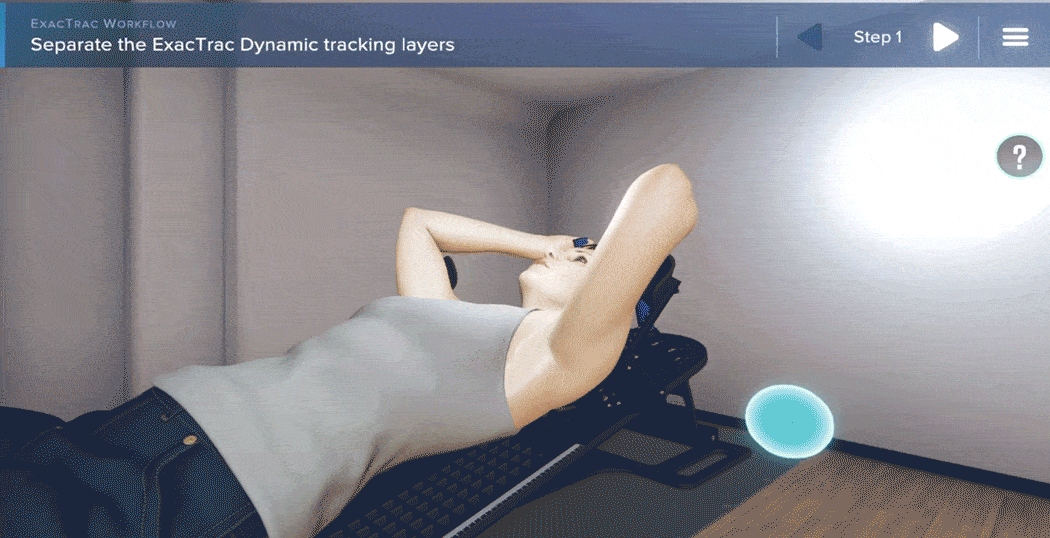 Q&A: Med Tech Prioritizes Remote Training & Amplifies Clinician Reach
When you can't bring physicians on site to train on a complex medical device, what are the alternatives? We sat down with Patrick Murphy, Director, Oncology Portfolio from Brainlab, to learn how Level Ex addressed this issue and other challenges with cutting-edge video game technologies.
What business challenges did Level Ex solve for Brainlab?
Level Ex has helped us to address a number of challenges. First, the best way to get clinicians to understand our advanced radiation therapy technologies like ExacTrac Dynamic with our upcoming new technique for Deep Inspiration Breath Hold (DIBH)* is through an on-site visit. Installation of ExacTrac Dynamic is not feasible outside of the clinical environment because of the infrastructure and interfaces required of the highly integrated radiotherapy device itself, so demonstrations at trade shows or hospitals are limited to videos and software screenshots. However, hands-on experience is the best way for our customers to fully understand the benefits of the system. Additionally, from a sales standpoint, it can be challenging to educate customers using only standard sales enablement tools like passive slide decks and 2D animations. Our customers have very busy clinical schedules and limited time so it can be difficult to get them to engage.
What were your goals for this project?
One goal was to have Level Ex replicate a site visit experience without the time and resources required to take customers to a hospital, to our Chicago training center or to our global headquarters in Munich, Germany. The COVID-19 pandemic meant that most site visits were no longer feasible, so the Level Ex solution proved to be even more valuable because it's globally accessible and virtual.
We launched our new experience at the American Society for Radiation Oncology (ASTRO) annual meeting, showcasing how ExacTrac Dynamic is used with our new Deep Inspiration Breath Hold technique.
Excerpt from the Brainlab ExacTrac Dynamic Deep Inspiration Breath Hold Virtual Technique Guide
Why did you choose to work with Level Ex?
Level Ex was the ideal partner to help us create a medical device simulation because of its history creating engaging experiences for physicians. As the President and CEO of Brainlab, Stefan Vilsmeier, said, "We began working with Level Ex in 2019 for several reasons. They are the best at disseminating best practices through video games, and they are unrivaled in their level of ergonomic user interaction, gaming-industry-quality 3D graphics, precise physics models, and game mechanics psychology." We knew that Level Ex would be able to immerse Brainlab customers in an experience that would engage them in ways that are different from typical animations while educating them on ExacTrac Dynamic, all without the need to travel to another facility. We also wanted something that people would enjoy using as opposed to a dull animation or cliche VR experience that lacks meaningful interaction.
What Level Ex solutions were selected to address your challenges?
As far as Level Ex products, we are primarily using Virtual Technique Guides (VTG) delivered on Remote Play™ . The VTG allows users to engage, step-by-step, with a virtual version of our ExacTrac Dynamic system. Remote Play™  allows us to stream that experience online with multiple users. What's cool about the VTG platform is that it's remote and interactive. Whether you're on Microsoft Teams or Zoom, you simply send a link, and the clinician enters the shared experience from any device. Our customers can use a digitized ExacTrac Dynamic system while the sales reps participate in tandem, coaching them on the benefits of the product, as if they were on a virtual site visit: "Okay, see how you started the patient treatment. Or now the system is monitoring patient position using thermal imaging." They're able to talk through the experience together. You don't sacrifice any quality even though it's streaming online. VTGs are hyper-realistic, with high-end graphics and realistic anatomy, and there's definitely a "wow factor" that takes the interaction beyond something like watching a video or reading a PDF and makes it memorable.
Why were those solutions chosen?
One of the best reasons to use the Level Ex solutions is that they not only work as educational tools, but they stand out. Customers are used to getting the same types of sales presentations from every vendor—and here, we send them a link and they're dropped into an experience, through which they clearly grasp the benefits of the medical device. They say things like, "Wow, that's easy to use and you get a good sense of the clinical benefit. No one else is doing this. I can really see what's going on now." They remember the experience because it's so unique. They also remember the details of the experience: it digitizes the workflow in a way that makes it easier to internalize information. It's like you're actually using the ExacTrac Dynamic system. It's impossible to not deepen your understanding after you use a Level Ex VTG.
How did healthcare professionals (HCP
s

) respond? How did it resonate?

On the customer side, we've seen a lot of success. Healthcare professionals have found it impressive, clear, realistic, and informative. One radiation oncology administrator told me, "I haven't seen a platform like this that makes you feel like you are controlling the system. It allows you to see the superior benefit of the technology, especially now when you can't go on site. This is possibly the best training aid and product demo I've ever seen. No one has taken a demo to this level to help me understand their technology." A radiation oncologist shared that he saw the potential to present different clinical scenarios and appreciated the interactive nature of the ExacTrac Dynamic VTG: "The demo gives me a higher degree of confidence in patient safety with the level of detail provided by the software. The real-time animation shows the steps and allows you to play around with the real settings and tools to simulate a true patient workflow."
How have you integrated VTGs into your sales process, and what has been the return on investment?
For Brainlab, VTG and Remote Play™  have been a huge help. We've linked this experience to a large number of completed deals. In just 6 months, VTGs have become completely integrated into our sales process. We've included it in nearly 100 unique customer presentations, which, for capital equipment like this, is significant. The adoption by our sales teams has been dramatic—sales always wants to utilize VTGs because healthcare professionals understand the concepts immediately. Also, the relative ease of use for sales to include VTGs in their process is compelling (they use it independently without needing extra guidance). Then, as I mentioned, we use VTGs for medical device training post sales, providing ample and valuable utility. 
How else do you utilize the Exactrac Dynamic VTG? In what scenarios?
We use it for shorter sales demos as well as for longer, more thorough device training. It's very versatile. Outside of the remote training, we can take that experience offline to allow people in our conference and trade show booths to try out ExacTrac Dynamic.
How do you use it at trade show booths specifically?
The goal with our DIBH demo that we debuted at ASTRO is to have someone come to the booth, understand the advantages of using ExacTrac Dynamic for DIBH, and then leave the booth with a complete understanding of our unique workflow; for example, with this VTG they can appreciate the value of X-ray imaging to see internal anatomy while the patient is at the breath-hold level. The ExacTrac Dynamic DIBH booth experience provides the same graphic fidelity and accuracy that I mentioned before, but it uses video game mechanics for added excitement and memorability.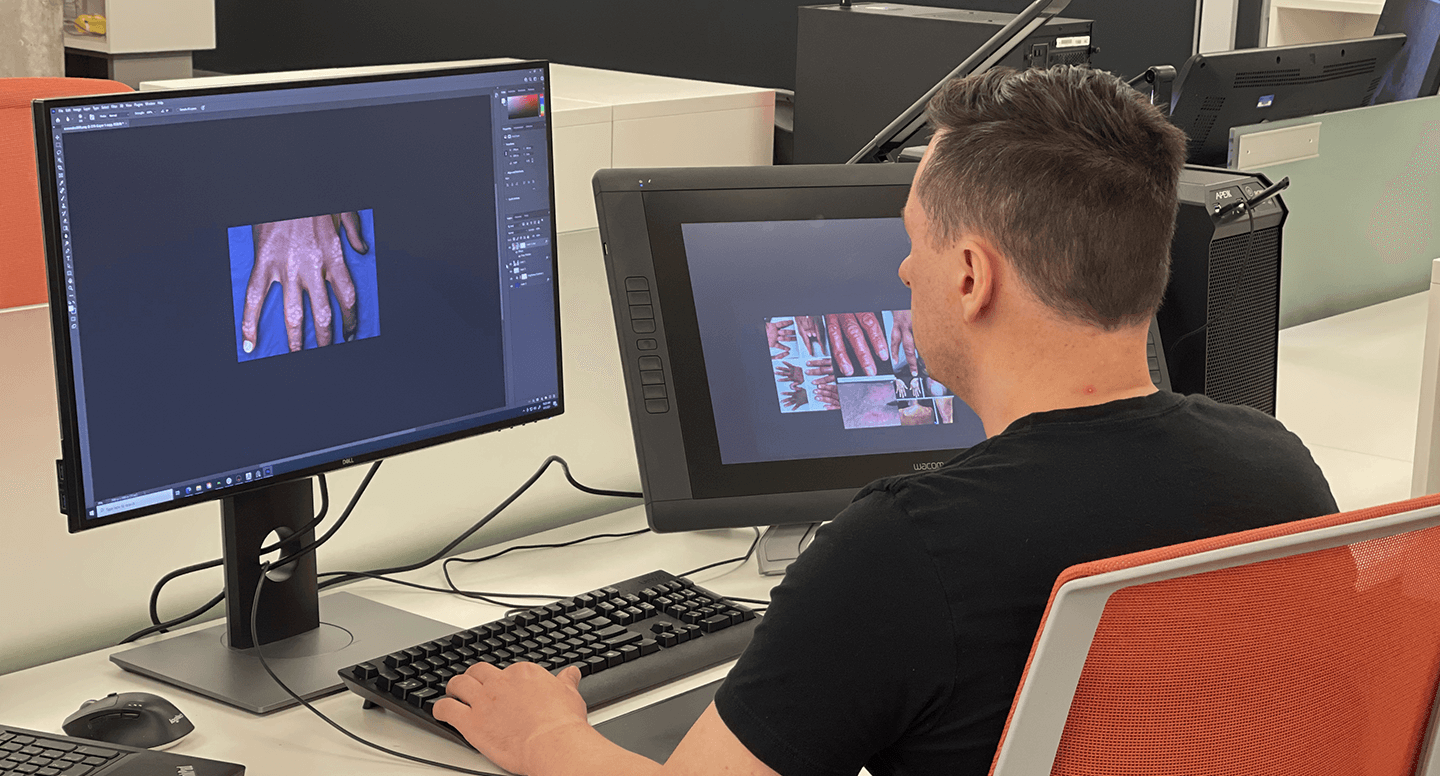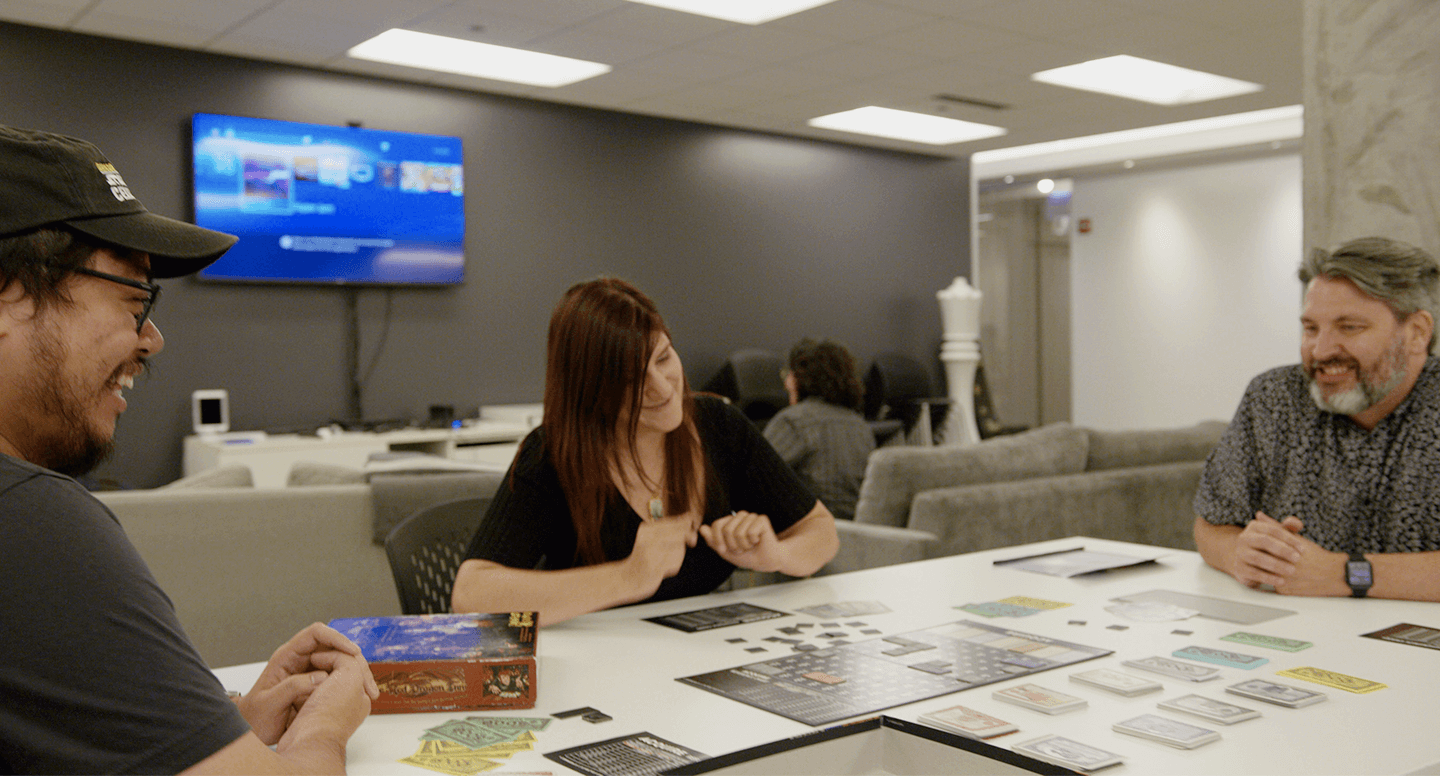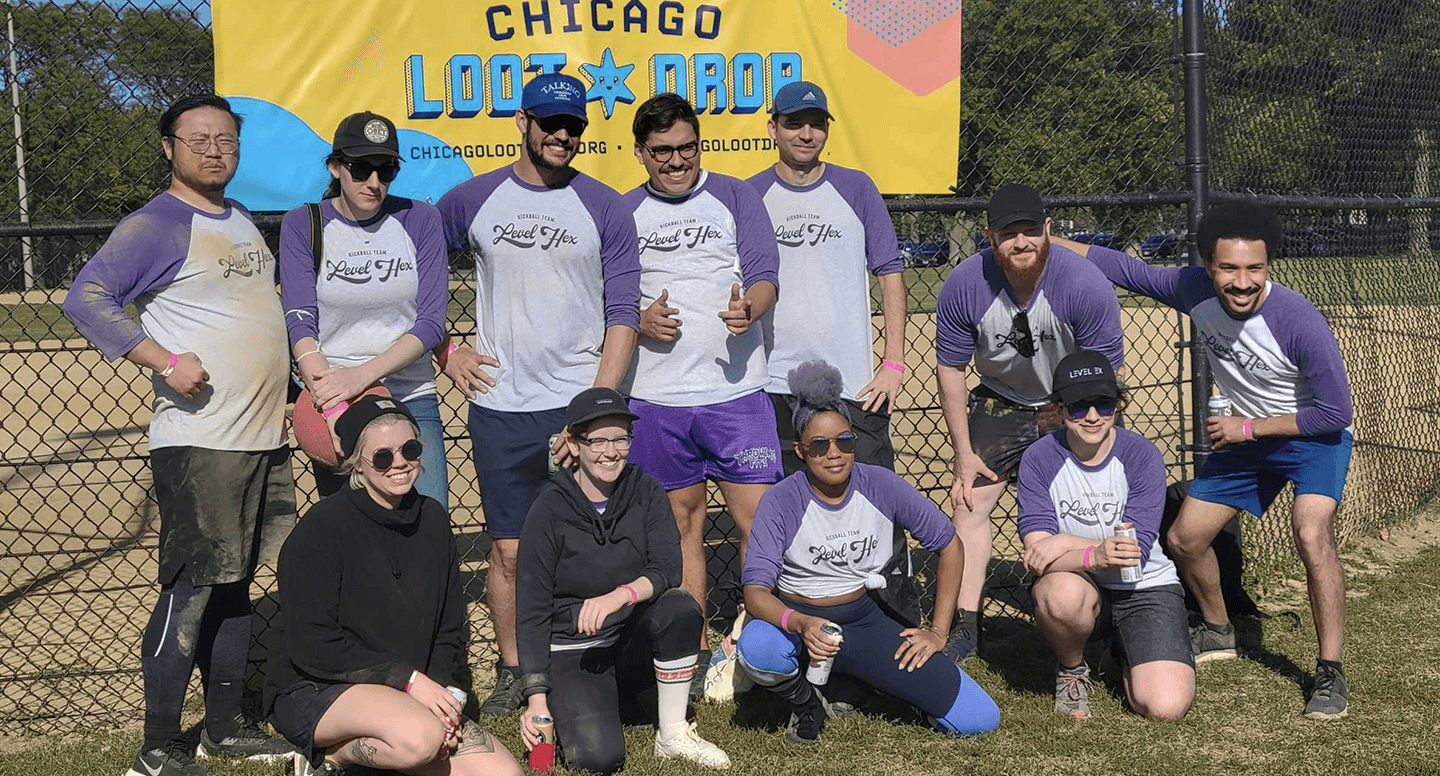 Healthcare professionals using the DIBH ExacTrac Dynamic experience at ASTRO
How do you see others in the medical device industry taking advantage of a product like Virtual Technique Guides with Remote Play™  to engage HCP
s

?

There's a wide spectrum of what you can do with a VTG: You can use it for quick demos to generate interest at events, for extended sales demonstrations, or for in-depth medical device training. If your training incorporates interactive tactics, it's more easily understood by the user when to use the medical device and how to use it, and therefore it would increase adoption. Quick reference guides are another option, during which you could focus on a very specific part of the workflow. Having that wide range of options provides continuity in the way a company messages and communicates.
Do you see applications for audiences beyond HCP
s

?

Companies could also use VTGs to present to hospital administration. Few CFOs or CEOs at hospital systems are able to take the time to sit through a sales presentation; if you create a link to an experience, they can try it on their own time. You've now provided them with something interactive, and they can try it themselves and really understand the value. The fact that you can use a VTG asynchronously means that someone internally at the hospital who is an advocate for your technology can pass this along so other decision makers can experience it themselves. Similarly, we've had large hospital groups ask us if they can deploy our VTG experiences internally. If a hospital system wanted to promote an implant or a device as their preferred tech across a large network, they could internally share a VTG, and it would then help them to drive utilization of that across the network to standardize care. The VTGs could also be great for patient education.

Interested in how Level Ex Virtual Technique Guides can add value and utility to your medical device? Start a conversation with us today.

*Works in progress.