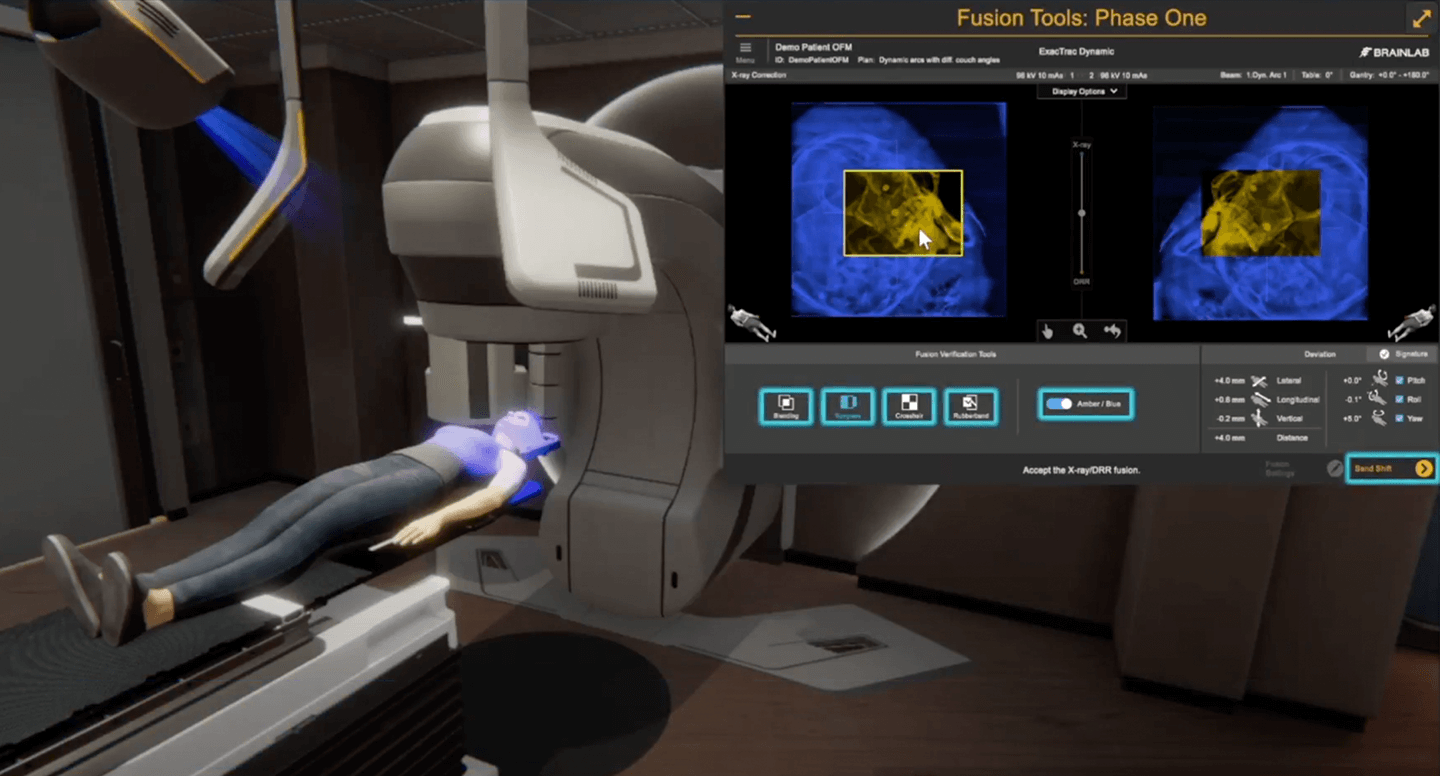 Reducing Barriers to Entry in Medical Device & Surgical Training
Have you ever invited surgeons to a training session that could have gone better? These stories are all too familiar in the world of medical device and surgical training.
You're in a virtual meeting, and after 3 tries and 10 minutes, you still can't get your presentation to screen share correctly.
You've launched a learning management system (LMS) on your website that is packed with valuable information, but medical professionals bounce almost immediately.
Physicians arrive at your training session, and the simulator that you have dragged hundreds of miles isn't working. By the time you get it running, you've lost half your audience.
These examples highlight the importance of reducing barriers to entry, such as fragile equipment, confusing interfaces, or tricky software. Requiring an instructor and learner to be in the same physical location can also become a barrier, as evidenced by the COVID-19 pandemic. When learners are extremely busy physicians, smooth and time-efficient training is even more essential. The bottom line: the more complicated and the longer it takes to get into an experience, learners' motivation and commitment plummets. The following blog post explores reasons behind this falloff rate and offers solutions to reduce barriers to entry, accelerate learners' access to training, and increase the reach and scale of surgical and medical device training.
Examining Technological Barriers and Human Frustration
When training a physician or surgeon on something inherently complex, like a surgical procedure or medical device, straightforward and effective training methods can aid in adoption. Multiple studies have demonstrated that "the more complex an innovation or the setting in which it is introduced, the less likely it is to be successfully adopted, scaled up, spread, and sustained."1 Researchers have tested theories (i.e., technology acceptance model, innovation diffusion theory, and the unified technology acceptance and use of technology model) and defined factors that influence one's willingness to adopt technologies. Some of the factors identified in these models are utility and ease. Technology is more likely to be adopted when it is perceived to be valuable and simple to use. Other influences for uptake include relative advantage, compatibility, complexity, opportunity for a trial, and observability (see figure below).2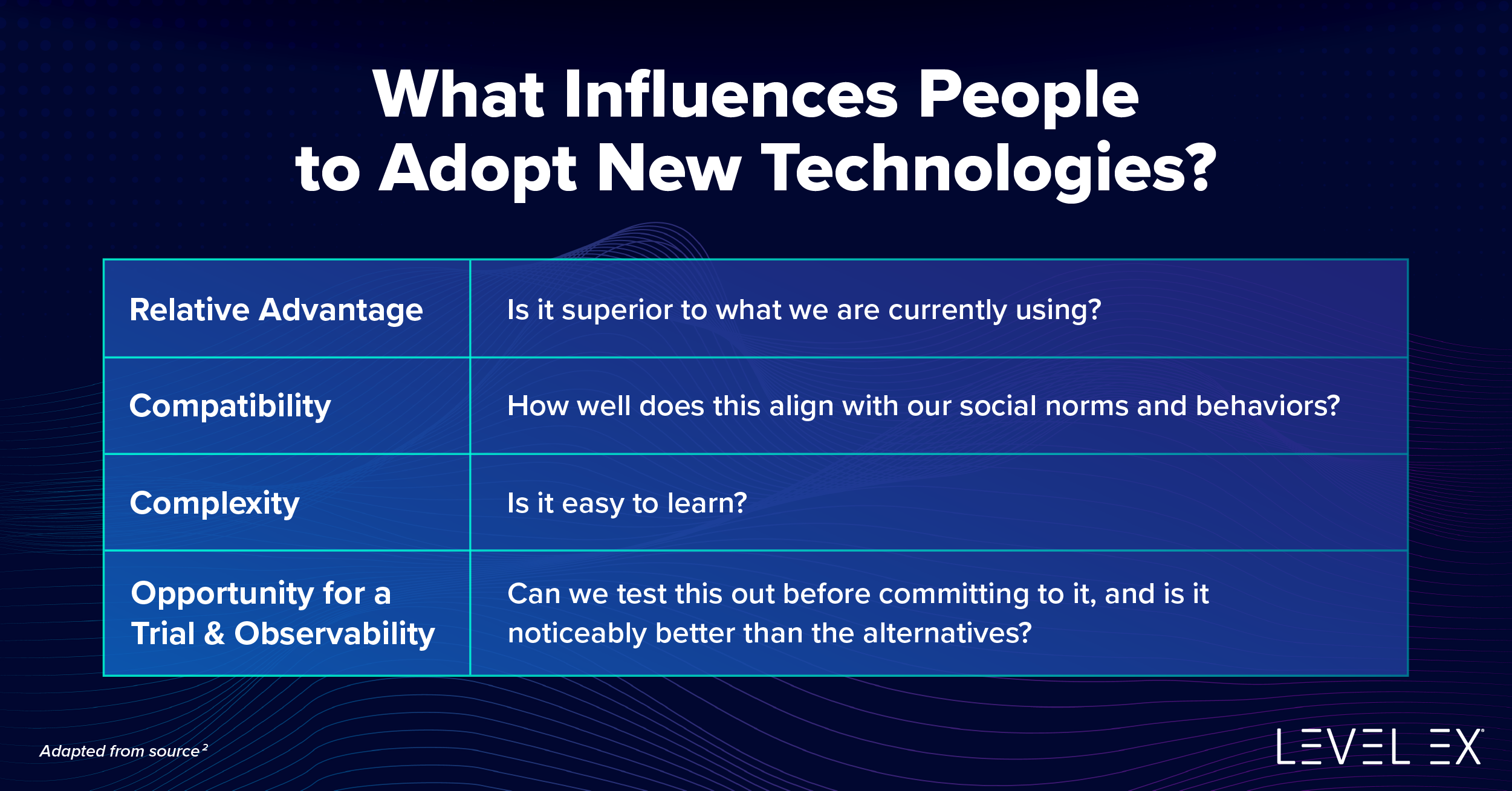 On the positive side, this indicates that when new technology is perceived as important to learn, due to its value or advantages, people may tolerate inconvenience and will be motivated to learn it (eventually). In a crowded market place, however, it could mean that healthcare professionals (HCPs) go with the most user-friendly and convenient option to learn.
HCP-specific data supports these claims. One study reviewed 74 journal articles and identified barriers to entry and technology adoption. Major takeaways from the study related to design and technical concerns: technologies should be intuitive, easy to use, and compatible with existing systems.3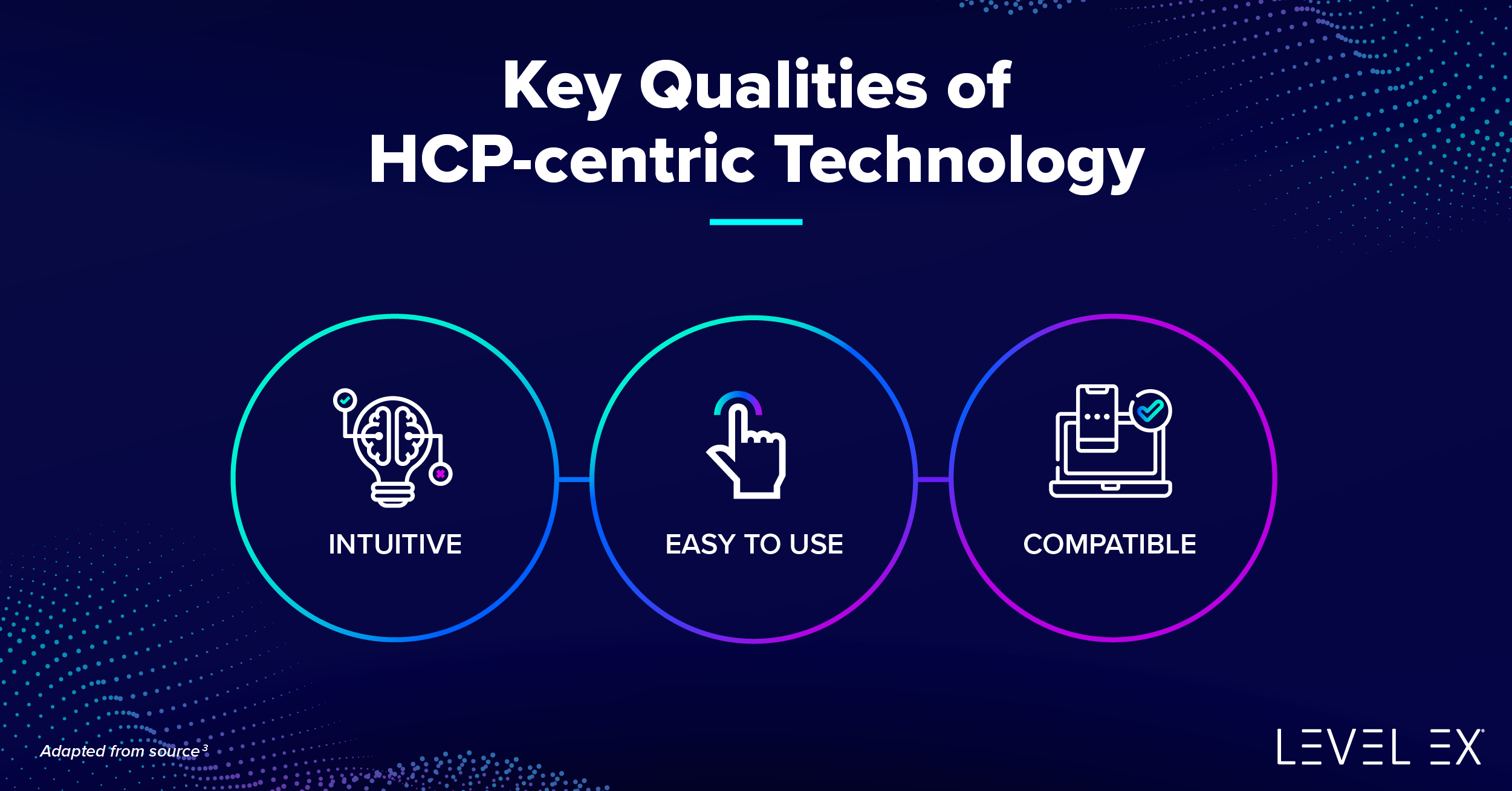 When glitches happen, we must also consider the larger context: how much are learners feeling frustrated, emotionally drained, and impatient—and how is that impacting their learning? Faulty technology influences mood: a survey of over 2,000 US adults revealed that 36% had recently reacted to technology challenges by resorting to "profanity, screaming and shouting, or by striking [technology] with a fist or other object."4 In another study of working adults, 30% of whom worked in healthcare, researchers investigated how technological issues impacted productivity, mood, and even interactions with coworkers. On a scale of 1-9 (with 9 meaning the most frustrating), 71% of technological problems caused frustration levels of 7-9, and 34% were rated at level 9.5 Neurologically, frustration, boredom, and even surprise can negatively affect learning, attention, perception, and memory, and lead learners to give up.6 The solution is not to return to luddite ways but to assure that remote training is well-designed and minimizes frustrating, unanticipated barriers.
Another important consideration is that HCPs may experience worse hesitancy and frustration because of already tolerating other clunky, mandated technologies like EMRs in everyday practice.7 For example, one study of 15,505 HCPs showed that they experienced frustration with technology on at least 3-5 days per week; researchers concluded that the experience is "common but not ubiquitous among healthcare workers, and it is one of several work-life integration factors associated with emotional exhaustion. Minimizing frustration with healthcare technology may be an effective approach in reducing burnout among healthcare workers."8 With this in mind, a smooth and HCP-centered medical device and surgical training approach is paramount.
Reducing Barriers to Entry with Remote, Cloud-based Training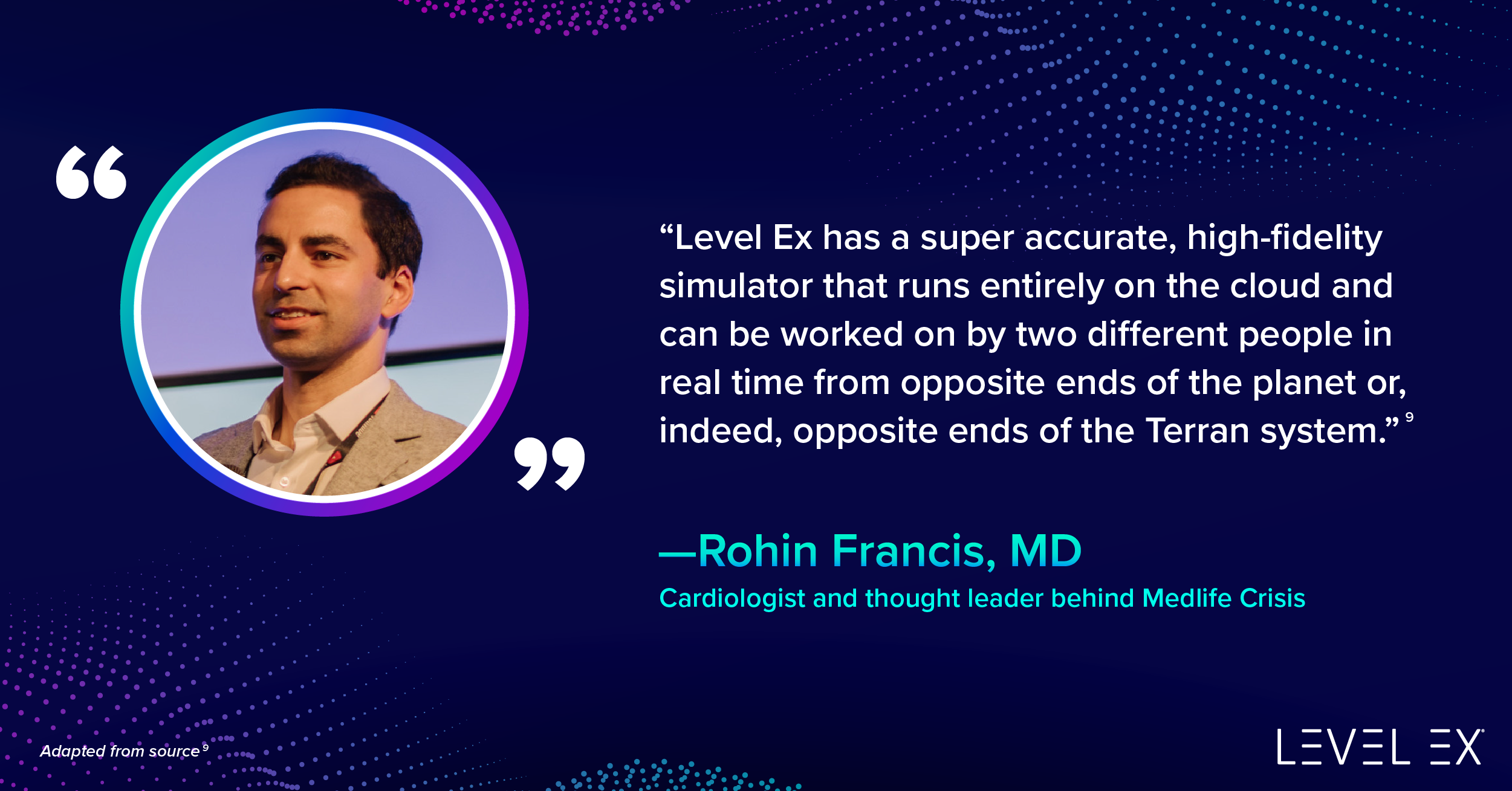 One way to ensure that training experiences run more smoothly from the onset is with remote, internet-based training. Remote surgical training has gained traction, especially as the COVID-19 pandemic encouraged the healthcare industry to adapt and innovate.10 Such training removes the need for the learner and teacher to be in the same physical location. Additionally, utilizing the cloud for surgical and medical device training increases reach and scale. With a cloud-based training solution, HCPs in rural areas, and in any country with an internet connection, can participate. Trainers can also reach far more surgeons in the same amount of time with greater convenience because myriad learners can access and engage the same content in the cloud.
Level Ex offers a remote solution to address barrier-to-entry pain points. Virtual Technique Guides by Level Ex allow HCPs to explore and master how a medical device is used through interactive virtual training that streams over the internet and is constantly accessible. Learners do not have to worry about logins, special downloads, or particular equipment/hardware. They use technology that they are already familiar with: their own computer or phone, a web browser, and a web conferencing tool like Zoom, Webex, or Microsoft Teams. Inside the guide, users can go through the steps alone or with another surgeon or sales rep. The two can use the experience together and collaborate in real time. This technology utilizes the first ever cloud-based platform for multi-user remote HCP engagement.
Virtual Techniques Guides Solve the Barrier-to-Entry Issue
Convenient for HCPs. Respect HCPs' limited time with a training method that allows immediate, seamless entry. Virtual Techniques Guides can be used on demand with any web conferencing platform. It can also be integrated on your website or in your LMS.
Global reach. Learners anywhere can access your content. You can have several people in the same experience at the same time on any device with internet access and a browser.
Stress-free coordination. If you are organizing training, you only need to provide a link or QR code to get your learners into the experience. You do not have to worry about the devices of your participants, who can use their desktop computers, phones, or tablets. Level Ex's solution is device agnostic. Similar to a platform like Netflix, they only need internet access and a web browser—but even better, there is no login required.
Reliable, high-fidelity training. Level Ex's platform runs on high performance graphics processing units (GPUs) that allow complex real-time computing in the cloud. This enables two or more surgeons to operate on the same virtual patient or use the same device in real time from different cities or countries.
In an instant gratification culture, with little tolerance for technological hiccups, Level Ex solutions can help you stand out as customer-centric and forward-looking. Reducing barriers to training also brings the medical community closer together to exchange vital information. As Rafael Grossmann, MD, FACS, trauma surgeon and medical futurist, shared while using Virtual Technique Guides, advancing healthcare "is about improving communication and connectivity, and right now we're doing this virtually with no boundaries. It happens instantaneously; it happens collaboratively. Healthcare is about teamwork. The beauty of this is that we are on a laptop computer. With a regular smartphone and connectivity we can [facilitate] team-building, skill-building, and lifesaving training."11
To get your medical device or training on Level Ex's platform, or to learn more, contact us today.
Written by Bethany Brownholtz, Senior Copywriter of the Level Ex Team