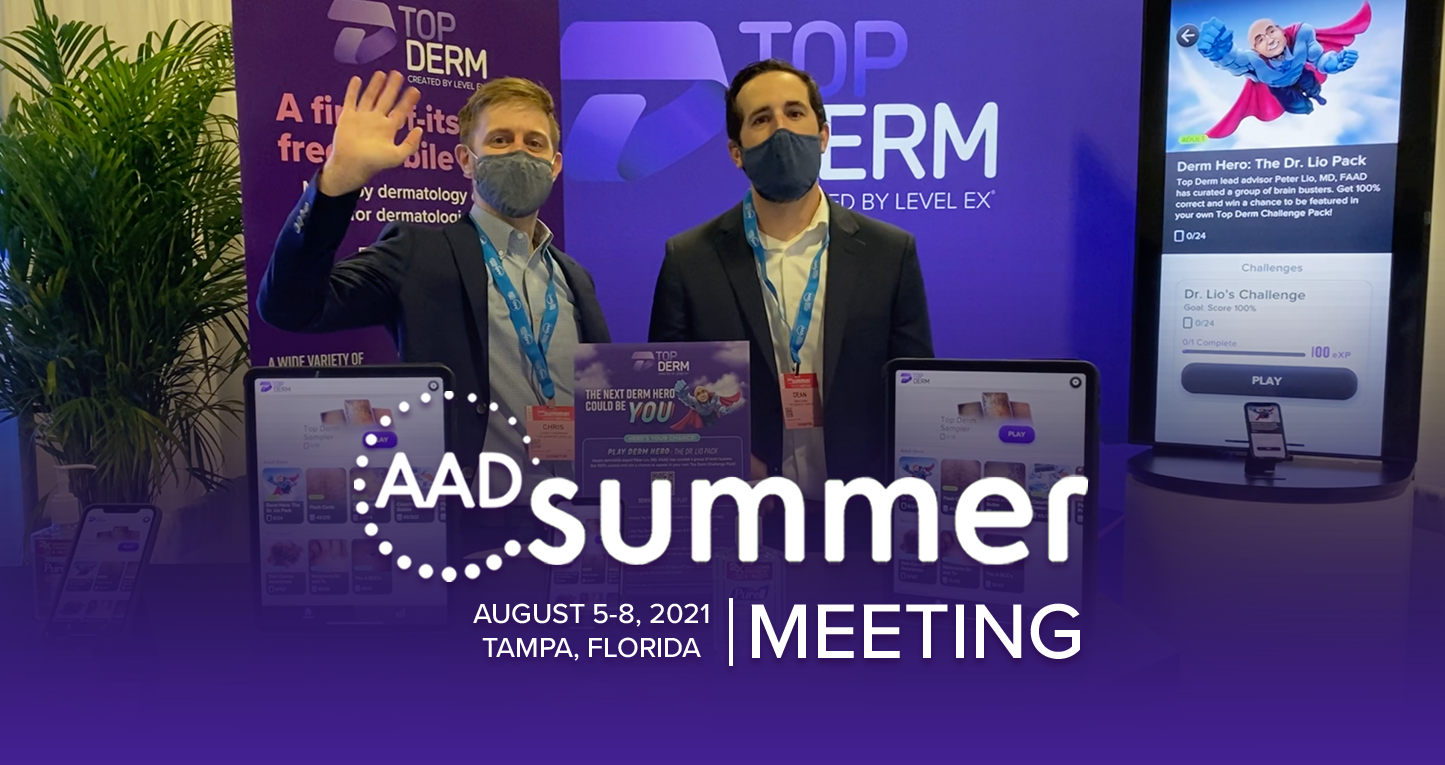 Using Video Game Technology to Create a Memorable AAD Summer Meeting
In an exhibition hall, amidst the hustle and bustle of a medical conference, how do you forge meaningful connections with physicians? When attendees aim to learn, and catch up with colleagues who they have not seen for over a year, how can you become an attraction instead of an unwelcome distraction?
Game technology. These interactive and visually compelling experiences are where Level Ex turns to generate impactful educational solutions for doctors and healthcare industry partners—and it's where we turn when thinking about how to build an effective conference experience.
Step into our American Academy of Dermatology Association (AAD) Summer Meeting booth. This year we were ecstatic to premier Top Derm, our dermatology mobile game, in its natural habitat. Dermatologists stopped by to learn more and play, intrigued by a knowledge-building game in their speciality and the opportunity to dive right in:
Attendees could grab a tablet and start exploring the wide range of topics covered in Top Derm: skin cancer, pediatric dermatology, adult dermatology, cosmetic dermatology, surgical dermatology, and more. Dermatologists also appreciated Top Derm's high-resolution imagery, embedded in each challenge, including images of Fitzpatrick types IV-VI that are hard to access or unavailable elsewhere. As one dermatologist shared with us, "I always struggle with skin of color diagnosis, so having it in a game to practice is helpful." Our goal is to include well above the industry average of darker skin tones in Top Derm to continue to address representation disparities in dermatology education.
Other visitors to our booth included pharmaceutical industry leaders who were interested in learning about how to incorporate video game technology into their brand planning to better engage and educate dermatologists. We were glad to observe that, despite a slightly lower attendance than previous years, pharmaceutical companies of all sizes were present (such as Boehringer Ingelheim, Pfizer, and Galderma), and they were able to have meaningful conversations with dermatologists about new products and exciting developments on the horizon.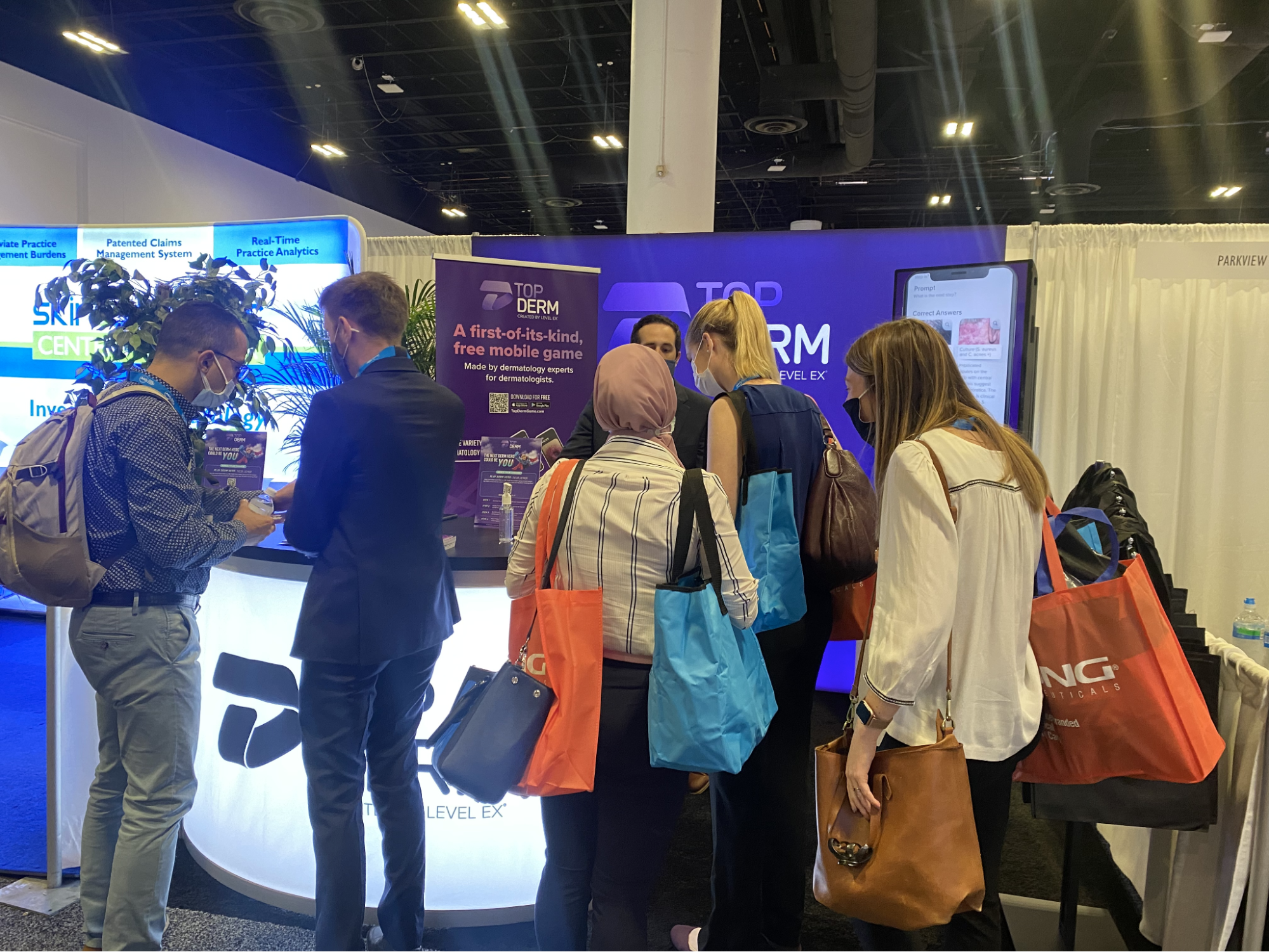 Both healthcare industry partners and dermatologists alike were drawn in by our Top Derm contest, specially created for the event. Conference moderator and speaker, and renowned dermatologist, Dr. Peter Lio, developed a challenge pack for Top Derm. Dermatologists who answered all questions correctly in "Derm Hero: The Dr. Lio Pack" were entered into a contest to win a chance to be featured in their own challenge pack. This allowed dermatologists already familiar with Top Derm to re-engage with the game and learn more about one of Dr. Lio's expertise areas, atopic dermatitis. Best of all, dermatologists across the world—whether attending AAD or not—could participate.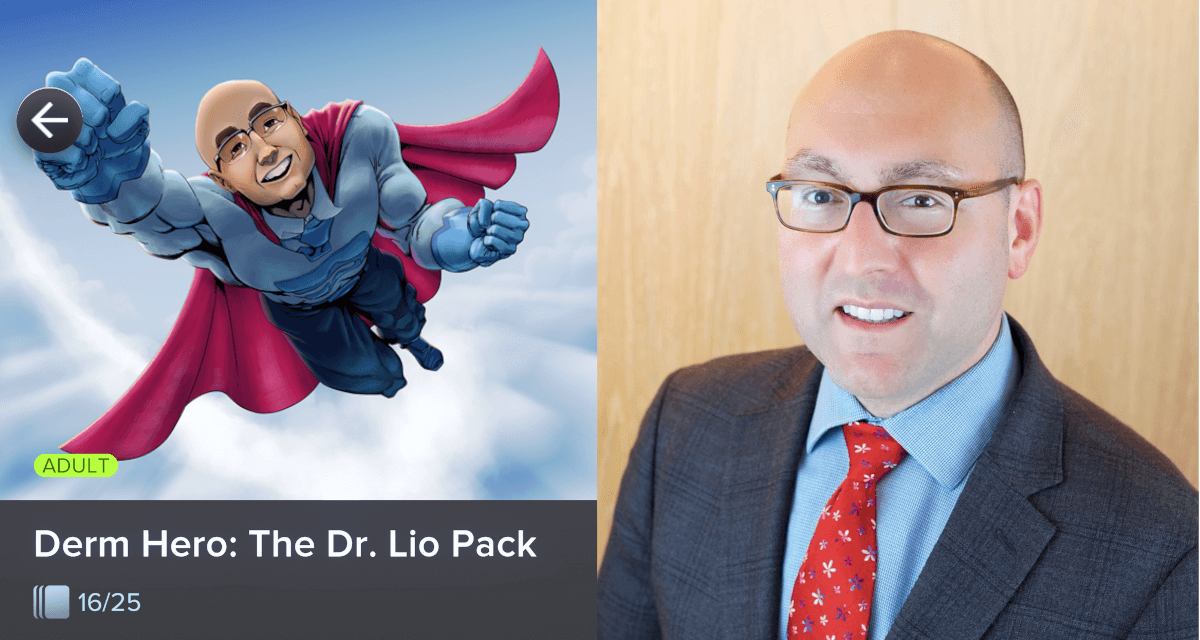 We ran a special contest during the AAD Summer Meeting that featured Peter Lio, MD, FAAD, pictured above.
The beauty of a mobile platform is that many attendees had already played Top Derm since its US release in June, having heard it discussed on the Dermasphere Podcast and elsewhere. We even met a dermatologist who playtested the original prototype and visited the booth to see how the game had progressed since the beta version. Being on mobile also meant that attendees could keep the fun going outside of the booth. They would grab a tote bag and a postcard and compete on their phone later at their leisure. One dermatologist admitted, "I'll play it tonight and maybe during some of the talks if they get boring." (Hopefully, no conference talks were harmed in the promotion of Top Derm, but we can't make any promises.)
To all those who visited the booth, it was great to meet you in person (!!!). Dermatologists, we hope to see you in the game. Keep leaving your feedback inside of Top Derm. To our partners and prospective partners, we enjoyed syncing up with you at AAD and look forward to advancing the practice of dermatology through game technology, together.
Let us help you build a memorable interactive experience at your next physician event—or from anywhere. And try Top Derm for free, a mobile game that takes the fun to wherever dermatologists are.