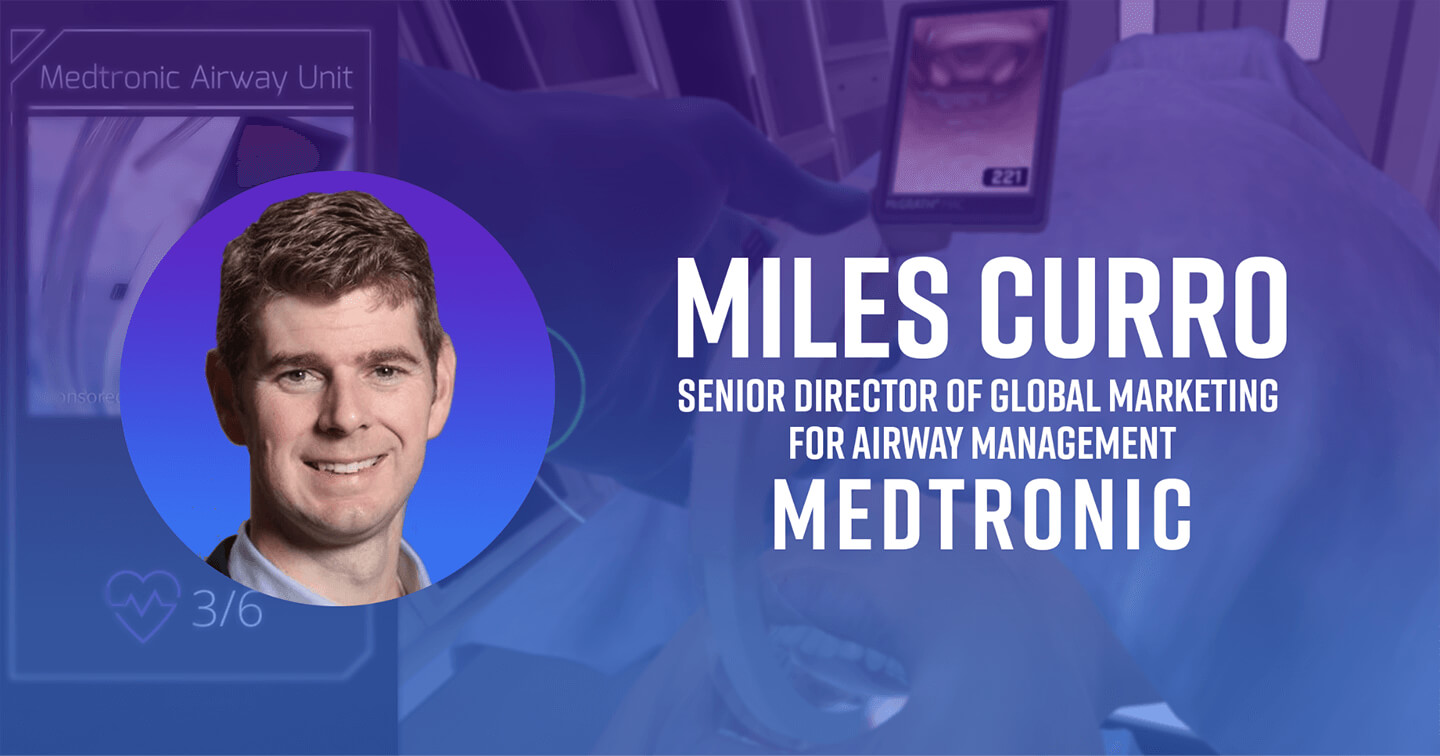 Working with Level Ex: An Interview with Medtronic
"Video games are something we're supposed to grow out of, but I bet if you were to pick up the phone of any anesthesiologist, they have at least one game on there. We're adults, we're still playing games, and that's OK."
—Miles Curro, Medtronic Senior Director of Global Marketing for Airway Management
In 2016, Miles Curro was searching for new and different ways to accelerate the adoption of the McGRATH™ MAC video laryngoscope among anesthesiologists. Level Ex was breaking new ground as well: harnessing video game technology and design to capture the challenges of practicing medicine. With a shared mindset and bold aspirations for the future of medicine, Level Ex and Medtronic teamed up. Miles reflects on the journey below:
Q: Medtronic was one of our first clients at Level Ex. Why did you decide to work with Level Ex initially?
A: When I met Level Ex, you were a small startup. It was at the American Society of Anesthesiologists (ASA) 2016 annual meeting in Chicago. You had a big screen at your booth and it looked like people were playing video games in front of it. Aircraft Medical had just been acquired by Medtronic, so we had a kind of a startup mentality as well. We were looking at how to do things differently from an integration standpoint, but equally how we would commercialize the video laryngoscope.
What caught my eye about Level Ex was that you brought a certain entertainment aspect to medical education and technical training and the fidelity was at such a high level.
Q: Medtronic has worked with Level Ex in a few different ways since 2017. Can you tell us about the projects you've worked with Level Ex on?
A: In a fun way, it's evolved. When we met, we were early in our journey with the McGRATH™ MAC video laryngoscope, and Level Ex was finding its way, too. So some of our baby steps were around virtual reality simulation. A lot of airway management training and exhibits tend to be with plastic mannequins that may lack situational realism. We saw an opportunity with Level Ex to create a virtual environment where you could perform an intubation. No one had ever done that before. So first, we redefined how you could experience an airway product at a convention or conference.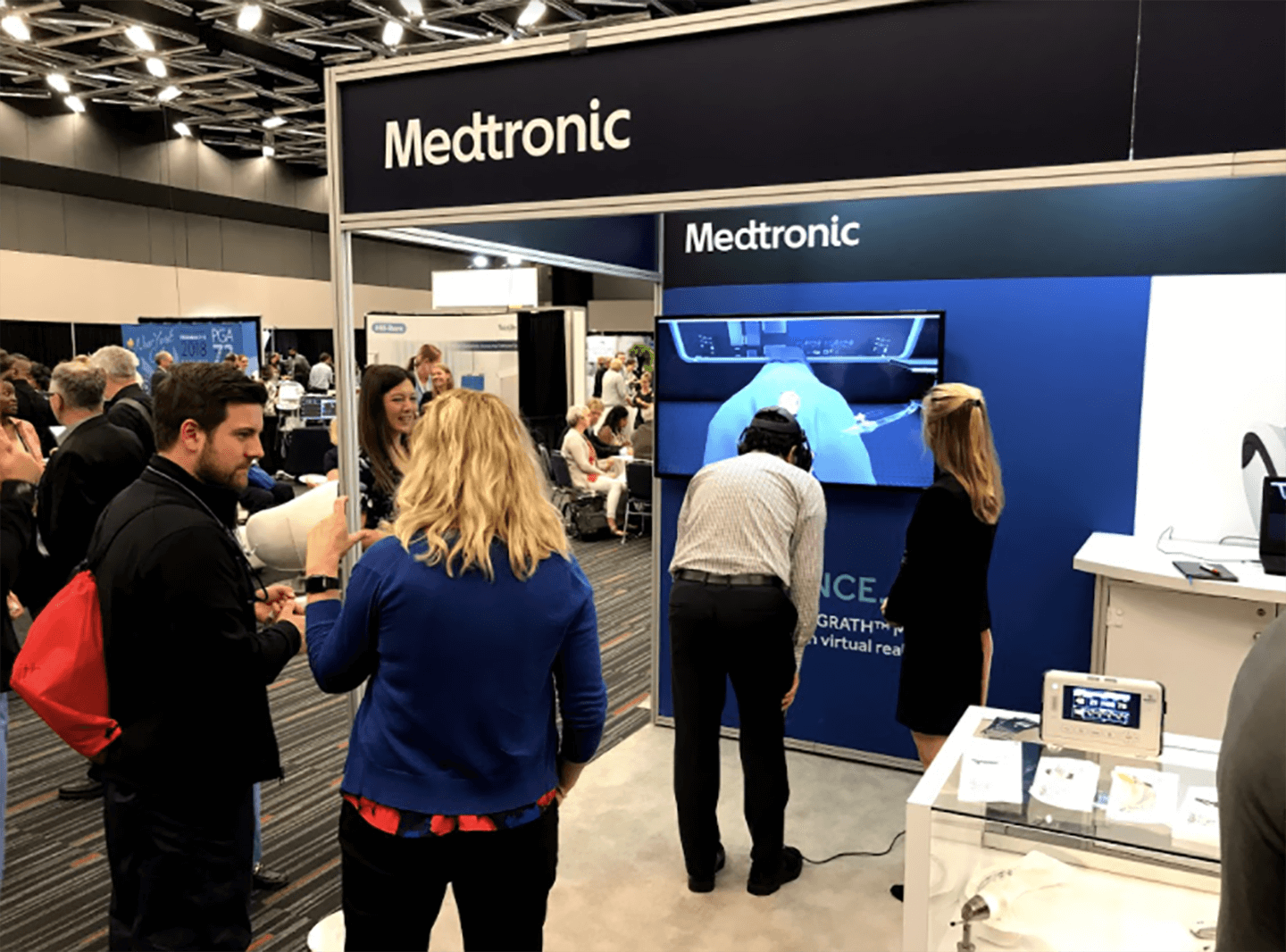 Level Ex showcasing the McGRATH™ MAC video laryngoscope virtual reality experience in the Medtronic booth at a medical conference in 2018.
Then that led us into some work around augmented reality. The relationship between Level Ex and Apple created an opportunity to do an augmented reality experience on iOS 11.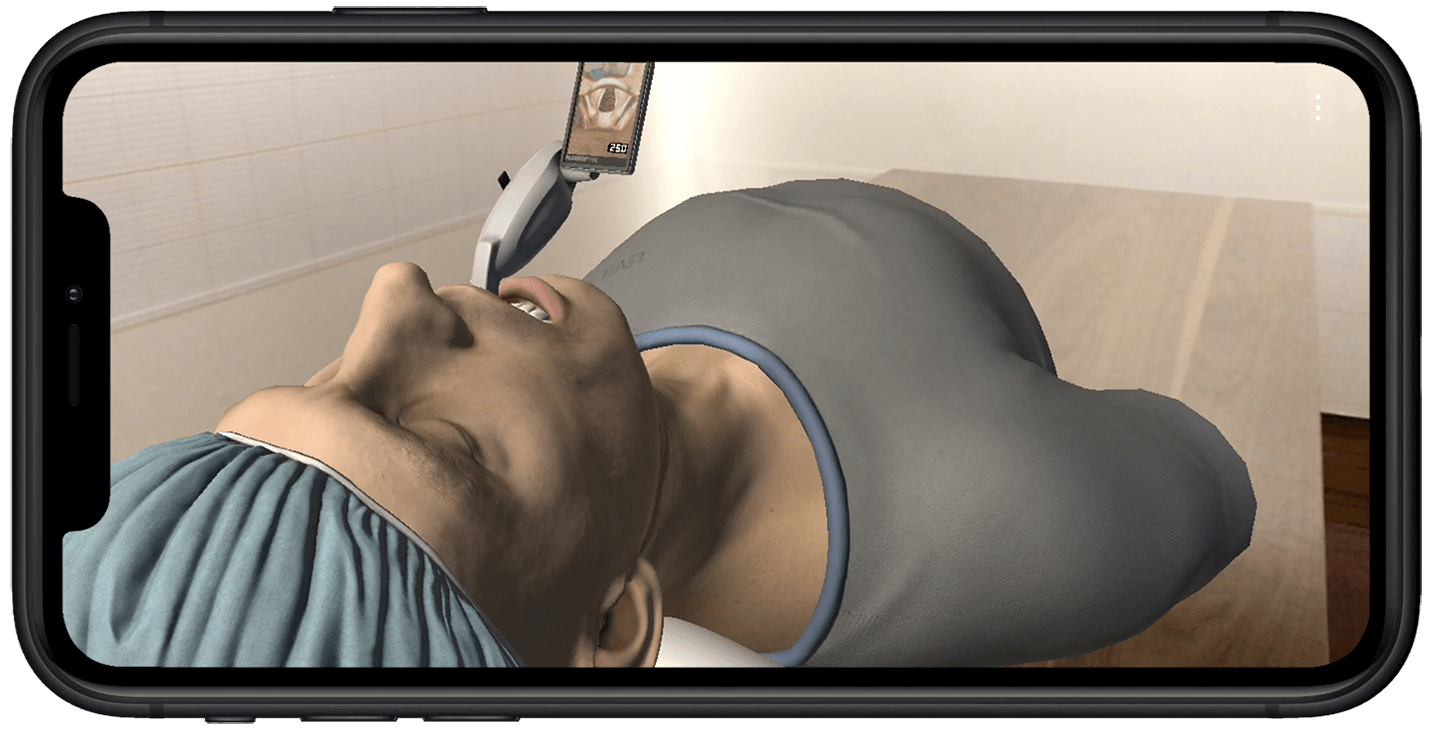 Image from the McGRATH™ MAC video laryngoscope augmented reality experience that Level Ex created in collaboration with Medtronic.
Ultimately, it brought us to Airway Ex, which was the high watermark of the relationship where we had app-based training and access to third-party content. It wasn't a Medtronic platform or app. It was something that Level Ex created that offered an entire ecosystem of relevant airway management content.
Q: What did the development process with Level Ex look like when you were developing the McGRATH™ MAC video laryngoscope levels in Airway Ex?
A: What struck me was how consultative it was. When I first came back to some of my colleagues and said, "Hey, we're going to do virtual reality and we're going to do app-based gaming to help educate on the McGRATH™ MAC video laryngoscope," I got a lot of "You're going to do what?" I think the concern was we were going to be making video games, rather than medical science content.
But from the beginning, Level Ex did a nice job of blending exceptional game development with the right amount of medical guidance and industry input so that what we were creating was exceptionally authentic. It was entertaining, but it was equally realistic. There was a lot of learning from Level Ex given by Medtronic and vice versa. And when it was appropriate, we would pull in physician experts for an objective perspective on the accuracy of the content we developed.
Q: Why do you think video games are an impactful way for physicians to learn?
A: I think at the beginning of this journey, people would have said it was not. Video games are something we're supposed to grow out of, but I bet if you were to pick up the phone of any anesthesiologist, they have at least one game on there. We're adults, we're still playing games, and that's OK.
It's a format that we've become more comfortable with, to the credit of Level Ex and other companies. The nature of that content is no longer viewed as just a video game. We're comfortable steering things with our thumbs. We're comfortable playing games and then being able to put something in our pocket or use that same device to make a phone call. I think it's just become a natural extension that a video game or a gaming platform can be equally valuable for medical education.
Q: How do the levels in the Medtronic Airway Unit benefit anesthesiologists and healthcare professionals?
A: What I would hope is that many times they don't even realize they're being taught something. They're experiencing something in these apps or in these virtual reality experiences that is entertaining, but at the same time they're learning subtle skills when it comes to the McGRATH™ MAC video laryngoscope—things such as the placement of the device, the range of articulation, elements that are subtle, yet inherently critical to the successful use of the device in a real patient.
I would also hope that they feel entertained and view this experience as fun and engaging. We've moved into a new dynamic where medical training can be every bit as exciting as playing a game if it maintains that balance of high fidelity with highly engaging content and environments.
"What I would hope is that many times they don't even realize they're being taught something. They're experiencing something in these apps or in these virtual reality experiences that is entertaining, but at the same time they're learning subtle skills when it comes to the McGRATH™ MAC video laryngoscope."
Q: As you refocus the McGRATH™ MAC video laryngoscope towards routine use, how do the Airway Ex games help reiterate that this product should be used for every intubation?
A: There are two aspects to the current content we have on Airway Ex. One is a pure tutorial, and the other introduces this gamified concept of risk. In real life, you don't always know what type of patient you're going to experience. One of the things that we historically struggled with is the perception that video laryngoscopy was only for a difficult intubation, one that you knew in advance was going to be more challenging. However, we've seen from the clinical literature that it's unpredictable when an intubation will actually be difficult.
So within our cases, we added an element of randomization so "players" wouldn't know what type of airway they were going to encounter. The idea was to reinforce the use of the McGRATH™ MAC video laryngoscope regardless of the patient. If you're performing laryngoscopy, you should lead with video laryngoscopy. With those two cases we could demonstrate the advantages of using the video laryngoscope on the first attempt.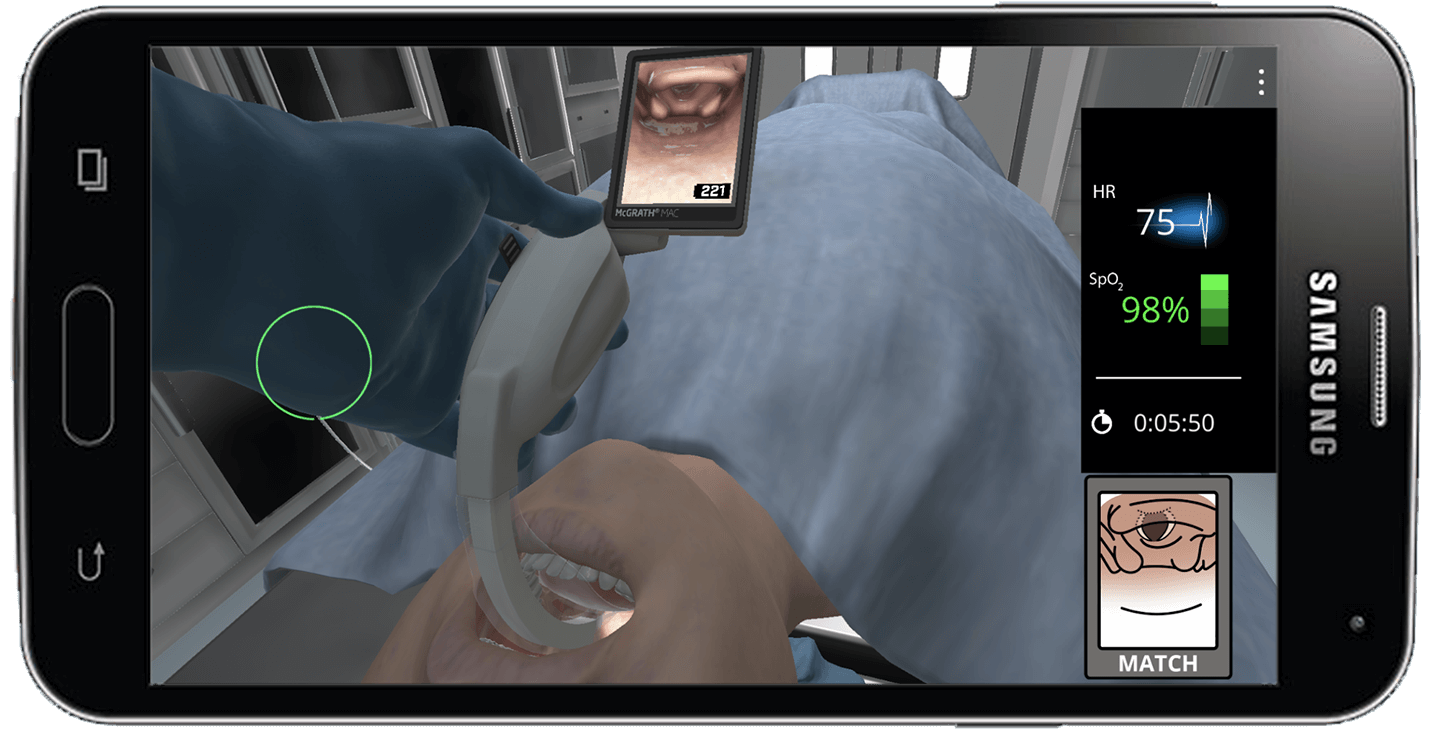 Image from the McGRATH™ MAC video laryngoscope experience in Airway Ex.
Q: How has our collaboration benefited your marketing efforts and Medtronic overall?
A: I think it helps us do more. I never saw Level Ex as replacing our traditional marketing efforts. They augmented them. It was in addition to and I think that was important because we had a bold aspiration to redefine a clinical practice that goes back to 1943. To do that, you have to simultaneously encourage adoption of this new technique with the thought leaders of today, but you also have to influence the thought leaders of tomorrow.
Airway Ex gave us a chance to introduce the McGRATH™ MAC video laryngoscope and the potential for a safer intubation through universal video laryngoscopy early in physicians' careers so that they become comfortable with video laryngoscopy and view it as their 'routine-use' device. But we tend to focus on the primary decision makers who are well into their clinical tenure, so Airway Ex expands the reach of our message to broader & often younger audiences.
Q: How does the program meet your specific product education needs?
A: First, it helps to highlight the technical use of the product. One of the McGRATH™ MAC video laryngoscope cases functions as a basic tutorial. The McGRATH™ MAC video laryngoscope, by design, should be intuitive to an anesthesiologist. It should look and feel like a traditional Macintosh laryngoscope, but there are subtle steps that we think can help you achieve the best result with that device. The nature of Airway Ex really does enable a new user, or even an experienced user, to effectively master those steps.
Equally, there's an obvious degree of promotional value with this and other digital formats. Airway Ex lives in an ecosystem that doesn't sleep. So we can drive awareness of these technologies and their applications in the way that we think is most beneficial to patients.
Q: How does the data you receive from your Level Ex program support your business?
A: We have received a high level of detail around the number of users, where those users come from, and what their background is. We know, for example, what type of physician plays these cases. Seeing this distribution of user type is helpful. We also get a good impression of how much time users spend engaged with the content. We can measure how long we have someone's attention, relative to a traditional sales call.
Within both the tutorial and the randomized cases in Airway Ex, we see at various stages how users perform. That's been a pleasant surprise for us.
More broadly, it is possible to see how often someone replays content, not to relearn something, but to refine their skill and hone that expertise.
Q: What is one of your favorite memories from working with Level Ex?
A: There is, and probably always will be, a unique tension within Level Ex. You have people who designed first-person shooter and sporting games working with chiefs of anesthesia and surgeons. Those two groups historically don't hang out together. The nature of Level Ex brings them together in one company and for one common cause.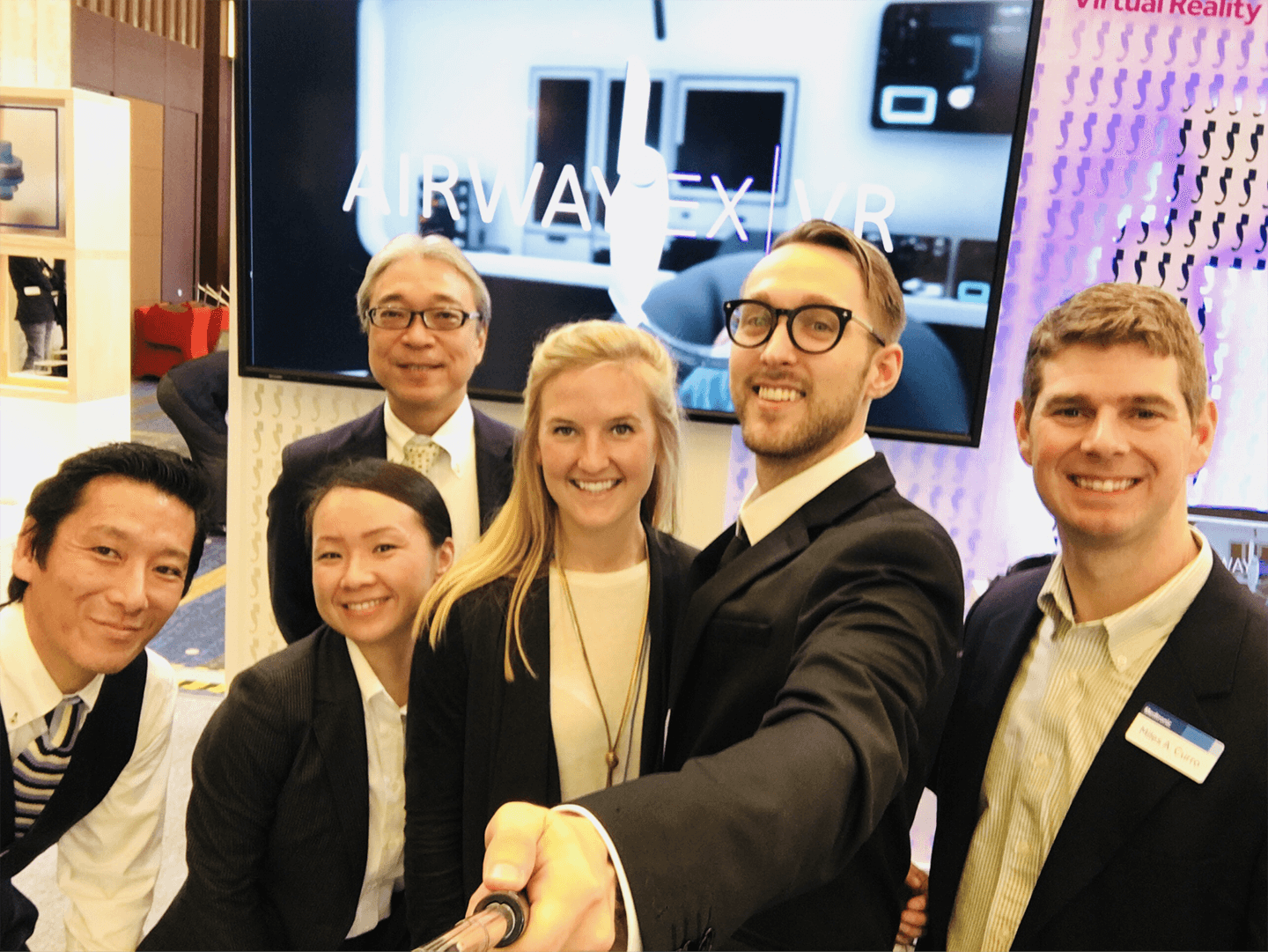 Level Ex'ers Rosie Hale and Ryan Blake (center) with the Medtronic Japan team (far left) and Miles Curro (far right).
Some of the funniest memories for me was watching that interaction. When we had some support from Level Ex in Japan, we were doing one of our virtual reality demonstrations and there were individuals from Level Ex who were game designers and artists interacting with people who'd spent careers in operating rooms and caring for patients. I like watching each learn from the other—watching a physician or an anesthesiologist in Japan learn something from a 20-something year old video game designer. Equally, that video game designer hearing things, seeing things, and how the physician was interacting with their experience and learning from that. There were moments of comedy and there were moments of humanity where you saw, despite such different backgrounds, we weren't so different and something like a video game or virtual reality could bring us a bit closer.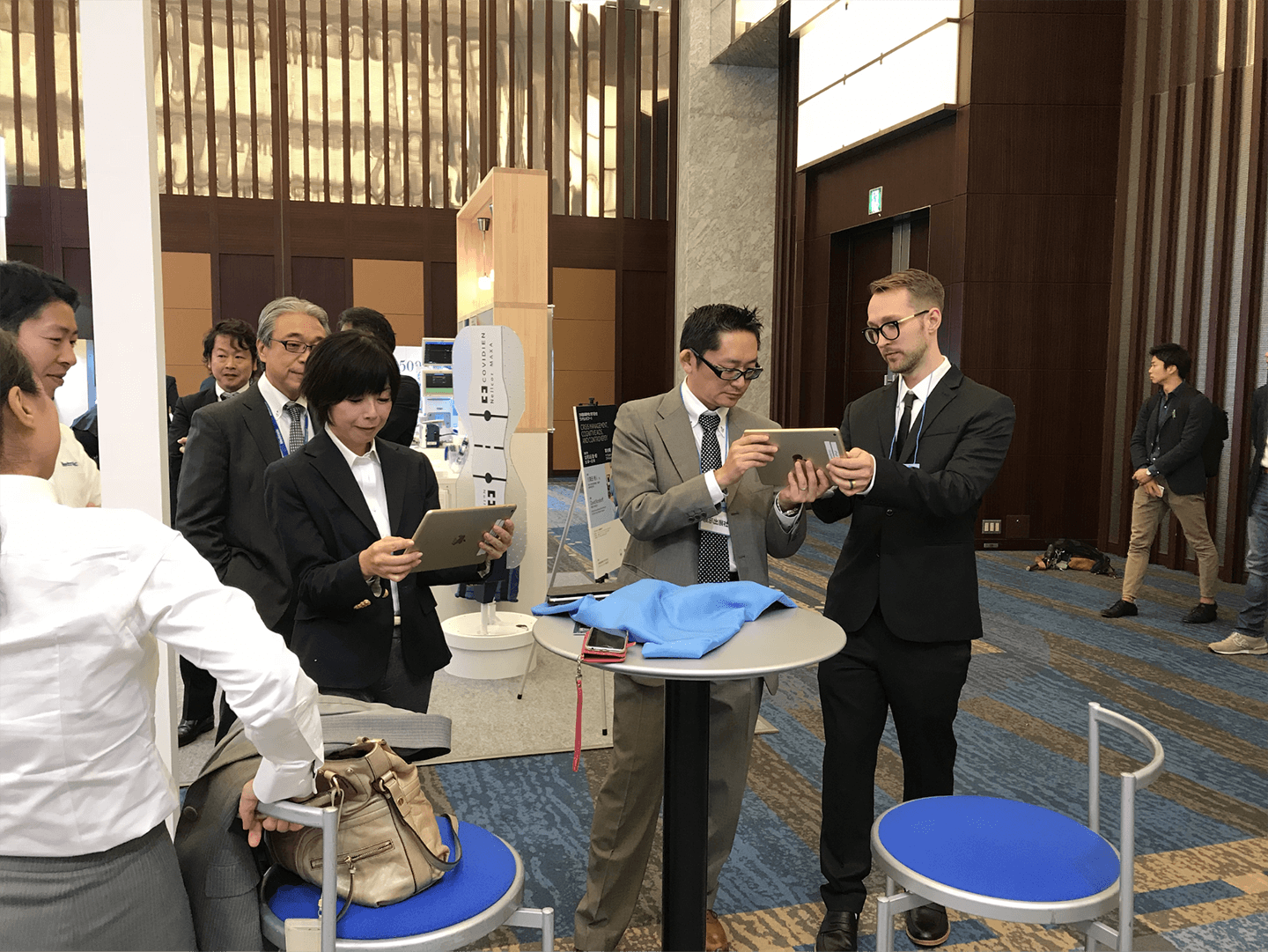 Level Ex team demoing the McGRATH™ MAC video laryngoscope augmented reality experience at the Japan Society for Clinical Anesthesia (JSCA) Annual Meeting in Tokyo.
Do you have bold aspirations for the future of healthcare? Consider partnering with us.