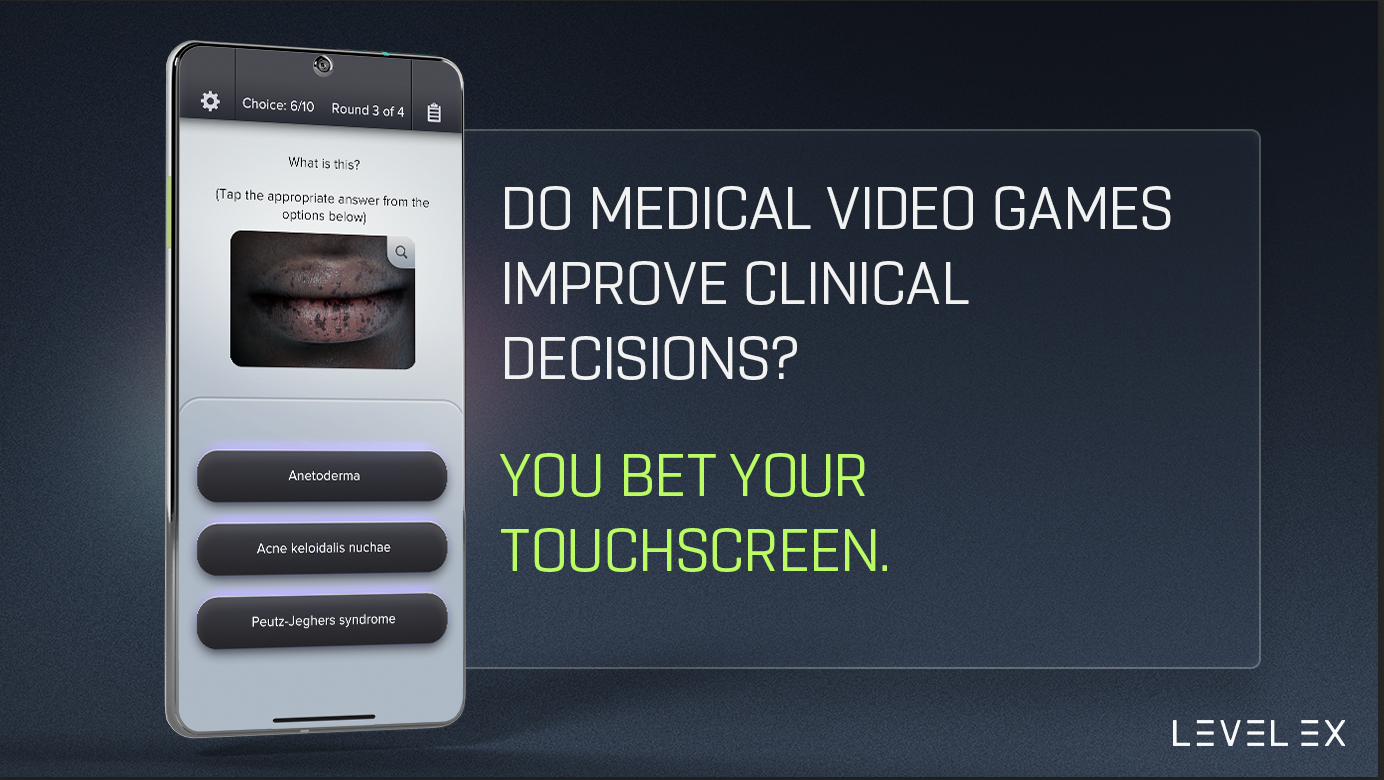 Medical Video Games Improve Decision Making in Highly Experienced Doctors
Knowledge attained through medical video games is effectively retained and transferred to clinical scenarios, a new study shows.
Countless studies have shown that games are a preferred and effective tool for training1, but can video games impact doctors' decisions in actual clinical scenarios? What about for busy physicians with 14 years of experience under their belts?
The answer is a resounding "Yes," to both questions, according to a groundbreaking study of practicing doctors. The analysis found that medical video games increase the clinical competence of busy, experienced physicians and enhance their decisions in relevant medical scenarios.
The first-of-its-kind, third-party study assessed doctors who played Level Ex's Top Derm, a video game developed for dermatologists that includes focused challenges across a range of dermatologic images and case scenarios. For the study, physicians played five Top Derm game modules that address common and rare skin disorders.
Players' knowledge attainment was studied during the games and their knowledge retention and transfer were analyzed weeks later, when doctors were presented with new patient case scenarios that assessed the same knowledge in a completely different format than what they had experienced in the game.
Across all modules, all players of all experience levels and ages showed a statistically significant score improvement in the post-knowledge assessment. Among three modules—Zebra Cases (referring to skin disorders out of the ordinary), Visual Skinsations (addressing hair and scalp disorders), and Pesky Pimples (pertaining to acne conditions)—40% of physicians demonstrated improved knowledge in the post-assessment.
When presented with the patient clinical scenarios, 88% of players either retained or improved their score across the three clinical modules.
Novel Findings
The findings are especially novel because of the hard-to-reach and rarely-measured demographic.
Doctors in the study ranged in age from 32 to 57, with an average of 14 years of practice experience. Past studies on medical video games have primarily centered on students and residents. These studies analyzed outcomes such as preference over traditional CME and players' knowledge improvement compared with control groups. Clinical competency increased among older and young doctors alike, and neither age nor experience showed a relationship with score improvement.
How did doctors' thinking change?
In one patient scenario, for instance, 10% of physicians changed their management of acne during pregnancy after playing Top Derm. In another scenario, more doctors correctly changed topical acne treatments to improve efficacy and decrease resistance based on their game experience.
As reflected in prior studies, a large majority of doctors found medical video games more enjoyable than traditional continuing medical education (CME). Nearly 75% of the physician players said they preferred learning through play over CME. This affinity was consistent among all ages and experience levels.
Comments from doctors included that the format was "easy to use," included many "great teaching exercises" and fueled "stimulation of thought." The game was also described as, "fun, clinically relevant, and easy to do in spurts."
Doctors chose to spend more time in the modules where they had the least prior knowledge, according to the study. Overall, players improved their in-game scores by up to 24%, depending on the pack's dermatology topic.
This landmark study proves that medical video games can improve the applied clinical reasoning of busy, practicing doctors and that those improvements are measurable weeks later, in distinct clinical scenarios far removed from a video game context. These milestone findings suggest sharper diagnoses in the exam room and better care for patients.
The Top Derm study was developed and conducted by CE Outcomes LLC, an independent, educational research firm that specializes in continuing education and medical information resources for clinicians and patients.
References
Ying Wei Yau et al. "Virtual reality mobile application to improve videoscopic airway training: A randomised trial"; Patrick Haubruck et al."Evaluation of App-Based Serious Gaming as a Training Method in Teaching Chest Tube Insertion to Medical Students: Randomized Controlled Trial"; Cuan Harrington et al."Playing to your skills: a randomised controlled trial evaluating a dedicated video game for minimally invasive surgery"; Mark Solinski, Eric Gantwerker, and Chirag Patel, "Game-based learning to provide exposure to specialty fields"; James Rosser et al."The impact of video games on training surgeons in the 21 Century"