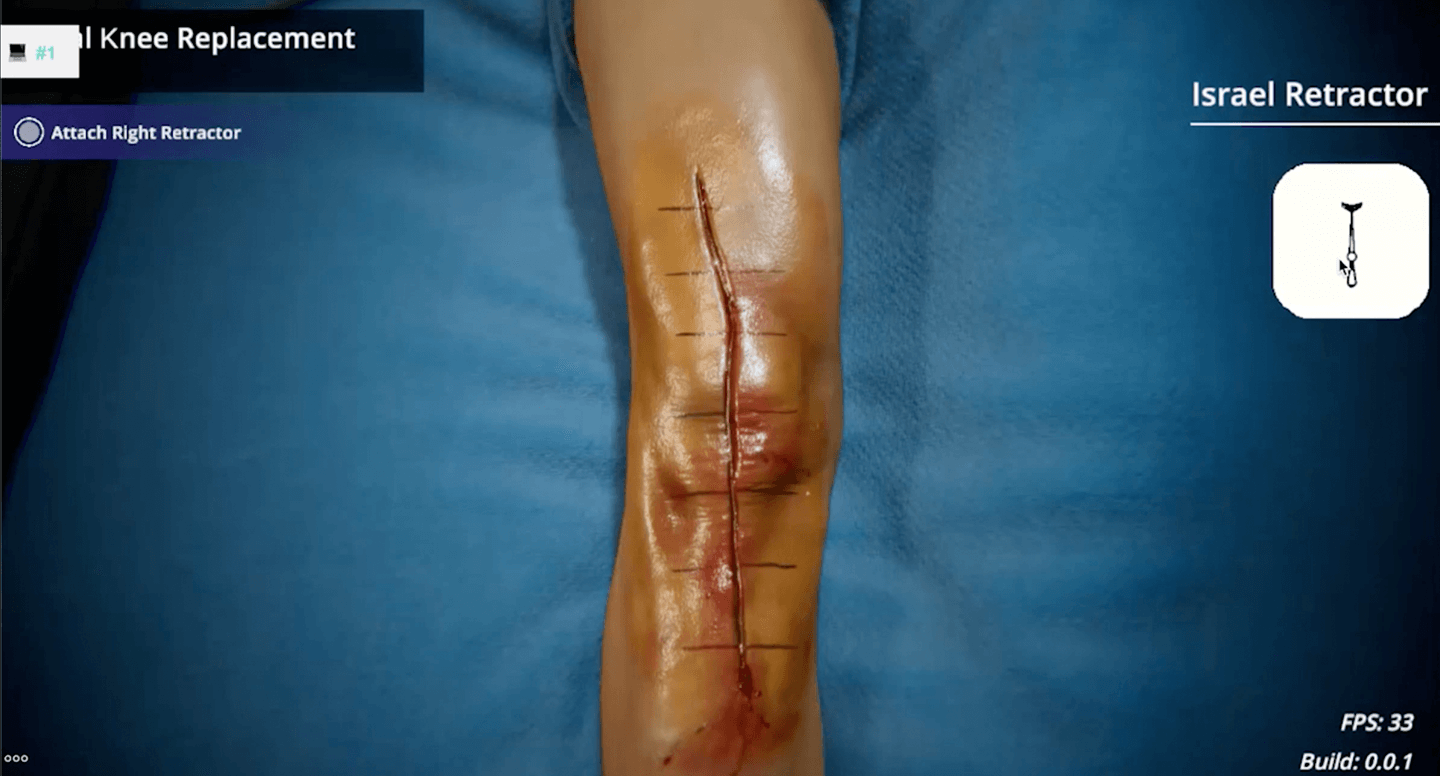 Asynchronous and Synchronous Options for Remote Surgical Training
Surgical training is a constantly evolving and dynamic process. This versatility makes it impossible to master a single and static set of skills that could last and be useful for the duration of a 21st-century surgical career. Innovation in surgical techniques is radically coupled with technology, hence its pace of change is exponentially accelerating. How we learn and how we teach must adapt to this reality.
—Rafael J. Grossmann, MD, FACS, trauma surgeon, medical futurist, and first doctor to ever use Google Glass during live surgery
Given the pace of surgical advancements, training is necessary for even seasoned surgeons to master new medical devices and techniques.1 In the pre-pandemic days, surgical training occurred through in-person apprenticeship, sometimes requiring cadavers, mannequins,2 or lugging equipment on site. With the pandemic's detrimental effects on surgical training,3 institutions expanded their teaching modalities,4 and companies tried to adapt. The developments over that period have inspired remote surgical training trends that will only continue and evolve.5
Remote Synchronous and Asynchronous Learning
Even before the pandemic, distance learning enticed researchers who saw increases in online programs and wanted to explore the merits of various platforms and delivery types.6 One topic of discourse focuses on synchronous learning versus asynchronous learning.7 A core difference between the two is engagement: being present and interacting with another/others, or not, in real time. Asynchronous-style learning gives one "complete control," offering time flexibility and maximum convenience,8 while synchronous-style learning allows for immediate feedback/responses and can expose learners to many perspectives through dynamic real-time discussions.9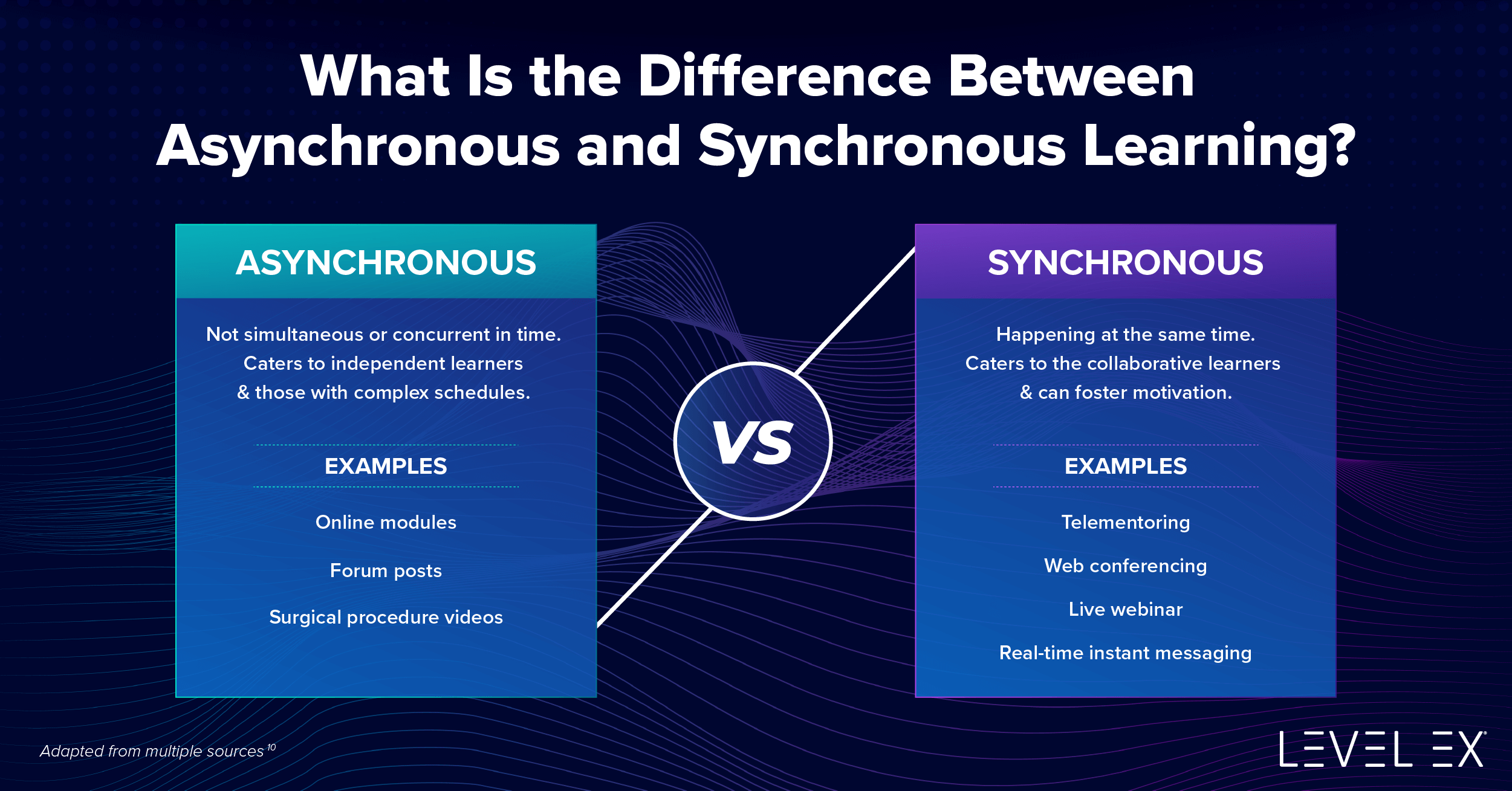 Research has shown that a blend of synchronous and asynchronous learning modes are useful and can positively impact learners' experience and performance.11 In a study of physicians performing flexible bronchoscopic intubations—a procedure with a "steep learning curve"—a combination of in-person training supplemented with asynchronous interactive training using Level Ex mobile game Airway Ex yielded higher ratings for the quality of scope manipulation skills.12 Another study explored the synchronous and asynchronous learning preferences of adult learners to discover how much synchronous instruction, if any, to include in an online curriculum. 57% of participants reported that they preferred online courses with synchronous sessions, but the research suggested that synchronous sessions be voluntary wherein the instructor addresses key points. Data showed that 39% of participants wanted synchronous sessions as needed, as compared to 30% once per week, and only 7% of participants desired no synchronous instruction. Students also preferred the option to watch videos of the synchronous sessions later due to potential schedule conflicts.13 This study highlights the importance of adult learners' agency.
With surgeons in particular, having web-based and self-directed learning (asynchronous) as an option is helpful due to their busy and restrictive schedules.14 Some studies have shown that "web-based teaching modalities for residents and medical students may be equally as effective as in-person teaching modalities in various situations, including simulated patient encounters, ultrasound training, and procedural training"15; for experienced surgeons, then, how much more should medical device companies be utilizing remote surgical training?
Trends in Remote Surgical Training
A review of literature addressing emerging remote surgical training technologies shows a mix of synchronous and asynchronous options, with room to improve, expand—and merge—technologies.
AUGMENTED REALITY AND VIRTUAL REALITY (AR/VR)
In practice, VR/AR surgical training can involve "scrubbing into" a real operating room from a remote location,16 practicing procedures on virtual patients or 3D scans of patients,17 utilizing a headset overlaying AR graphics on what is actually present, such as a rubber model18 to guide the learner, and more. Studies have demonstrated VR training's efficacy in ensuring patient safety,19 increased procedural accuracy and completion, and overall improvement in users' overall surgical performance.20
The pandemic fueled interest in adopting and developing new applications for AR and VR in healthcare21; however, our internal team at Level Ex has observed that AR/VR equipment, which some medical device sales representatives use for training, remained unused because of the safety concerns around COVID-19. Adoption in the consumer space has increased,22 and this has the potential to create an adoption trend among medical professionals—similar to the way that "consumer adoption of powerful smartphones paved the way for high-fidelity medical training on mobile," said our CEO, Sam Glassenberg. He forecasts, "In the short term, we see the opportunity for the 3D medical content being developed for touchscreens, web, and PCs eventually being adapted for a headset environment."
INTERACTIVE WEB-BASED OPTIONS
One recent study focused on ways to train at home during the pandemic. Authors discovered over 20 computer-based platforms, available online, ranging over 9 surgical specialties. The learning tools granted access to operating room simulations, intraoperative video clips, and other interactive surgical platforms. Phone-based programs, such as Level Ex mobile games, were also included. The authors noted that these "applications are widely available and have the potential to satisfy and supplement the learning needs of surgical trainees as defined by surgical education governing bodies."23
Massive open online courses that enable experts to teach at scale are another option, as well as video sharing platforms that allow learners to watch surgical procedures; vendors are exploring how to make video-based learning less passive by integrating 3D and allowing users to adjust their point of view.24
Whether phone-based, computer-based, AR, or VR, surgical simulations are an important tool that could be used to not only improve outcomes (see Figure 2) but allow medical professionals to explore safely: "Surgical simulation enhances surgical skills by allowing repeated practice and to maintain an acquired level of competence. Current high fidelity simulators offer the opportunity for safe, repeated practice and objective measurement of performance. Furthermore, it is a more efficient and cost-effective modality that poses no risk to patients and avoids many ethical and legal complications."25 Adding remote, asynchronous capabilities to such a tool only broadens its positive reach.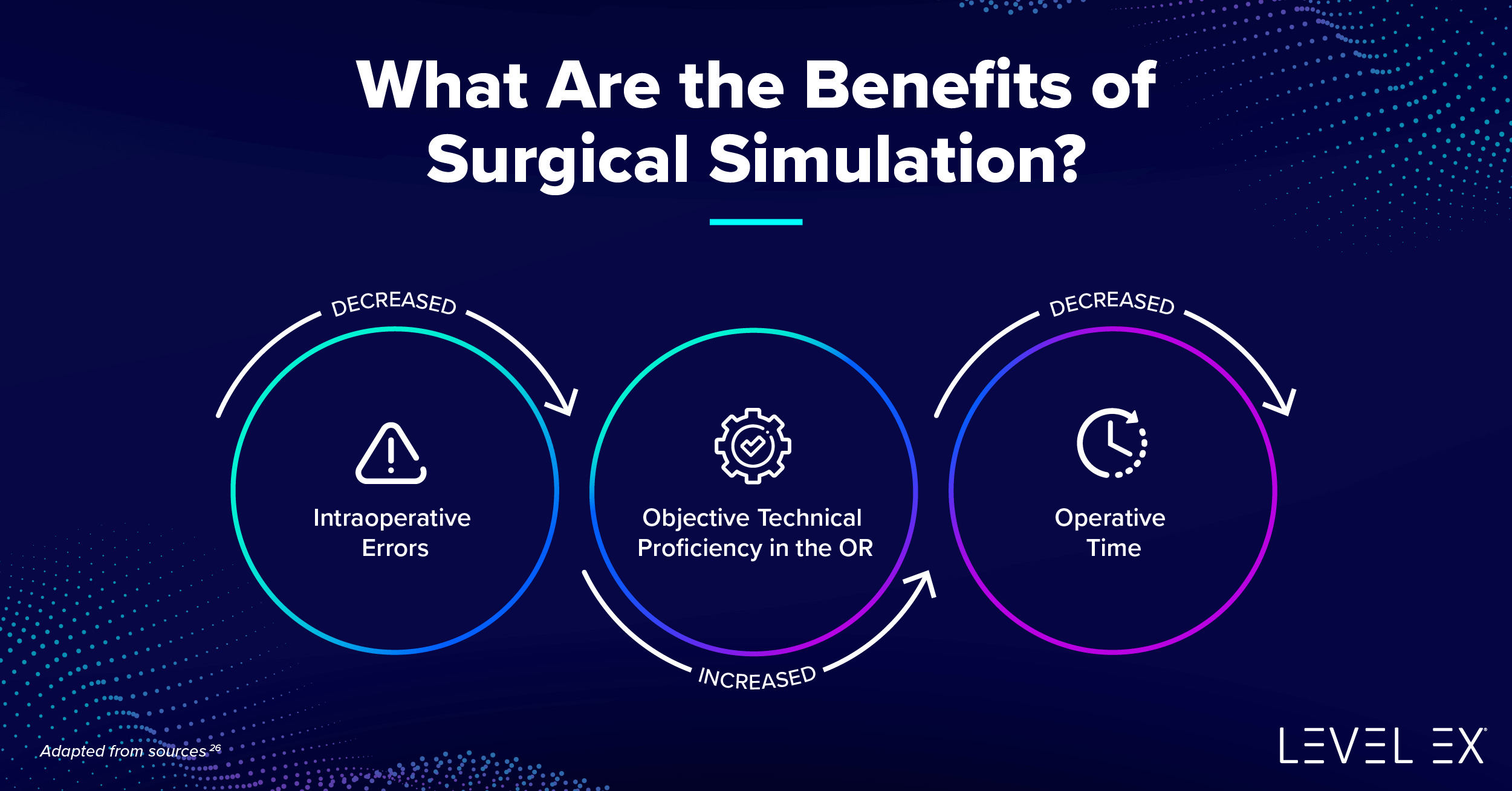 VIDEO CONFERENCING AND TELEMENTORING
Telementoring through web conferencing is an effective synchronous remote learning option for sales representatives, trainees, and practicing surgeons. Video conferencing has been used for decades as a clinical and educational tool for telementoring surgical procedures and in trauma and emergency medicine; this mode allows colleagues to share best practices and techniques regardless of distance, which can be helpful to collaborate with those in rural areas.27 What became a standard as a means to overcome restrictions during COVID-19 can now be used to save on time and travel expenses in our "new normal."
Johnson & Johnson Institute in particular created a telementoring pilot program that allows surgeons to enhance their surgical skills through educational activities that include real-time, intra-operative access to experts through multiple camera feeds, telestration, and two-way audio: their technology enables users to "virtually collaborate across regions, expanding access to experts and opportunities for learning, and empowering them to break down educational barriers."28 Johnson & Johnson Institute has also found other ways to promote remote learning among medical professionals during the COVID-19 pandemic by providing educational grants to aid physicians on the front lines of COVID-19.29 Level Ex used a Johnson & Johnson Institute grant to launch COVID-19 training levels in its existing mobile games that allowed medical professionals to navigate COVID-19 diagnosis and patient management scenarios and internalize clinical guidelines.
Telementoring combined with AR/VR is being investigated as well. In a recent experiment, academic researchers developed a system that included asynchronous video clips, remote surgical mentorship, and AR to help expert surgeons train novice surgeons.30
Synchronous and Asynchronous Cloud-based Remote Surgical Training
Virtual Technique Guides, a remote surgical training tool by Level Ex, was also released in 2020—not only to address challenges surrounding in-person medical device training but to make quality virtual surgical training more accessible overall. Virtual Technique Guides run over Level Ex Remote Play™ , the first cloud-based gaming technology to be used in healthcare. It hosts both synchronous and asynchronous training. On this platform, surgeons can train with each other or with medical device sales representatives in real time without any special equipment. Using a phone, tablet, or desktop computer they can perform high-fidelity virtual surgery together over standard web conferencing. Access starts with a QR code or link allowing the users to enter the experience immediately. This same technology can also be used asynchronously if a surgeon would like to go through steps on their own or refresh on what they learned in a former session.
Medical device companies can work with Level Ex to create detailed replicas of their device that their sales reps or surgeons can try out and master in the virtual space. Use of Virtual Technique Guides has been shown to improve product competency: The first medical device company to use Virtual Technique Guides reported a 28% increase in information recall by medical professionals.31 Active learning, such as discussing the medical scenario or engaging with a simulation, is a key component of learning because it promotes retention.32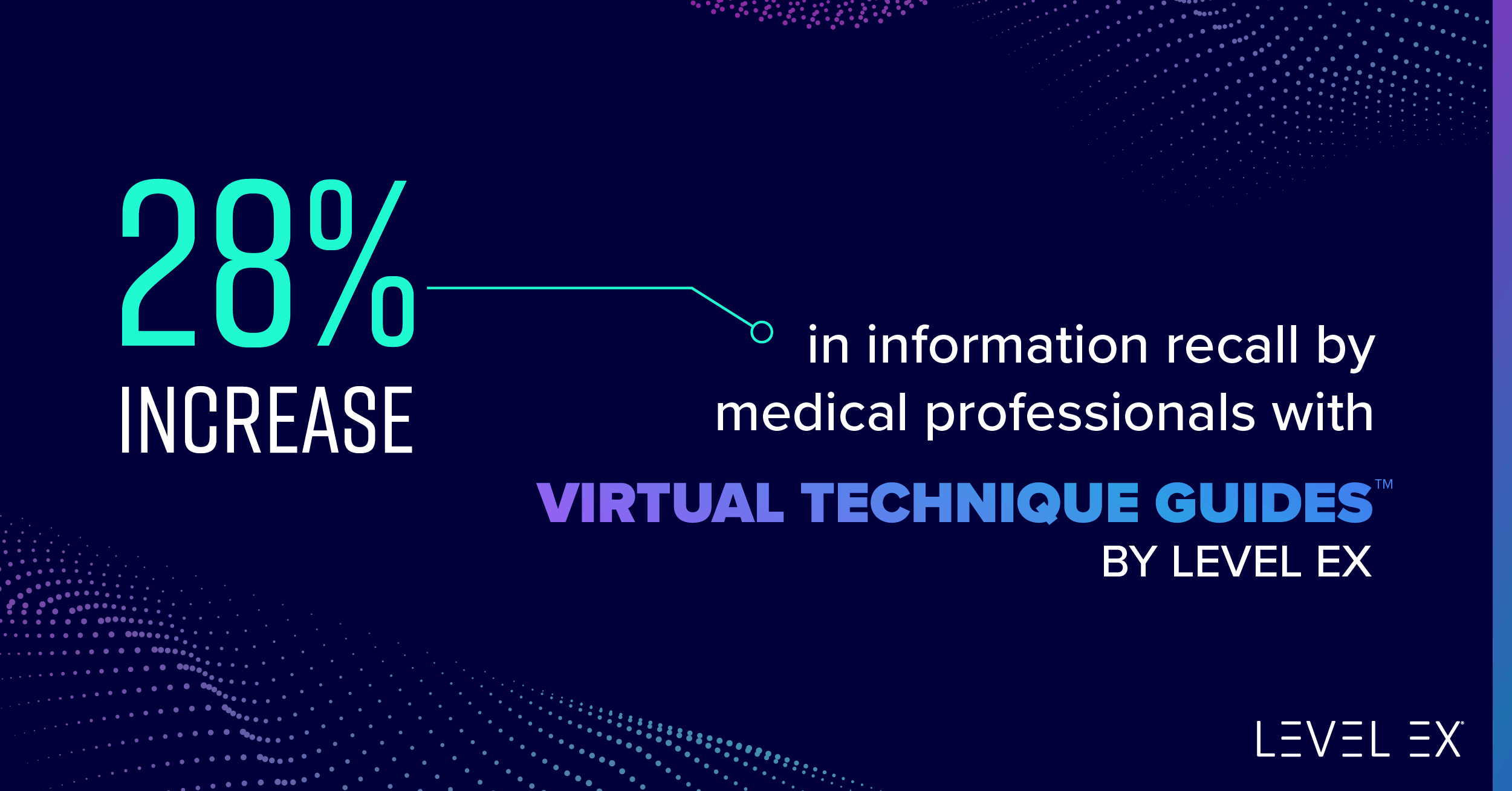 Virtual Technique Guides at a Glance
IMMEDIATE ACCESS
Sales reps can instantly schedule a training and invite a surgeon with a simple link or QR code. Share, click, and enter a virtual world: One link allows multiple users to perform virtual surgery collaboratively on their phones, tablets, or desktop web browsers. There's no app to download, software to install, or special hardware requirements.
UNMATCHED VISUAL QUALITY
Users experience each procedural step in spectacular detail and explore lifelike anatomy in true 3D—whether under visible light, X-ray, ultrasound, CT, or MRI. High-fidelity device simulations showcase device functionality down to the micrometer.
EXPERIENTIAL LEARNING
This is no YouTube video or PDF instruction manual. Elevate surgical training through real-time interaction. Skill-building sequences, based on the proven neuroscience of game design, keep surgeons engaged, challenged, and actively learning.
Anytime, anywhere training is here to stay—and benefit all. As stated by physicians in the International Journal of Surgery: Global Health, "The future of global surgical training resides in blended learning with a strong virtual learning component. While we do not have a clear idea of what the post-pandemic world will look like, our hope is that those platforms continue to grow and become integral parts of global surgical education, both for the surgeon-in-training and for the trained surgeon looking for continuing professional development."33
Let us help you meet your training goals. To equip your sales reps with Virtual Technique Guides or to add Level Ex Remote Play™  to your medical device website, please contact us.
References
Written by Bethany Brownholtz, Senior Copywriter of the Level Ex Team