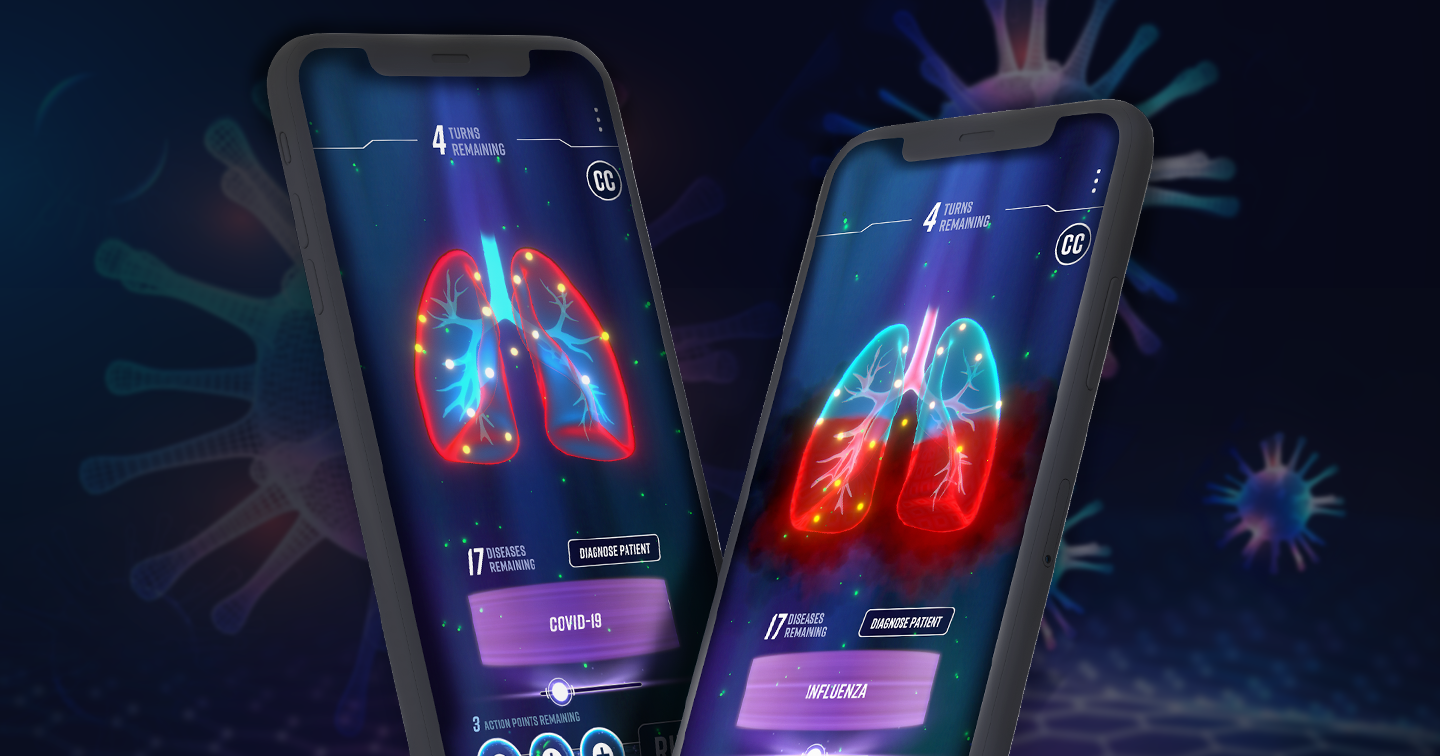 Fighting COVID-19 With Video Game Technology
"How soon can you launch this game?! We need this! We need this now!"
—Pulm Ex Playtester, Pulmonologist
Over the last five years, we have seen a range of reactions during our hundreds of physician playtests, but nothing like this. COVID-19 has amplified gaps in physician education that have been made acute by this crisis—specifically the need for instantly accessible, effective training. Physicians in our network shared:
"We are facing a new disease on a global scale, and there is still so much more we need to learn and share to understand what the best care looks like."
"Things are continually changing in COVID-19, so it's difficult to keep on top of things in communities not linked to academic centers."
"COVID-19 has been a game changer to medicine, and information is rapidly changing."
In addition to understanding ever-evolving data about the disease, physicians across specialties were being summoned to assist in an "all hands on deck" crisis. As our CEO, Sam Glassenberg, explained, "Medical residents and retired physicians are serving on the front lines, and medical professionals from tangential medical specialties are being thrust into roles they weren't prepared for. Demand is unprecedented for a tool that allows medical professionals to exercise their sometimes rusty (or non-existent) skills in areas like airway management, intubation, diagnosis, or ventilator management."
With hundreds of pages of medical resources to read, and training centers being closed, how could we help physicians develop a real mental model to manage COVID-19? How could we help them to be most effective on patient #1 instead of patient #101? Coming from the world of video games, we believe that the best way to learn, retain, and develop skills, is through play.
Our mission since day one has been to advance the practice of medicine through play: That means using video games to accelerate the adoption curve for new medical techniques, guidelines, and technological advancements. And with our mobile platform, we are able to release critical content immediately, keeping medical professionals current. This mission and work made us uniquely qualified to address the pandemic where it mattered most—at the front lines.
Therefore, we began creating game levels that would help medical professionals—regardless of their experience or expertise level—learn best practices and guidelines around COVID-19 as quickly and efficiently as possible.
Creating COVID-19 Game Levels
In early March 2020, little was known about COVID-19, and resources on best practices for emergency care were scarce. Our team started with the only information available—guidelines from the Italian Anesthesia Society, where the pandemic had struck sooner. We then sought out additional guidelines from the Centers for Disease Control and Prevention, the World Health Organization, the American Society of Anesthesiologists, and other reputable sources, along with insights from physicians on the front lines of the pandemic to inform game content.
COVID-19 level development kicked into high gear when we received an educational grant from the Johnson & Johnson Institute, as well as a grant from The Translational Research Institute for Space Health (TRISH), a research partner for NASA. We were able to build levels across three games—Pulm Ex, Airway Ex, and Cardio Ex—that provide real-time feedback and scores based on how well players' actions adhere to guidelines, allowing healthcare providers to "practice high-stakes decisions in a simulated environment" (Dinesh Kurian, MD, Anesthesiologist) and "learn and reinforce key concepts of diagnosing and treating COVID-19" (Jeremy B. Richards, MD, Pulmonologist).
Watch these levels come to life in Sam Glassenberg's demo during the 2020 Social Innovation Summit.
Pulm Ex COVID-19 Unit
In Pulm Ex's COVID-19 Diagnosis Unit, players ask questions and run tests based on a virtual patient's chief complaint, then try to determine a correct diagnosis of COVID-19 or a mimicking disease. COVID-19 presents with a wide range of symptoms, and certain respiratory illnesses present similarly to COVID-19 but are treated very differently. By solving these inductive reasoning puzzles, medical professionals can hone diagnostic and emergency decision-making skills.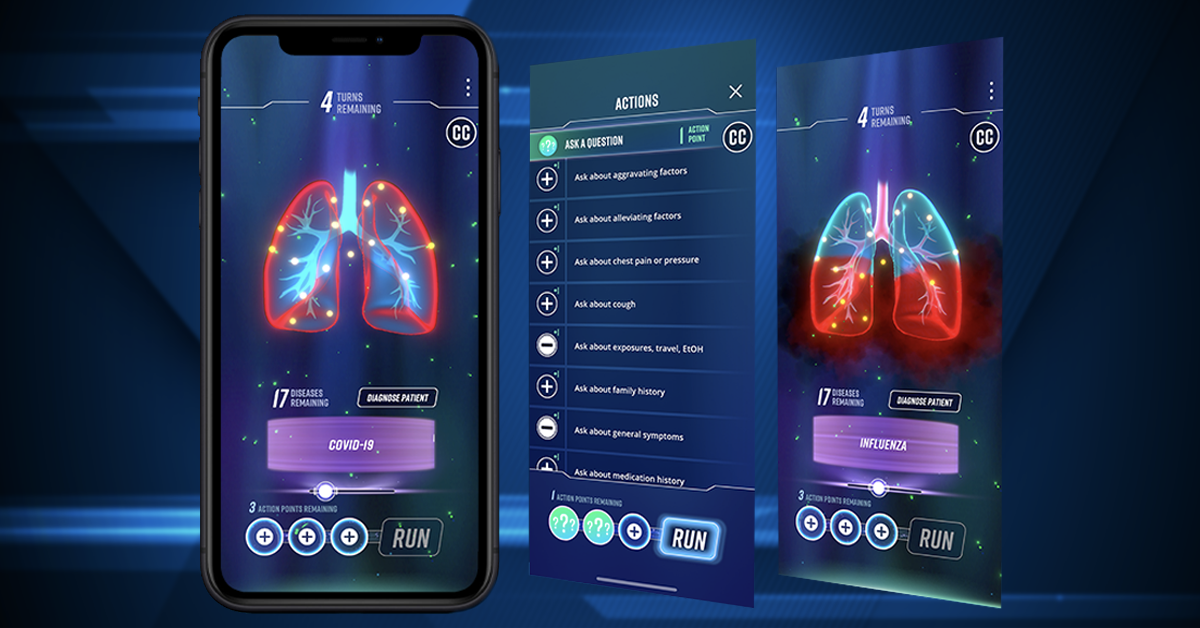 Airway Ex COVID-19 Unit
Airway Ex's COVID-19 Safe Airway Management Unit is a decision-making strategy game that presents virtual intubation scenarios that require players to make clinical decisions about the compromised airways of COVID-19 patients. With each choice, the game explains and reinforces best practices that minimize the risk of spreading the disease. Each clinical decision impacts players' score—choices like which devices and techniques to use in what order. Scoring is based on patient outcomes and COVID-19 safety, and after each level players can evaluate the decisions they made and internalize best practices. An added level of challenge comes from the fact that COVID-19 guidelines differ from processes typically followed during patient airway management. Jacqueline M. Morano, MD, revered anesthesiologist and academic clarified that Airway Ex's COVID-19 levels are a "helpful reminder of what changes are occurring in the airway algorithm, as this is very different from our normal routine."
Cardio Ex COVID-19 Unit
As the pandemic spread, we began to observe that COVID-19 can manifest with cardiac complications. In Cardio Ex's COVID-19 Unit, players recognize and treat those manifestations of COVID-19 and explore comorbidities. They can test their ability to differentiate between COVID-19 induced cardiac complications and similar disease presentations as well as treat patients with a previous diagnosis of COVID-19 related cardiovascular conditions.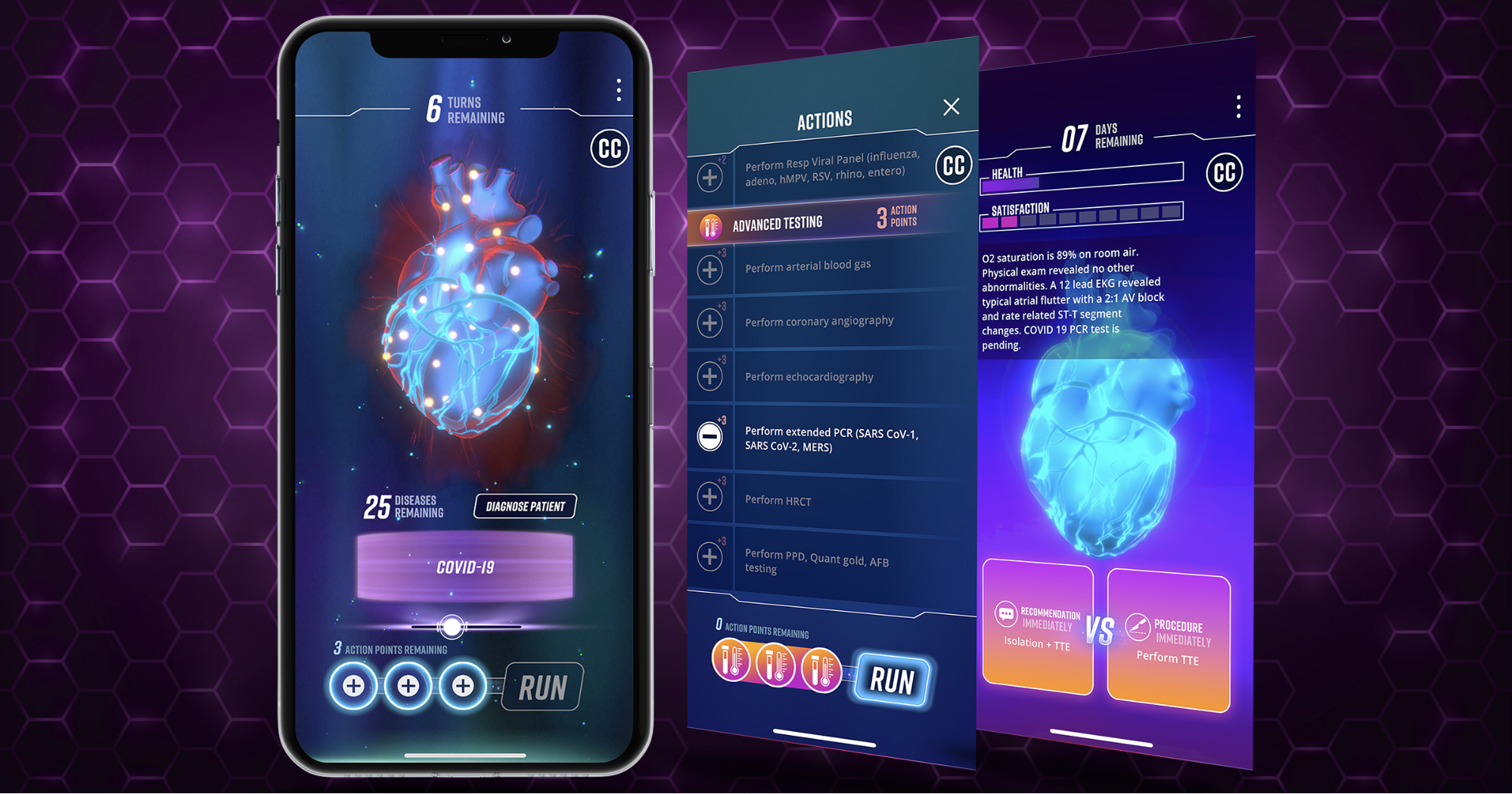 From In-Game to the World: COVID-19 Levels in Action
As the COVID-19 crisis unfolded around us, we committed as many resources as possible to support our players and get them the information they needed—and it worked.
"The content developed by Level Ex has the potential to assist individuals during potentially very dangerous episodes of care. The content has the ability to help elucidate different circumstances that will inevitably arise in real life situations. With the assistance of the Level Ex created [games], one may be able to avoid potential pitfalls that can have dangerous consequences for both the patient and provider."
—Nishant Shah, MD, Medical Director, Illinois Sports Medicine and Orthopedic Surgery Center, Partner, Midwest Anesthesiology Partners, Advocate Lutheran General Hospital
We have always seen our games as playing a vital role in fixing systemic problems in healthcare; little did we know that we could help combat one of the most daunting medical emergencies of our lifetimes.
To learn more and download the games for free, visit our COVID-19 page.
---
Further reading:
"New mobile games aim to help medical professionals treat coronavirus" by The Washington Post
"Level Ex upgrades surgery games to virtually train doctors to treat COVID-19" by VentureBeat