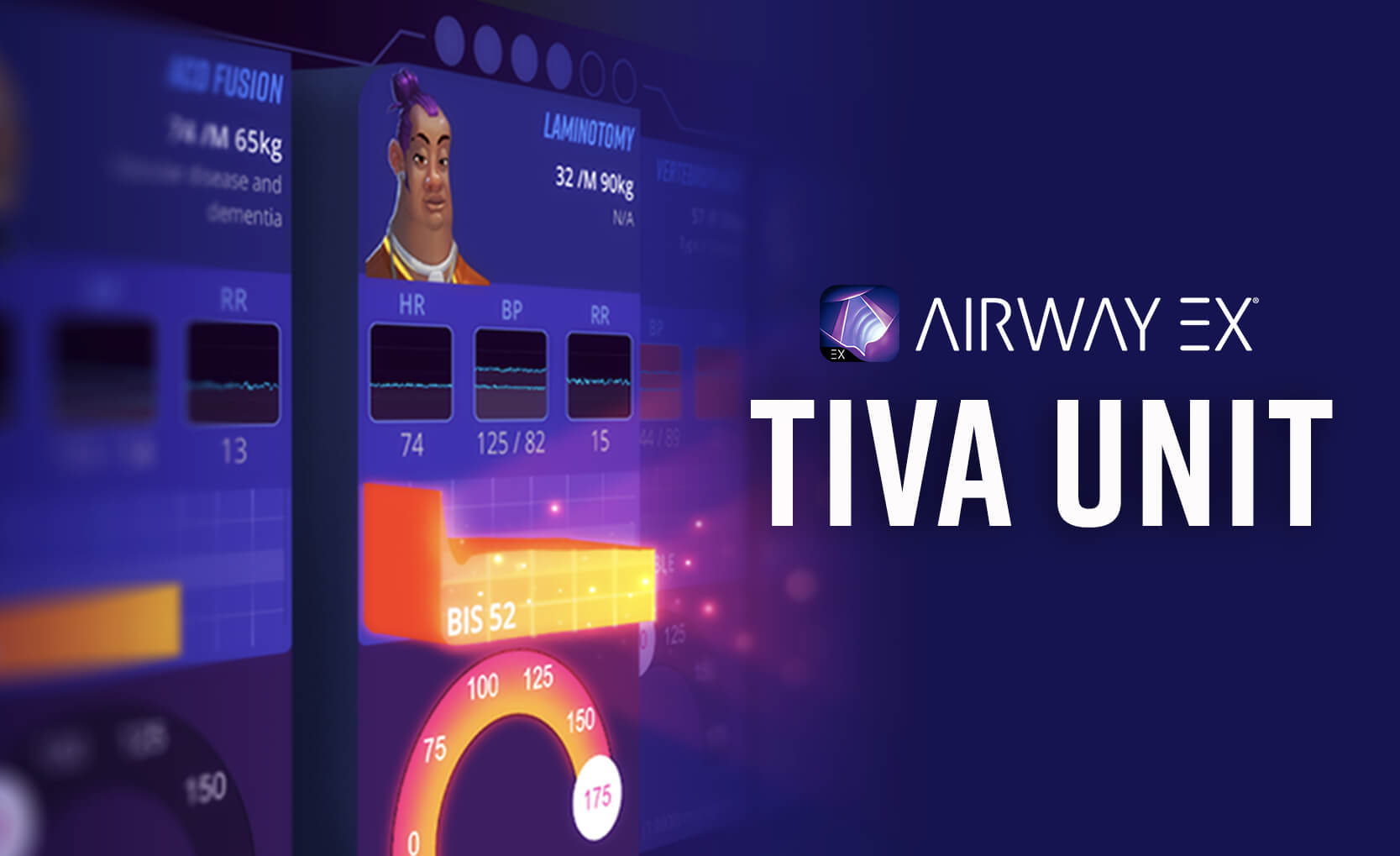 Inside the Airway Ex Tiva Challenge
It's a busy morning at the hospital, and you're managing a patient undergoing total intravenous anesthesia (TIVA) for a spinal fusion. You induce anesthesia, and a few seconds later, another patient is ready for operation. Then another… and another. Suddenly you're monitoring six patients at once!
If reading that made you break out in a cold sweat, just wait until you play the TIVA Challenge in Airway Ex. Jennifer Chu, Producer, describes the level: "It's the first type of "time management" game that we've added in Airway Ex. This is a classic type of video game genre in which the player needs to accomplish a particular goal (or goals) as efficiently as possible while managing limited resources (such as time)." She continues, "These types of games have been hugely successful with casual gamers because they [are] fun to play. Modern gamers are probably familiar with Overcooked or Diner Dash, which are two games that have recently found success using this type of gameplay, but older folks that grew up in the 80's might even remember Root Beer Tapper as one of the original time management games from the arcade!"
Up for a Challenge
Instead of serving up burgers to hungry customers or root beers to thirsty patrons, Airway Ex players must use the BIS™ index value (when available), pertinent medical history, and patient vitals to titrate infusions in order to maintain adequate levels of anesthesia for each patient undergoing operation. Eric Gantwerker, MD, MMSc (MedEd), FACS) and VP, Medical Director at Level Ex discussed the purpose of the game in a recent Medtronic blog post. "The TIVA Challenge isn't intended to replace TIVA titration or BIS™ system training; it was designed to support learning and evoke conversation. Developed using hypothetical scenarios for anesthesia professionals, the game, for example, allows application of the BIS™ system in personalizing anesthesia delivery to hypothetical patients." The experiential learning value of this level stems in part from the act of managing multiple patients simultaneously. Sam Dreyer, Biomedical Solutions Specialist, explains: "This wrinkle adds a lot of cognitive load, where the player's attention is forced to quickly switch between multiple inputs while reacting to the various feedback coming in across all their patients." He adds, "Especially when an unforeseen complication arises, how does that impact your plan and ability to optimize care accordingly?"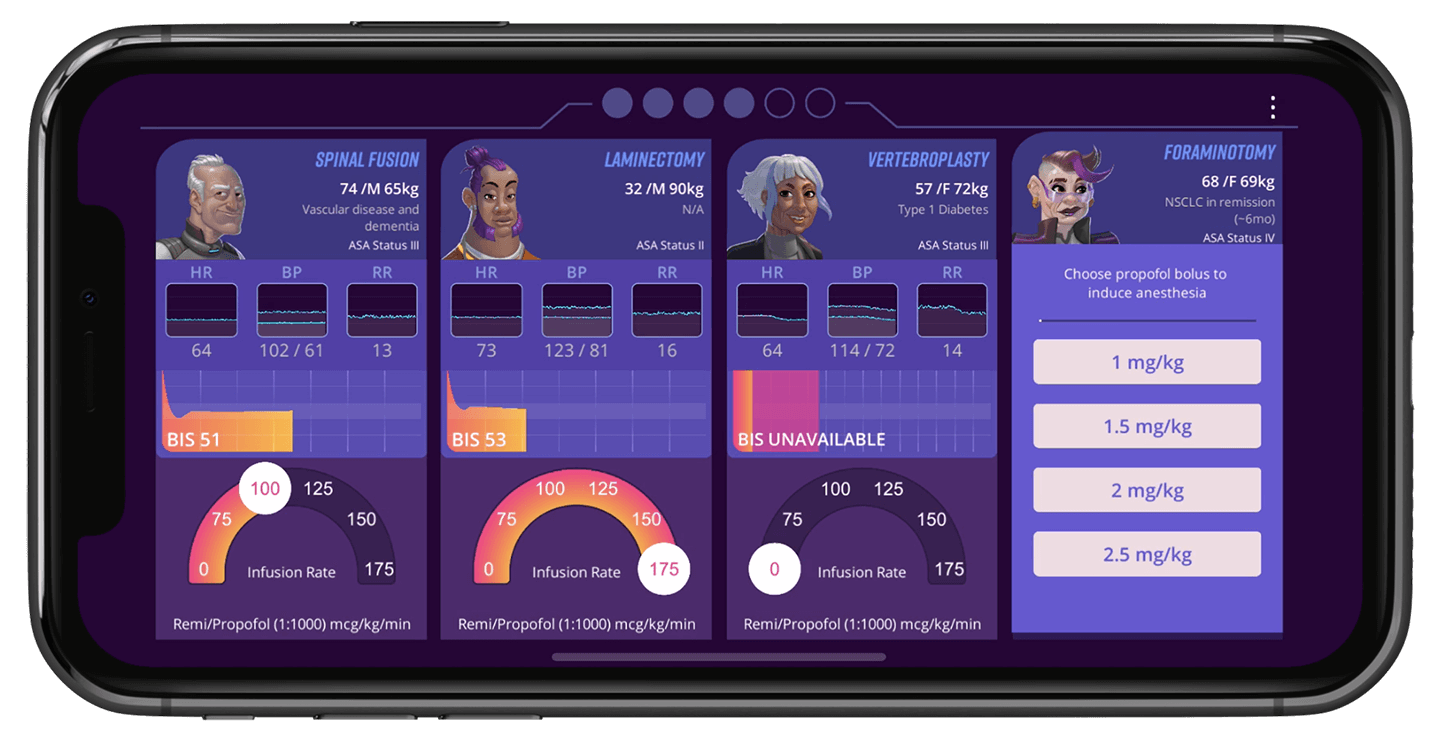 The Rush…and the Reward
This unique blend of time management and titration has been a hit with Airway Ex players. "The physicians that we brought in to playtest the game really enjoyed it," says Sam Dreyer. "After a couple times through, one player even intentionally underdosed a virtual patient, just to observe the effects on the patient's vitals. Much to her (and our) delight, she commented that they reacted just as she would expect in a clinical setting." Maintaining that balance of entertainment and medical accuracy is key. "As game developers, we strive to create engaging and interesting experiences; sometimes that means pitching seemingly outlandish ideas to people that have never picked up a controller in their lives, explains Jennifer Chu. "For them to say yes to these ideas means that they trust us to deliver content that is creative and fun while maintaining a high level of professionalism and medical accuracy." This has certainly been the case in our collaboration with Medtronic.
For more on the TIVA Challenge levels, read Dr. Gantwerker's Medtronic blog post: Anesthesia Providers Practice Monitoring Depth of Anesthesia and Learn About BIS™ Technology with Airway Ex Video Game