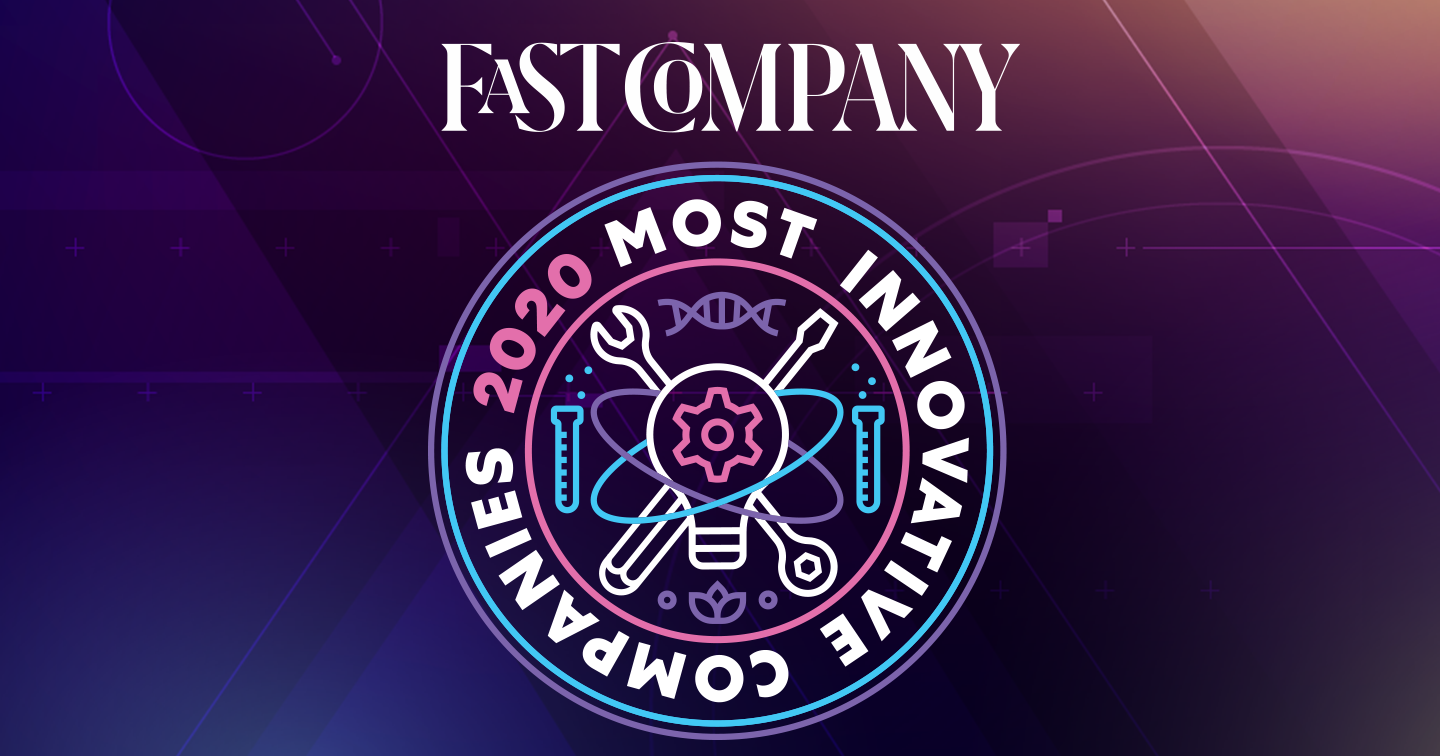 Level Ex Makes Fast Company's Most Innovative List
How can we help astronauts prepare for medical emergencies in space? What can we provide to healthcare professionals facing COVID-19 on the front lines? These are the kinds of problems we have been working to solve lately with our video games. And it's this kind of thinking that has landed us in Fast Company's World's Most Innovative Companies of 2020.
Fast Company Looks Forward
Fast Company is the only media brand fully dedicated to the intersection of business, innovation, and design—engaging the most influential thought leaders and companies on the future of business. We appreciate intersections, having built a new game genre from the disparate fields of medicine and video games, so we are especially grateful for Fast Company's recognition.
In their search for the Most Innovative Companies, Fast Company sought out businesses worldwide, across myriad industries. 2020's honor meant a bit more, in that "At a time of increasing global volatility, this year's list showcase[d] the resilience, [creativity], and optimism of businesses across the world…to solve challenges within their industries" (Fast Company senior editor Amy Farley). The culminating list is a powerhouse of impact and inspiration, featuring 434 businesses from 39 countries.
Level Ex Makes the List
Our video games, Cardio Ex, Airway Ex, Gastro Ex and Pulm Ex, bring the bleeding-edge technology and neuroscience of games into the hands of medical professionals. This genre-bending creativity earned us the no. 4 spot in the Gaming category, alongside other trailblazing companies including Apple, Microsoft, and Epic Games. (Impressive lineup much!?). CEO Sam Glassenberg added, "Only a handful of top video game studios have accomplished the industry's apex achievement: bringing games to new audiences, through the creation of an entirely new game genre. That's what we're doing at Level Ex with medical video games."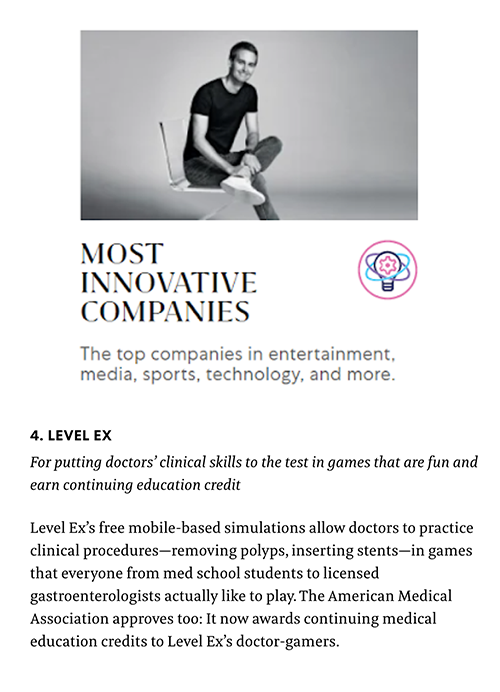 Cardio Ex Receives Honorable Mention
Beyond innovation, Fast Company seeks out businesses and organizations that are driving change in the world. Cardio Ex caught their attention, receiving an honorable mention in the Apps and Education categories.
Cardio Ex reimagines real cardiology cases as video game levels and are created in consultation with leading physicians. The game allows players to experience dozens of adrenaline-pumping scenarios, such as drilling through calcified lesions, capturing dissociated stents, and treating life-threatening perforations and dissections. The game recreates fluoroscopic views of the heart and marks the first time ultrasound was simulated entirely within a smartphone app. In addition to procedural gameplay, levels refresh daily with skill-building diagnosis and treatment challenges. Medical professionals can even earn CME while they play.
Be on the lookout for more world changing ideas coming from Level Ex soon.
Feeling inspired? Follow us as we continue to push the envelope in medical video games and advance the practice of medicine through play.