PROVEN GAME MECHANICS THAT ENGAGE, EDUCATE, AND EMPOWER
Level Ex is constantly evolving its suite of proven game mechanics. We harness the Neuroscience of Play to address the most common challenges our life sciences partners face, including: disease education, diagnosis, treatment, patient identification, and clinical trial data storytelling.
We have tested and refined these mechanics with tens of thousands of HCPs, more than 50 global brands, and across several major therapeutic areas, including: Neurology, Oncology, Cardiology, Endocrinology, Dermatology, Ophthalmology, Respiratory, Immunology, Rheumatology, Gastroenterology, Nephrology, and Anesthesiology.
DIAGNOSIS
Improve diagnosis rates by making a disease top of mind
Challenge HCP

s

to flex their deductive reasoning skills, ask the right questions and order the right tests to determine a diagnosis earlier.
Familiarize HCP

s

with the signs and symptoms of primary and underlying conditions as they learn to eliminate differentials.
Level Ex clients have successfully leveraged this mechanic to:

Induce recency bias to increase (rare) disease diagnosis rates.
Highlight differential diagnosis and disease subtypes (e.g., different grades).
Convey best practices for diagnosing based on the symptoms presented.
Treatment
Convey treatment trade-offs through virtual patient journeys
Help HCP

s

determine the best course of action for a virtual patient's treatment journey — while receiving real-time feedback on their decisions.
Build the patient journey based on clinical guidelines, trial data, or curated from medical literature.
Level Ex clients have successfully leveraged this mechanic to:

Effectively disseminate new treatment guidelines and score players based on adherence to those guidelines.
Convey the benefits of introducing your brand earlier in the patient journey, and keeping the patient on a treatment regimen for the appropriate length of time.
Explore new therapies in a risk-free environment and realize tradeoffs associated with treatment decisions (e.g., comorbidities, side effects, patient satisfaction/quality of life, economics).
Showcase head-to-head drug comparisons based on study data and facilitate switching treatments/drug classes.
Mechanism of Action/disease
Nurture an intuitive understanding of your MOA or MOD
Complete fulfilling particle puzzle games to build mental models of complex biological systems.
Immerse HCP

s

in a highly visual sandbox, giving them full control of the interactions of millions of particles.
Level Ex clients have successfully leveraged this mechanic to:

Highlight the relationships between MOA/MOD at the molecular, cellular, and physiological level through hands-on play.
Increase prescriber confidence (e.g., dosing/therapeutic window, drug interactions) by instilling lasting mental models.
Highlight key differentiators of a treatment's MOA.
Patient Identification
Explore the range of criteria for specific conditions in detail with virtual patients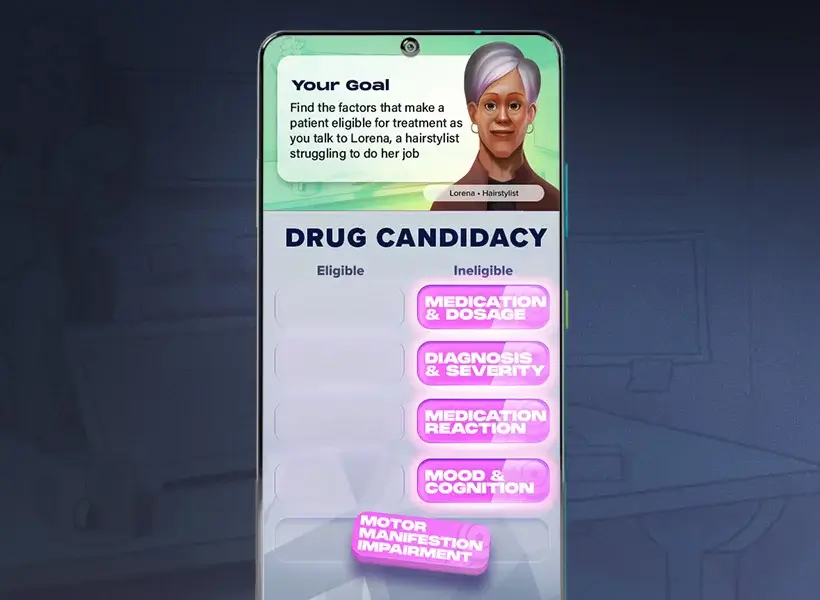 Explore patient journeys in an adventure game format. Chat with virtual patients and collect evidence from medical imagery, charts, and test results to inform diagnosis and treatment decisions.
Deepen HCP engagement and understanding with mini-games and real-time feedback that combine key elements of all our game mechanics.
Boost HCP confidence in their ability to recognize, understand and manage the desired condition while nurturing new information retention with proven mechanics.
Level Ex clients have successfully leveraged this mechanic to:

Build prescriber confidence by allowing HCP

s

to practice on a wide range of patient profiles.
Improve HCP

s

' diagnostic acumen for conditions with often overlooked symptoms or that require careful trade-offs between treatment options.
Educate HCP

s

on the right time in a patient's journey for treatment or referral.
Teach HCP

s

how to ask the right questions and have more effective conversations with patients from various backgrounds.
Data Playground
Increase recall of your clinical study data by inviting HCP

s

to play with it
Allow HCP

s

to play with your clinical study data, arriving at the desired conclusions through their own actions in this game based on highly satisfying mini-games.
Collect, sort, and process the key data from your study to form graphs, plots, and histograms that lead to the target result.
Level Ex clients have successfully leveraged this mechanic to:

Reinforce key takeaways from clinical research through active, hands-on interaction with your data in the form of gameplay.
Drive home the key conclusions of a clinical study for HCP

s

, leveraging the neuroscience of play.
Facilitate memorable interactions between MSLs/sales reps and HCP

s

, whether one-on-one or at P2P events.
Transform complex insights and otherwise dry content into something far more intuitive, memorable, and delightful.
Data Visualizer
Animate and differentiate clinical data
Leverage the latest advancements in video game graphics and animation technology to bring critical data to life and make HCP interactions more meaningful.
Level Ex clients have successfully leveraged this mechanic to:

Bring clinical study data to life for HCP

s

.
Contextualize conditions using life-like, fully interactive patient avatars.
Simplify complex insights and key findings using high fidelity 3D visualizations and hyper-realistic animation.
Drive association between certain conditions and treatments.
Illustrate the impact of a given treatment over the course of a specific condition, reinforcing the need for adherence ("fast forward") and treatment at the right time.
Facilitate memorable interactions between MSLs/sales reps and HCP

s

while capturing meaningful interaction data for future follow-up.
Knowledge
Challenge HCP understanding of clinical data, guidelines, and diagnosis
Educate HCP

s

about specific conditions, clinical study data, or new insights through fun knowledge games.
Play through a series of short, bite-sized questions that provide instant gratification and entertainment while unveiling HCP-level insights such as knowledge gaps, biases, and more.
Level Ex clients have successfully leveraged this mechanic to:

Challenge HCP

s

on their knowledge and drive repeat exposure to key messages/data points.
Break up dense content or lengthy presentations with quick, bite-sized interactions that bring clinical data, guidelines, and disease manifestations to life.
Unveil deep HCP-level insights (e.g., knowledge gaps, biases, etc.) that enable them to optimize HCP engagement and messaging strategies.
Spark highly engaging P2P discussions via real-time group gameplay and KOL discussion of responses.
Custom Game
Create a custom, interactive experience aligned with specific key objectives
Though we offer an extensive suite of proven mechanics that have been field-tested with tens (or hundreds) of thousands of HCPs, sometimes a brand's challenge requires a fully-custom solution. Our in-house team of veteran video game experts can recommend and create custom, interactive educational experiences that align with your specific learning objectives and success measures.
Work directly with our experienced studio design team to develop distinctly custom gaming solutions based on your brand goals.
Create engaging game experiences designed to highlight key concepts, advantages or novel market introductions.
Gather player insights to better understand knowledge gaps and help inform sales and marketing activities.
Play anywhere, any time, and on any device by leveraging any of our deployment options, including our proprietary cloud-gaming platform, standalone apps, AR/VR experiences, website integration and more.
Thank you for your message.