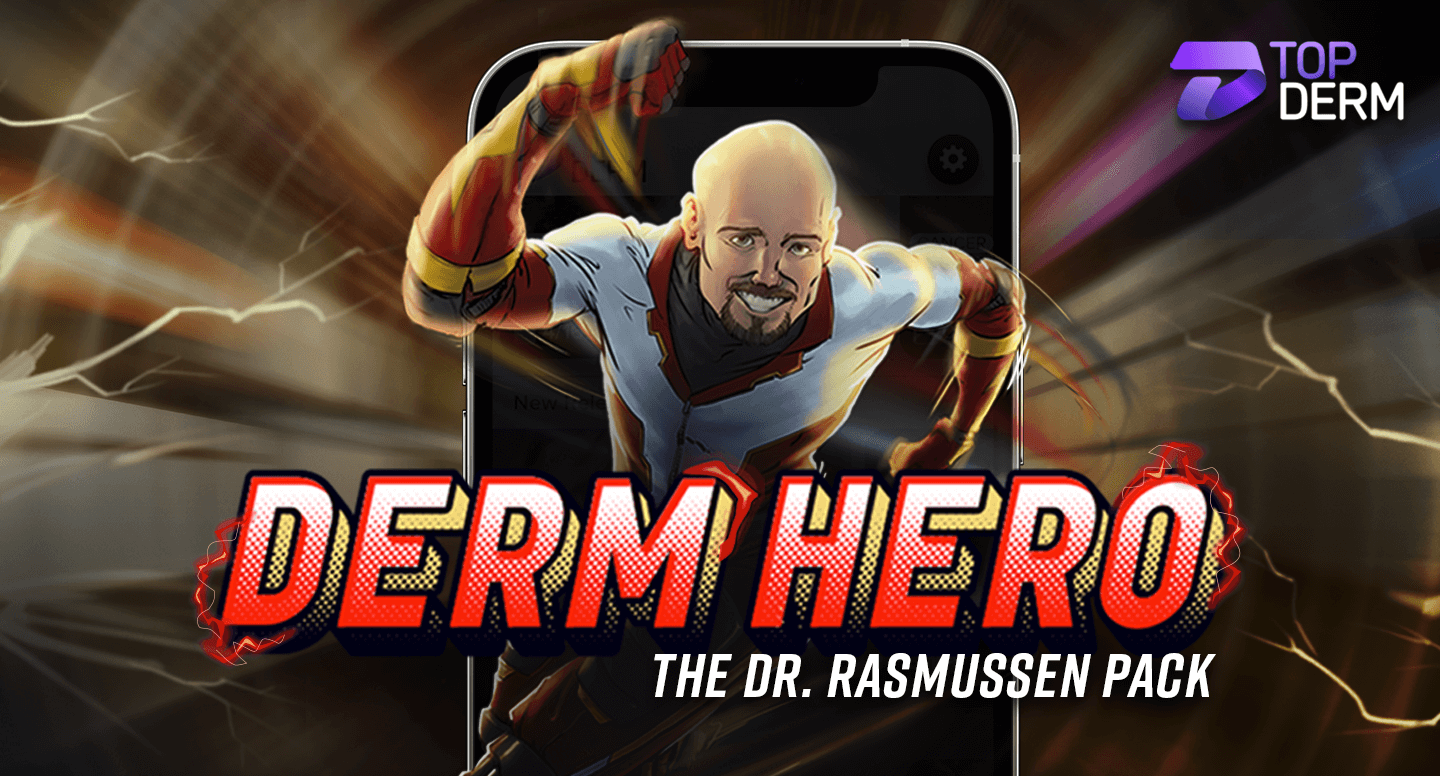 Turning Passions Into Gameplay
The Power of the Derm Hero Series
If you could choose any superpower, what would it be? superhuman strength, speed, the ability to read minds or fly—it's challenging to pick just one. The Avengers had it right by banding together and combining their gifts to form the ultimate team. That's our inspiration for the Derm Hero series in Top Derm.
When creating this series, we started by asking dermatologists what they're passionate about and what knowledge or expertise they'd like to share with the community. From there, we worked together to turn those passions and specialties into gameplay.
Our first hero, Dr. Peter Lio, kicked off the series with a deep dive into atopic dermatitis. Dr. Sara Hogan joined the crew shortly after with her pack dedicated to diagnosing and treating patients with skin of color. Now, Dr. Steven Rasmussen is bringing his passion for pediatric dermatology into the mix.
The Derm Hero trio: Dr. Hogan, Dr. Rasmussen, and Dr. Lio
Derm Hero: The Dr. Rasmussen Pack
Board-certified dermatologist and fellow of the American Academy of Dermatology, Dr. Steven Rasmussen is known for his dedication to both his practice and his patients—especially the youngest ones. In fact, his work with children has earned him accolades such as "Top Pediatric Specialist" and "Texas Super Doctor" (a fitting title for our newest derm hero).
When asked why he chose pediatric dermatology as the focus for this pack, he said, "I think children are amazing. Their innocence and joyous outlook on life is a daily reaffirmation for the happiness that we should all strive for each day."
Dr. Rasumssen's pack focuses on common to rare pediatric skin conditions from neonatal eruptions to inherited ichthyoses. He carefully curated his topics and questions to best benefit his peers: "I hope that players come away with an appreciation for the subtleties in some common disorders as well as the ability to identify some of the more concerning conditions that may be encountered in children."
As it turns out, such a resource is desperately needed in the field. Pediatric dermatology knowledge is at a premium, with less than 400 board-certified pediatric dermatologists working in the U.S. 18 states have one or no pediatric dermatologist according to the Journal of the American Academy of Dermatology (JAAD).
JAAD's recent report adds that "the demand for pediatric dermatology expertise has far outpaced the workforce, with only 15 to 20 pediatric dermatologists entering the field each year," causing above-average wait times and other barriers to care. The Dr. Rasmussen Pack aims to provide dermatologists with information to help bridge this gap.
How well do you know your neoplasms? Dr. Rasmussen puts your skills to the test.
Top Derm: Physician Powered
The Derm Hero series isn't the only opportunity for dermatologists to infuse their expertise into our game. Top Derm is made for derms by derms. Before launch, our game designers worked with a panel of over 140 dermatology experts to create these medically accurate, fun, and challenging experiences.
The collaboration continues as we build new content and continue to evolve this unique medical resource. When asked about the process of creating his pack with the Level Ex team, Dr. Rasmussen's enthusiasm was clear: "This has been a very fun experience for me. Working with Level Ex to make my Derm Hero pack was easy and rewarding knowing that I got to share my passion for learning. I have to admit that one aspect that I did look forward to during the process was getting to see myself drawn up as a superhero. I think we all have a little part inside of us that would love to be a superhero."
Thanks to Dr. Rasmussen and our many derm advisors and experts whose passions—and partnership—power dermatology forward.
If you're as excited as Dr. Rasmussen, go play the newest Derm Hero pack. Want your own pack? Contact us to see how you can join our super team of dermatology advisors.