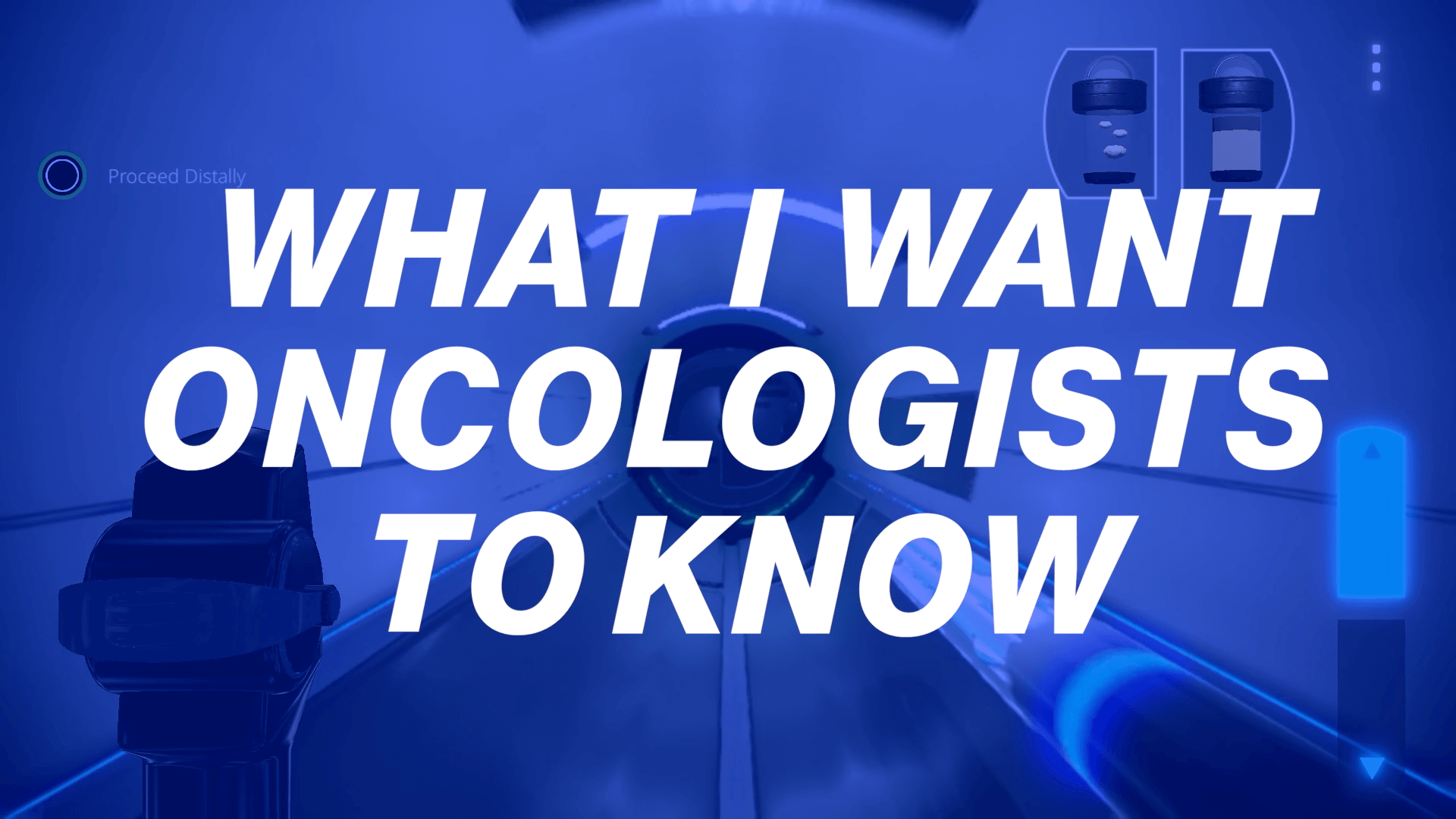 What a Lung Cancer Expert Wants His Oncologist Colleagues to Know
Lung cancer treatments are evolving: It's time for expanded screening says pulmonologist Dr. Kyle Hogarth
Over the past few years, thoracic oncology has made incredible gains on the treatment front. We can reap even greater benefits from these advancements by expanding screening efforts.
As Director of Bronchoscopy and Co-Director of the Lung Cancer Screening Program at University of Chicago Medicine, my mission is to advance cancer diagnostics and treatment. The work I do everyday is in service of this mission. Early stage lung cancer rarely has any symptoms, so it isn't uncommon that by the time a patient presents with something that would lead to imaging, the cancer is usually advanced. Just recently, I screened a patient who presented with stage 2 lung cancer. They will need to undergo systemic treatment, so it's imperative that I biopsy enough tissue in order to test for oncogenes and identify the appropriate therapies that the patient will need to achieve the best possible outcome.
Facts sourced from clinical trials in the US and Europe as well as CDC reports.
Because many tumors can now be treated with target drugs based on their genetic characteristics, Level Ex developed a game for the Pulm Ex app to simulate the experience of biomarker testing and raise awareness around the importance of identifying driver mutations at diagnosis to inform treatment options. Healthcare professionals to navigate a bronchoscope through the airways of a lung to remove biopsy tissue at the location of a suspected cancer mass. They can then experiment with different testing methods while reviewing the current biomarker testing recommendations and uncovering facts about one of the most common oncogenic drivers in non small cell lung cancer (NSCLC), KRAS G12C.
The KRAS G12C unit in Pulm Ex provides a closer look at the underlying mutations at the root of non-small cell lung cancer which are critical to developing an effective treatment course.
While it is clear that advancements such as targeted therapies and combination therapies have improved outcomes for advanced lung cancer, the fact remains that CT scanning can reduce cancer deaths by catching more cases early. Greater improvements are possible with continued research investment and increased use of screening advances. Here are my recommendations for expanding lung cancer screening in the US.
Improved Awareness and Education
In my role, I've experienced first hand the power of screening. Unfortunately, there is little awareness amongst patients—and doctors, to a lesser extent. Every year, there are widespread campaigns for breast cancer screening that convey the importance of early detection and demystify the process. These efforts have been successful in making breast cancer screening a more standard preventative healthcare measure. While it is common for a woman to have a conversation about breast cancer screening with her doctor, the same cannot be said for lung cancer screening. In fact, only 4.3% of all adults report having a discussion about lung cancer screening with their physician. We need to equip and empower both patients and physicians alike with essential information if we want to improve these numbers.
Quality Training and Enterprise Building at Hospitals
Screening begins with a low-dose CT (LDCT) scan of the patient's chest to obtain a detailed image and analyze it for any abnormalities. For some, this quick, painless, non-invasive diagnostic test will be the first and last step. However, if further investigation is warranted, we can perform more in-depth bronchoscopy if needed to sample the lesion. Using advanced medical technology, we can explore deep in the periphery of the lung and get radiographic 3D views of the lung in real time to guide the instruments into the nodule or sample the lymph nodes inside the chest from inside the windpipe utilizing endobronchial ultrasound (EBUS).
Advancements such as robotic bronchoscopy, EBUS, and external imaging have made lung cancer screening a minimally invasive procedure if a biopsy is needed—much like a mammogram. It has also made screening more accurate and thorough. My clinic was an early adopter of this technology. Traditionally, adoption of new technologies into the medical field is a slow transition. There are fears, doubts, and of course, a learning curve. New tech requires change and a willingness to learn and adapt both for physicians and hospitals. This is one of my motivations for joining Level Ex as a physician advisor. I believe we can use virtual and game-based training to accelerate this adoption curve and shorten the learning curve. More practice in a high-fidelity training model helps make a physician more prepared for the real world. By providing quality, high impact training for medical professionals, we can ensure that more hospitals are providing this service and have the ability to help patients bronchoscopically that need samples taken from their lungs accurately and safely. This in turn benefits oncologists who will need that information to determine the best course of treatment.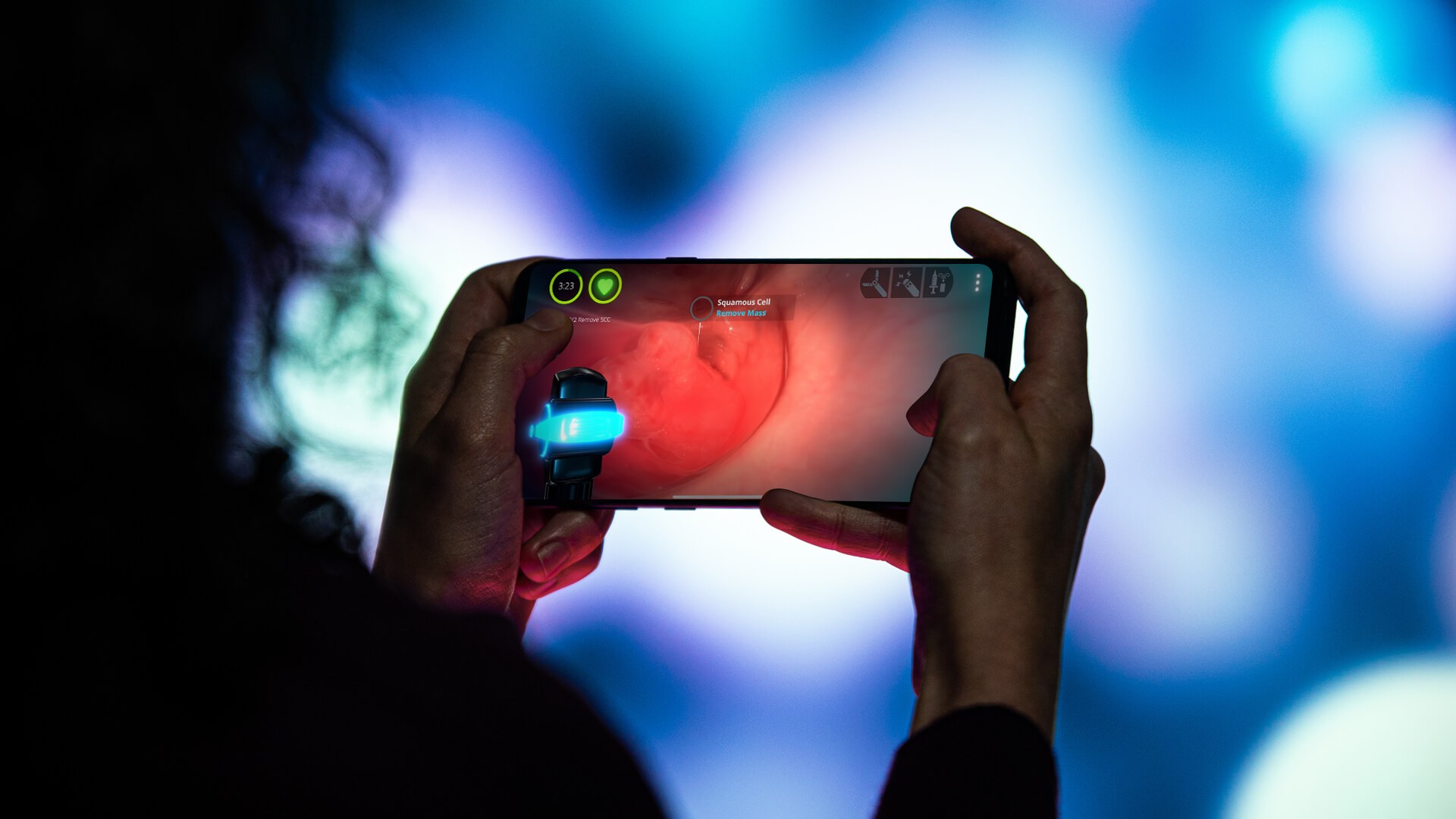 The Sanguine Scourge game, in Pulm Ex, lets players practice removing squamous cell carcinoma with limited visibility. This is an opportunity to practice challenging procedures in a risk-free environment.
Reducing Barriers to Access
Awareness, education, and training efforts can help ease fear of the unknown, but there are other barriers—both mental and physical—that must be addressed. First, stigma. Lung cancer is viewed as a smoker's only disease which can lead to feelings of shame or guilt which can delay or even prevent people from seeking treatment. There's this stigma of "well of course you got lung cancer!" This attitude needs to be destroyed. Smoking is an addictive habit, with the biology of addiction similar to heroin and cocaine and it's been well demonstrated how the tobacco industry markets to teens and children to get people hooked on cigarettes at an early age. While it is true that smoking can increase the risk of lung cancer, it is not the only cause and the number of non-smokers with lung cancer is growing. Regardless of a person's history, everyone deserves quality care and compassion from a well-trained, competent, and empathetic physician.
Additionally, there are various logistical issues that deter patients from participating in screenings. For example, qualification criteria are difficult to understand and navigate. There must be clear and established guidelines for all. This recommendation summary from the US Preventitive Services Task Force is a helpful resource for patients and medical professionals alike.Once past that hurdle, it can be a challenge to find a facility. To address this issue, The American College of Radiology provides a lung cancer screening locator tool.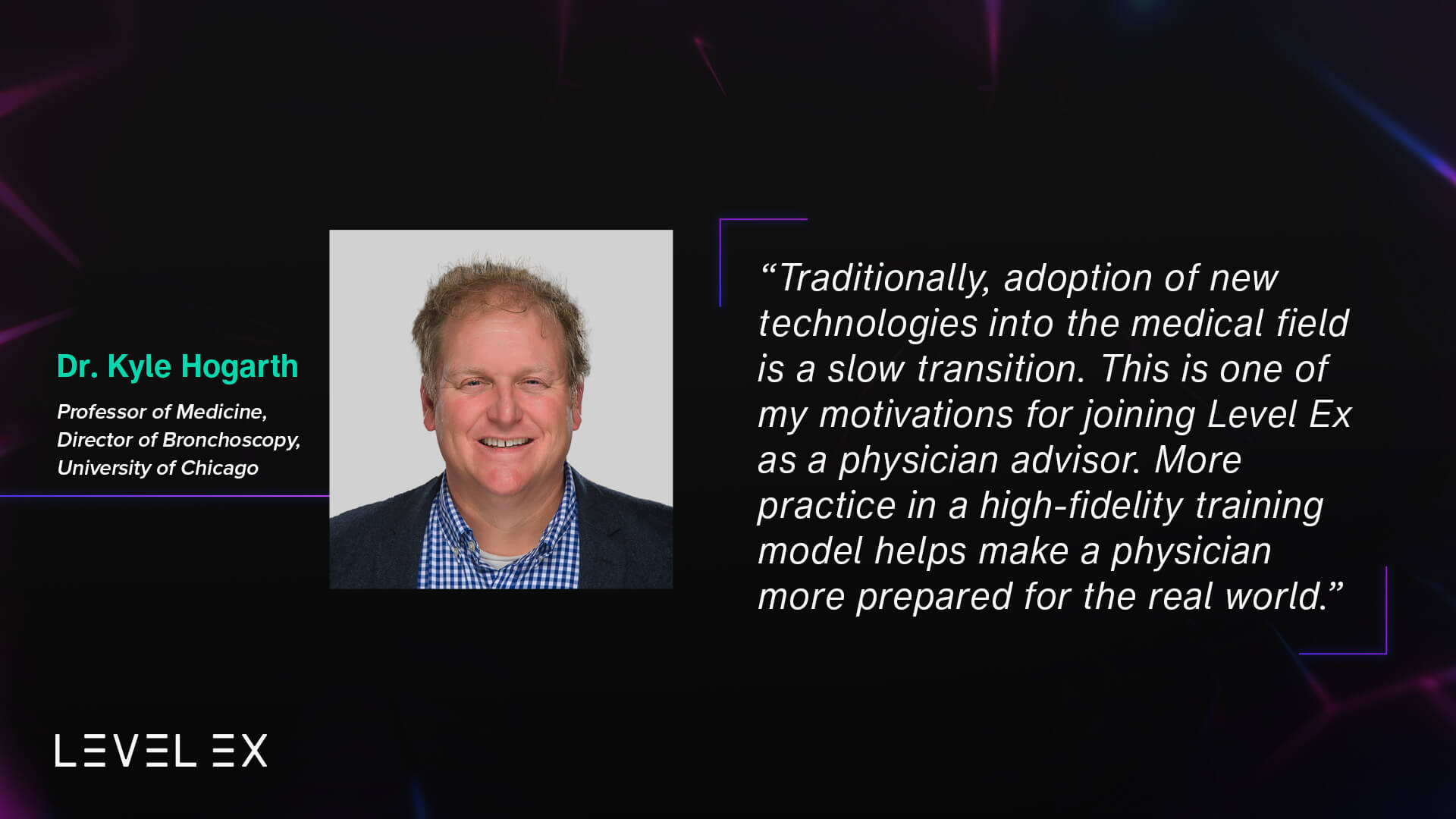 With continued efforts to improve education, training, and access for lung cancer screening, we can diagnose sooner and connect more patients to the life saving treatments they need to achieve the best possible outcome.
D. Kyle Hogarth, MD, is the Director of Bronchoscopy and Co-Director of the Lung Cancer Screening Program at University of Chicago. In addition to being an expert in pulmonary disease, he is involved with the minimally invasive diagnosis, management, staging and treatment of lung cancer through bronchoscopy. He was the first physician in the region to utilize the Auris Monarch platform, a robotic bronchoscope that allows deeper access to the lung without surgery as well as the LungVision system for 3D images of the lung during biopsies. He uses endobronchial ultrasound to biopsy lymph nodes, debulks central tumors, places stents in cancerous airways, and performs all other minimally invasive techniques to help patients with lung cancer. He is involved in several clinical trials that are investigating therapies for lung cancer that can be administered via the bronchoscope.
At Level Ex, Dr. Hogarth has advised on the development of Pulm Ex. His vision for the future of bronchoscopy includes integrating external radiology into scopes, advancing ablation/curative technology, and further development of virtual, game-based, and live model training for new technologies.