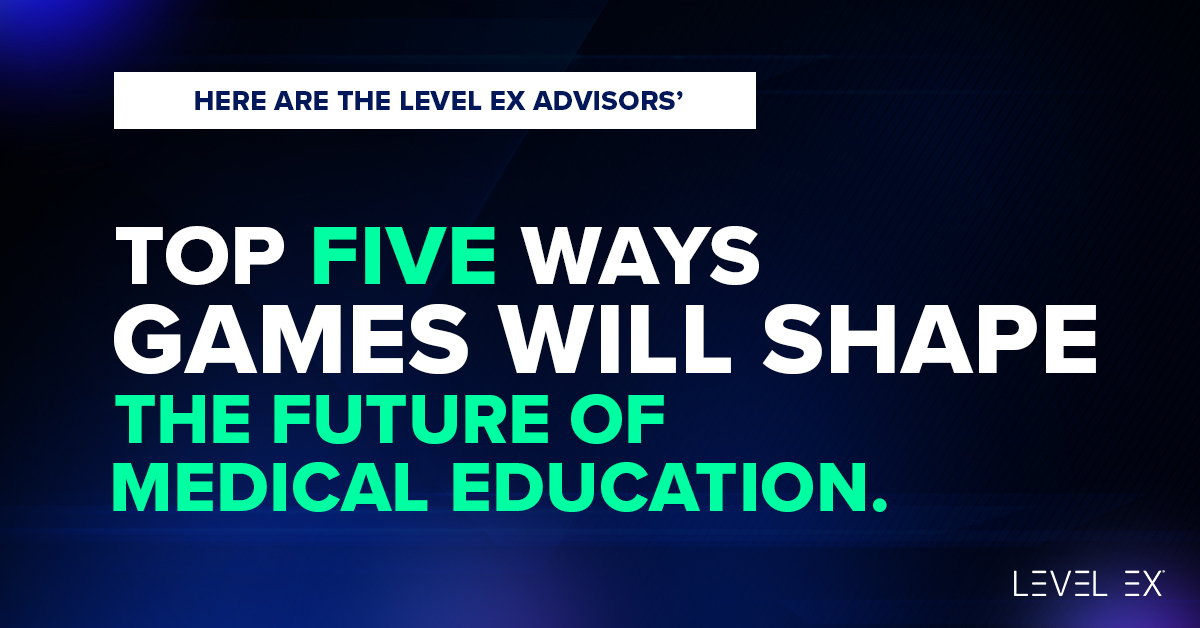 5 Ways Doctors Say Play will Advance Medicine
Hundreds of doctors and healthcare experts across specialties work with the Level Ex team, developing games that advance knowledge and skills in medicine. Like Level Ex, a group of these highly active advisors are on a mission to help 'play' take its rightful place among other modalities of learning – such as lectures, conferences, videos, journals and textbooks – a mission to make training and education better for healthcare professionals (HCPs) and industry.
At the first Level Ex Medical Advisor Meeting of 2022, these forward thinkers and leaders in their field came together to discuss this mission. What new and yet-to-be-released technology will have the most impact and where is the greatest need? Which specialities are especially in need of game technology? Here's an inside look at the top five ways our advisors say games will shape the future of ongoing medical education.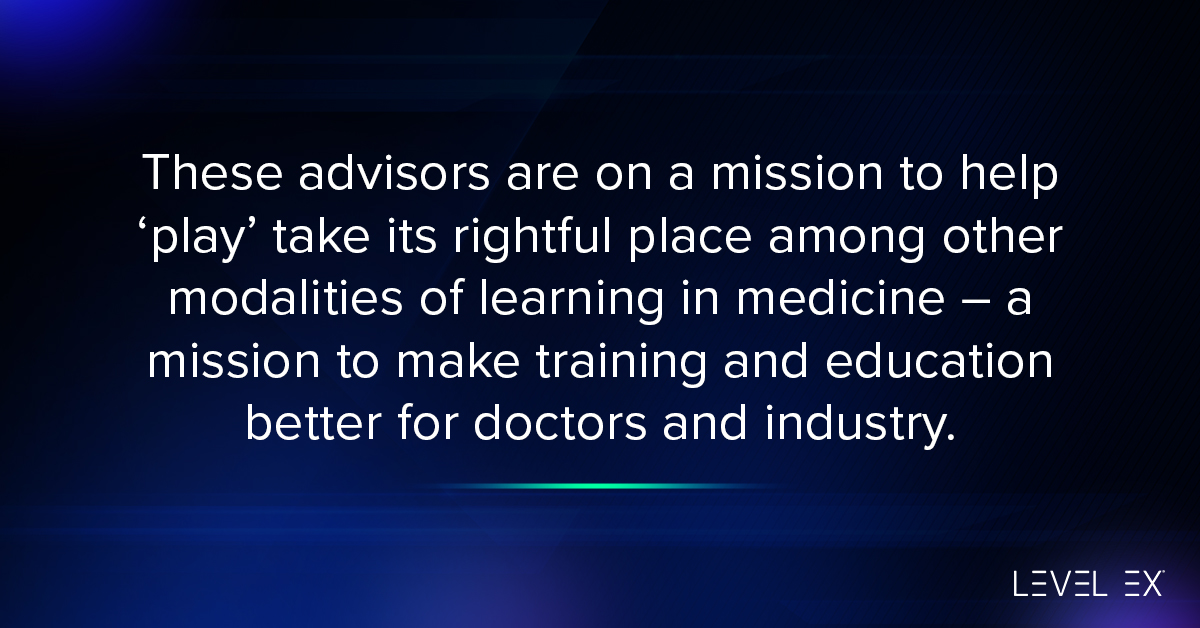 1. Accelerating the adoption curve of new skills in medicine
Right now, most HCPs rely on existing modalities of education — live videos, animations, and lectures —to better understand novel concepts, from using the latest ablation system or understanding the mechanism of action of a new drug class. These methods are important, but studies consistently show play is highly effective at helping people develop mental models to understand complex concepts.
"By 2027 we envision a world where play is broadly accepted as a fundamental force accelerating the adoption of new skills in medicine. We want it to be the universally accepted best practice," says Sam Glassenberg, Founder and CEO, Level Ex. Within the next five years, video games will be the go-to medium for scenarios where a physician needs to deeply understand a complex system.
2. Engaging healthcare professionals across the industry
Much of the latest and exciting tech in healthcare is geared toward doctors, from robotic surgery to VR. However, non-physician healthcare professionals also need more engaging and effective methods of medical training.
"I think that the targeting of physicians is great and it's important, but we should not miss everyone else in healthcare — nurses, paramedics, technicians," says Dr. Rafael Grossmann, MD, FACS, Healthcare Futurist, Technology Innovator, Surgeon & Educator.
Pediatric Cardiologist Dr. Shawn Sen, MD, Assistant Professor of Pediatrics (Neonatology) and Pediatrics (Cardiology) at Northwestern University Feinberg School of Medicine says he was brought up to value all the different roles in healthcare — from nursing to social work – and believes game technology can unite experts across the care team. "There's such a push for interprofessional team atmosphere and healthcare cooperation," he says.
3. Creating a consistent and strong foundation with residency and fellowship programs
While HCPs successfully use games to advance their skills and master complex and rare cases throughout their careers, games are an especially effective modality for teaching foundational medical concepts. From the Krebs cycle to common disease interactions, this makes games a good fit for training programs like fellowships and residencies, in addition to the critical role they play in Continuing Medical Education (CME) and Continuing Professional Development (CPD).
"Games can be very useful in tackling complex concepts that are useful to health care —things like genetics and informed consent," says Dr. Komal Bajaj, MD, MS-HPEd, Chief Quality Officer at NYC Health + Hospitals/Jacobi.
Dr. Sen agrees. "I can't tell you how painful it is to run a simulation code with dummy models meant to represent real humans," he says. "I have trainees who can't take it seriously because it just doesn't seem real. To be able to really show what it's like to experience this at the bedside, to practice making your own medical decisions – that would be so incredibly helpful."
Incorporating game technology into medical education at this level also builds a consistent and effective foundation for trainees and improves access to high quality education. Trainees develop lifetime strategies, habits, and approaches at this stage, but not all have the same access or opportunities. Creating that foundational conceptual understanding and exposure to new techniques and devices broadens trainees' skill set beyond their home institution.
4. Breaking down generational barriers
Nearly all of the advisors had faced the misperception that video games in medicine were for younger generations. But the value of applying game technology to medical education is not only effective and enjoyable for all learners, but is actually already used by healthcare professionals of all generations. It's important, the advisors say, not to reinforce such thinking that can therefore discourage HCPs who might otherwise be interested in using play as a modality of learning.
"If we're losing [the opportunity to train] our physicians in their 50s and 60s, we're losing decades of expertise," says Dr. Sen.
"Short but meaningful 'micro-learning' experiences have been found to be much more effective for all learners because they let you train at your own time and your own pace," says Dr. Eric Gantwerker, MD, MMSc, Pediatric Otolaryngologist at Cohen Children's Hospital at Northwell Health/Hofstra and VP, Medical Director at Level Ex. "It's much better than being at a conference for five days or sitting through five hours of lectures, which is often what healthcare professionals at all phases of their careers need to do in our traditional system."
5. Prioritizing patient safety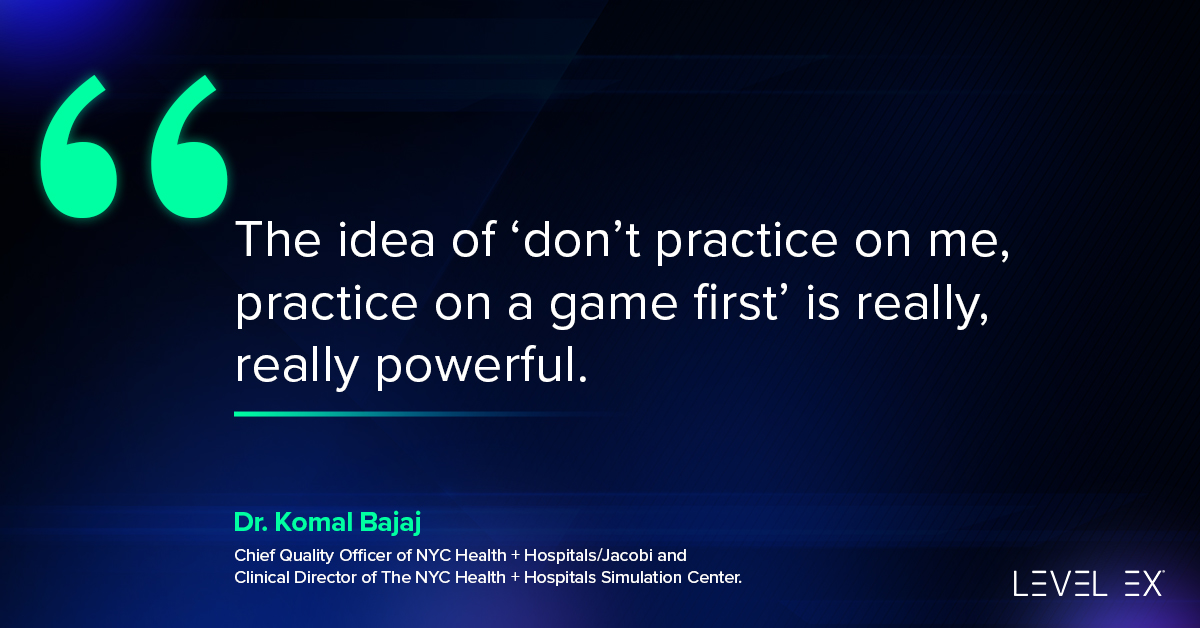 Given the ability to earn CME credit for Level Ex games, the steady increase in players, and ongoing efficacy studies that validate games as a modality for learning, the day is not far off when patients will see the value of medical professionals who have used games to learn as well.
"The idea of doing a real focused practice on things that are so low stakes but allow us to do things that we had otherwise needed patients to help us with before, is beyond invaluable," says Dr. Anthony Klappa, MD, Cardiologist at Washington Regional Medical Center.
Both medical students and physicians with decades of practice need to refresh their skills every now and again, especially when it comes to rare and challenging cases that they may not see on a daily, or even yearly, basis. With medical training games, HCPs can fine-tune their skills before entering the OR.
"The idea of 'don't practice on me, practice on a game first' is really, really powerful," says Dr. Bajaj.