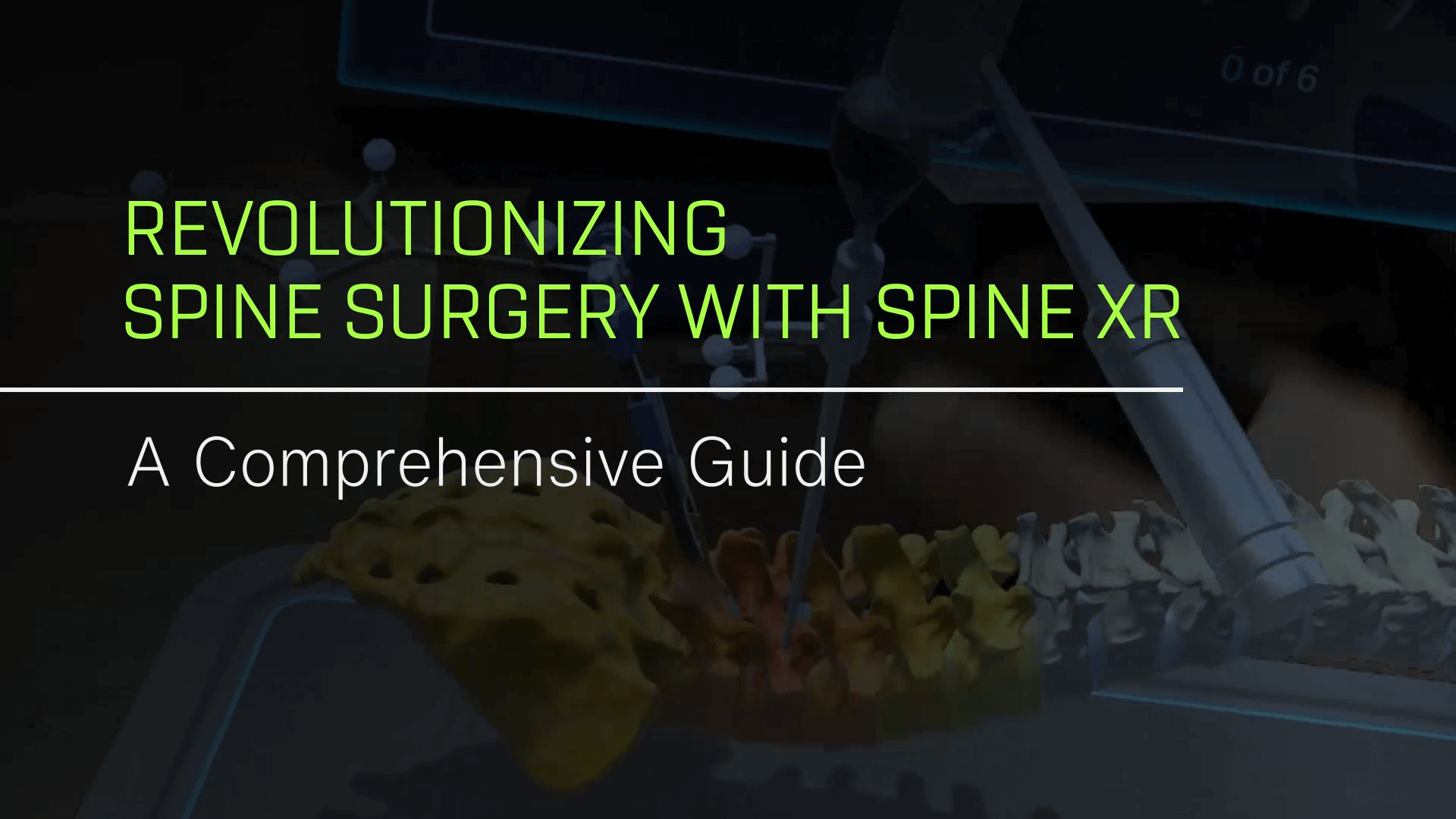 Revolutionizing Spine Surgery with Spine XR: A Comprehensive Guide
Explore the advantages of our interactive spine game. Which platform is right for you?
Surgical navigation technology has transformed spine surgery by enabling surgeons to accurately predict trajectories and visualize implant placement during minimally invasive procedures. However, complications occasionally surface during such procedures—and one type of complication that we'll discuss in this post can derail both the software and the surgical outcome.
In short, the spine risks being displaced when a surgeon is applying physical force during surgery. This displacement can throw off the surgical navigation system and potentially lead to complications for the patient. Surgeons often have no indication they're off course, and the dilemma compounds as they proceed.
How can clinicians improve navigational precision in spine surgery given these current limitations?
Enter Spine XR, a mixed reality game that simplifies spine surgery by offering an unobstructed view of the spine, allowing surgeons to hone their skills in preventing displacement.
How Spine XR Works
Level Ex's team of developers, physicians, and in-house medical experts built Spine XR to strip spine surgery down to the essentials, quite literally. Spine XR separates the spine from the patient's body in a highly interactive game, enabling players to visualize how the spine reacts to physical forces and understand displacement risks during surgery.
The gameplay fosters critical and creative thinking, helping players develop a lasting mental model of the actions and techniques that reduce displacement risks. This ultimately enhances procedural accuracy and safety in spine surgery.
Where to Play Spine XR: Multiple Options for Different Needs and Budgets
Spine XR is available across various platforms, ensuring accessibility for users and medical teams with different needs and budgets. Here we'll explore the dynamic features of Spine XR based on the different platforms surgeons can use to play the game, and outline the benefits of each experience.
Performing Spine Surgery with Augmented Reality (AR)
Augmented reality (AR) technology enhances a player's physical environment by overlaying simulated objects and information. Players can move freely around the augmented experience as if the simulated content is directly in front of them.
Spine XR was the first healthcare application for Magic Leap 2 (ML2), a high-performance AR device that runs customized enterprise solutions at scale with one of the highest compute performance capabilities of any standalone AR device on the market. Using the ML2 headset, players can insert screws into a virtual spine and hammer them with a virtual mallet, working to choose the best screw sequence to minimize displacement.
AR is ideal for players who want an immersive experience while still being able to interact with their environment and others around them—for instance, at a conference booth or as part of an interactive educational experience.
Immersive AR Experiences No Matter the Lighting or Environment
Magic Leap's Segmented Dimming™ feature brings Spine XR to life by dimming portions of the display directly behind virtual assets, creating an immersive experience that works well in various environments, even outdoors. Both global and segmented dimming options ensure easy text legibility and a better experience for users in bright rooms or industrial spaces.
Bright conference rooms or event halls are easy choices for such dimming options. Just take the example of the 2022 North American Spine Show (NASS) in Chicago where we debuted Spine XR. Not surprisingly, the experience was a huge hit with NASS attendees, driving traffic and drawing a steady crowd in the large arena.
A More Affordable Spine XR Experience with Oculus Quest 2 (VR)
Spine XR is available on the Oculus Quest 2 virtual reality (VR) platform for players seeking an immersive experience without the cost of Magic Leap. This version offers similar features on a more affordable platform that allows for broader scaling of headset-based training. The Oculus Quest 2 VR experience transports users to a virtual operating room, providing a fully immersive experience with a controlled environment and fewer distractions.
The VR experience is not optimal for every player, however. When users can't see the world around them, some may experience anxiety or reluctance to move around for fear of bumping into something or causing an accident, making VR a less ideal option for busy in-person events. There is also a chance some may suffer from motion sickness due to the immersion of the experience.
That being said, the VR experience enables learners to be completely immersed in the surgical experience with optimal control. The Oculus Quest VR option is best for players who want fewer distractions and a tighter focus on the Spine XR experience.
Spine XR on Mobile and Desktop for Convenient Access Anytime, Anywhere
To make Spine XR even more accessible, we've made it available on desktop computers, tablets, and mobile devices. Users can easily launch the game by scanning a QR code, without any downloads, installs, or additional hardware required.
This 2D version of the game includes all Spine XR assets, and the multi-user interaction feature allows players to perform spine surgery with friends or colleagues across the globe.
Limitations of the 2D experience include less physical interaction with the assets, a reduced ability to build spatial awareness, and less immersion compared to AR and VR. However, the convenience and ease of remote play without the need for special hardware is unbeatable.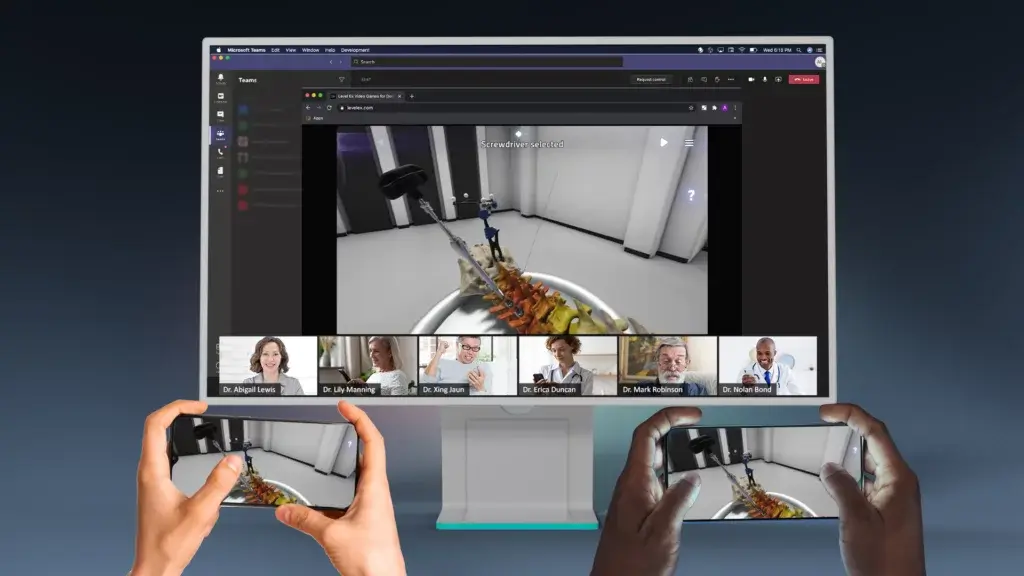 Choosing the Best Spine XR Platform for You
The ideal Spine XR platform depends on your specific needs and preferences:
AR: AR platforms like Magic Leap 2 are ideal for conferences and interactive training events. Magic Leap's Segmented Dimming™ feature gives players the ability to move around and interact with Spine XR no matter the lighting condition.
VR: Oculus Quest 2 provides a more affordable VR experience with fewer distractions and a controlled environment. AR and VR are also better options for helping players build muscle memory as it relates to procedures and techniques.
Mobile and Desktop: Spine XR for desktop, tablets, and smartphones offers a convenient, powerful, and scalable gameplay experience that can be accessed anytime and anywhere, but with reduced immersion in a 2D environment.
Not surprisingly, Level Ex clients often choose a combination of options to deploy their solutions, including Spine XR. While a more immersive option like AR is ideal for helping clinicians build a lasting mental model of the physical motions and techniques needed for a procedure (not to mention drawing a crowd to your booth), mobile and desktop deployments are ideal for ensuring remote and/or ongoing access to the game. Our mobile and desktop versions of Spine XR ensure clients can drive ongoing engagement and training, which ultimately helps reinforce memorization of the procedural steps and techniques needed to ensure a positive result.
Interested in learning how games like Spine XR can help you achieve your business objectives? Have a medical device challenge you're itching to solve? Get in touch.