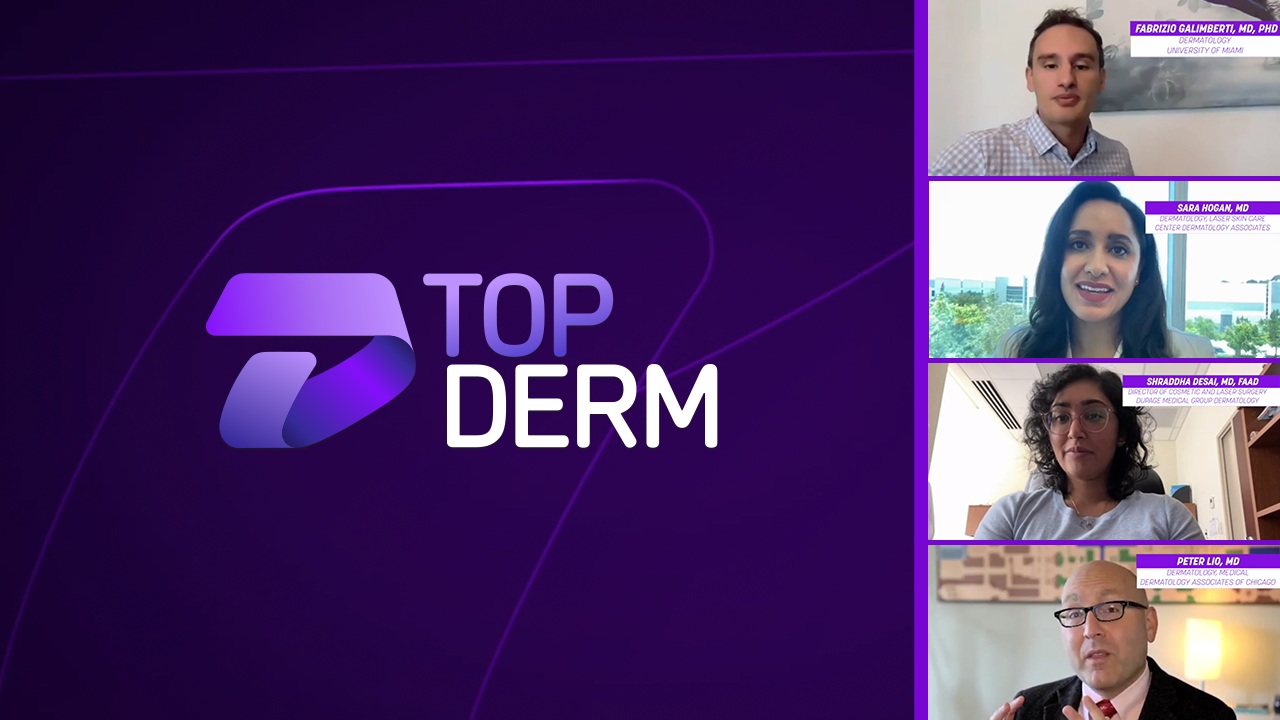 For Derms, By Derms: Top Derm from the Physician Advisors' Point of View
"When you're working outside of your industry in something that I think of as an incredibly exciting space—the video game space and technology space—you're interacting with a whole different group of people: game creators, artists, people who really deeply understand the technology. It has been so interesting to me and really has pushed me and stretched me in ways I didn't even think about before. In a way, it's kind of my dream to use the skills that I've acquired in one area and be able to apply them to other areas to make something bigger." —Peter Lio, MD, FAAD, Dermatology, Medical Dermatology Associates of Chicago
Over the past few years, Level Ex artists, designers, developers, and over 140 dermatology experts have pushed, stretched, and enriched one another as they collaborated to create our newest game, Top Derm. The result of their hard work is a fast-paced, fun, and challenging dermatology game unlike any other medical resource available—and the journey from concept to launch is just as unique and exciting as the app itself. Four of our physician advisors share their experiences.
Teaming Up with Top Derm
Prior to Top Derm, the Level Ex team of designers, developers, and medical experts has collaborated with hundreds of physician advisors to create games for cardiology, gastroenterology, anesthesiology, and pulmonology. Dermatologists were downloading and playing these games, so we knew there was both an interest and need present. We also recognized that a dermatology game would differ from previous titles in style, content, and mechanics due to the nature of the field. Shraddha Desai, MD, FAAD, Director of Cosmetic and Laser Surgery, Dupage Medical explains, "A lot of us, especially in dermatology, are very visually oriented." In addition to being a highly visual field, dermatology also has high clinic volume and is relatively fast-paced. Top Derm's gameplay strives to mimic that environment.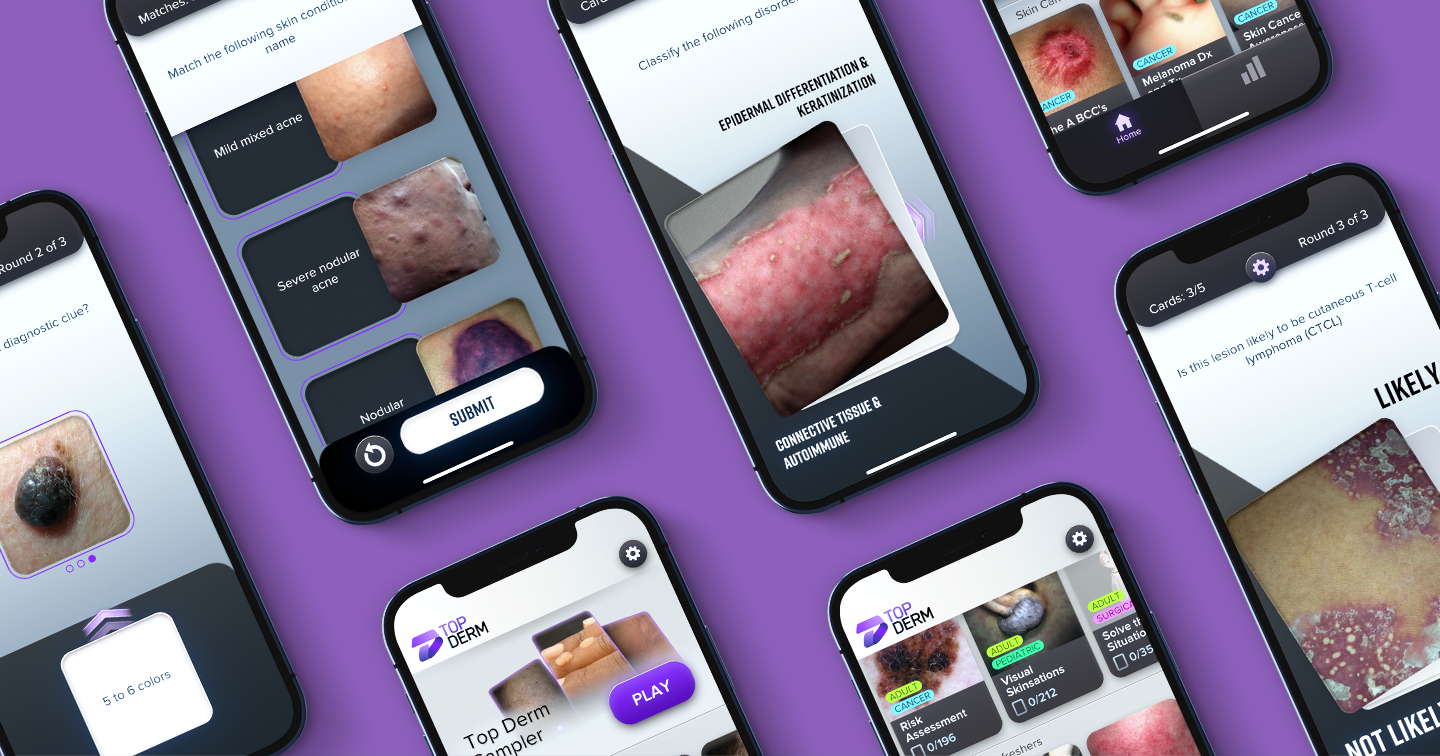 Not only did we consider how dermatologists work, but we also paid attention to how they like to learn. For Dr. Desai, Top Derm's departure from traditional methods of learning and review was a big draw. "I am more of an interactive learner in general. So for me, reading a journal is not very exciting and can be kind of boring. More often than not, I tend to skim things. So having a visual product as well as one that is entertaining and fun, people get a lot of stimulation in different ways and then they end up learning more as well as retaining that knowledge moving forward," she explains. The game takes important topics in dermatology and transforms them into short, rapid-fire challenges that educate while they entertain. Sara Hogan, MD, Dermatology, Laser Skin Care Center Dermatology Associates, learned about Top Derm through an ad looking for reviewers to playtest Top Derm before its official release. "I had so much fun and [enjoyed providing feedback during playtesting] that I became an advisor," she remarks. Like Dr. Desai, Dr. Hogan appreciates having a new and different mode for obtaining information: "It compliments our readings that we do in journals and the continuing medical education that we do through conferences. It's a new way to see information and to learn." Fabrizio Galimberti, MD, PhD, Dermatology, University of Miami, calls it "the next level of learning." As one of the newest advisors to join the team, he attributes some of his interest in Top Derm to the pandemic, which he believes has made everyone more comfortable with technology and open to bigger changes in how we live, work, learn, and connect with one another.

As a Clinical Assistant Professor of Dermatology and Pediatrics at Northwestern University Feinberg School of Medicine in Chicago, Peter Lio, MD, FAAD, Dermatology, Medical Dermatology Associates of Chicago, has particular interest in the educational value of Top Derm with regard to the broader impact it will have on patient outcomes: "Part of my work is thinking about how we can bring some of the key educational experiences that are really high value in terms of knowledge, but also improving clinical practice. The dream, ultimately, is to have an impact on patient outcomes using the power of technology and gaming, which really captivates the audience and brings people back for more." Dr. Lio was so passionate about sharing his own expertise with the broader derm world that he collaborated with our team to curate his own challenge pack on atopic dermatitis.
Collaboration: Just What the Doctor Ordered
When creating a video game for physicians, the level of collaboration is unlike anything most contributors have ever experienced. "I would say that in my career, this has been one of the most interesting and exciting things I've ever done," remarks Dr. Lio. "Working with Level Ex has been this incredible give and take and a growth experience for me… iterating, changing, sharing ideas and then building things out to get feedback on it has been incredibly inspiring to me." Level Ex Senior Artist Colin Joyce says the feeling of inspiration and admiration was mutual. "Five minutes worth of feedback from a derm could save a week of making adjustments," he explains. Colin created much of the clinical imagery in Top Derm by working closely with physician advisors to perfect each and every detail—to the point that most dermatologists could not discern the renders from the real images.
Dr. Hogan worked closely with artists like Colin to review computer generated imagery for the game. In this process, she would provide feedback on aspects such as features, morphology, coloring, and distribution. "One thing that I thought was really important was the team at Level Ex really wanted to make sure that different dermatologic conditions were visible or captured on different skin types," she shares. Specifically, she remembers working with the team to perfect a particular shade of purple used in the clinical imagery depicting lichen planus in someone who is Fitzpatrick phototype five, giving feedback on the type of micaceous scale you see on psoriasis or what dyshidrotic eczema looks like on the palms. The attention to detail was appreciated by Dr. Desai, as well. "The artistic renderers know I'm a stickler for color and texture and shape," she laughs. "I'm like, 'No, no, it's baby pink, not pastel pink.' And they have not been annoyed with me at all. They've actually been very appreciative about that." The time and careful consideration taken by the team, from start to finish, really impressed her.
Going through this process not only creates a better game, but builds incredible bonds as well. Dr. Desai explains, "What's unique about Level Ex is that it kind of feels like a family. It's not really just like you're working. There's a lot of camaraderie, there's feedback, and there's been a lot of input, which you don't get a lot of when you partner with other games or groups."

While the collaborative process was long and thorough, the Level Ex'ers made every effort to work within the physicians' busy schedules. "We know how few and far between their free time is. And to know that in between seeing patients, during their commute, or a ten minute lunch break that they would give us feedback was immensely appreciated by the whole team. Their investment and expertise propelled us to get Top Derm to the condition it's in now," says Elsa Varghese, Manager, Medical Team. Dr. Lio speaks to the ease in which he is able to fit working with Level Ex into his schedule. "My days are fairly complex and pretty busy. They often go late into the evening, often seeing patients during the day and then fielding calls and follow ups and pathology reports in the late afternoon. But much of my work [on Top Derm] has actually been asynchronous. We'll have a list of things that we want to check over. I can fill in some spreadsheets, we can give some feedback. And what's really nice about that is we can continue the dialogue in those free moments in the late evening or even in between patients." He adds that these are the moments when he can see himself playing Top Derm as well.
Play with Lasting Impact
With the launch of Top Derm, Level Ex'ers and physician advisors alike are seeing years of hard work and close collaboration finally come to life. The game is now in the hands of dermatologists around the world, and featured in publications like Healio and The Dermatologist, and on Dermasphere – The Dermatology Podcast.
For Dr. Lio, it's not just a job well done, but a dream come true: "I've been interested in video games my entire life and always dreamed about bringing together the ability to have some fun, but also to teach in the same concept. And that's really for me, what Top Derm represents— this opportunity that has never before existed and really is only made possible by the right people, the right technology and the right timing." Speaking of "right people, right timing," we met Dr. Lio years ago because his office was located on the floor below ours! His enthusiasm and encouragement were major motivators in the making of Top Derm.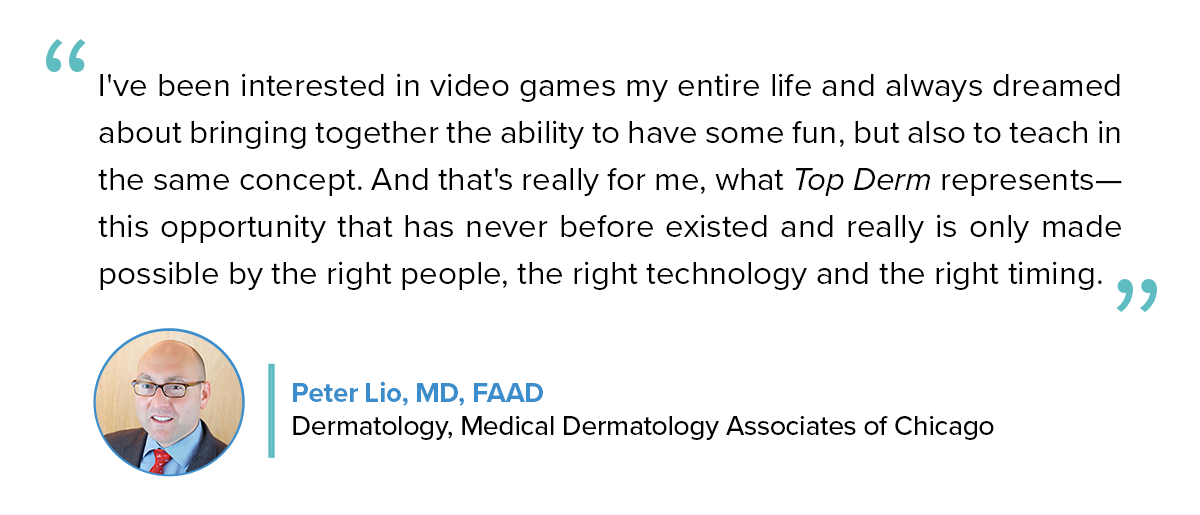 Working on a video game gave Dr. Galimberti a level of reach and influence that he could not have achieved on his own. He says, "I was actually helping the next generation of dermatologists. I was able to reach an incredibly large number of people that I wouldn't have been able to do by publishing a paper." In fact, he already has future plans for collaboration. He would like to see Top Derm used on an international level to bring higher quality medical education to countries with less robust residency programs.

And this is just the beginning. A major feature of Top Derm is the ability to rate and leave feedback on challenges. In doing so, physician players can help better the game and advance the state of the art in dermatology. Game Design Director, Jason VandenBerghe, reflects on the development of this feature: "When we were doing the first public playtest for Top Derm, we had included this feature…Normally in video games, we put in a feature like this, you get one percent or two percent, five percent participation. We got seventy five percent participation. Three quarters of people who played the Top Derm beta had something to say to us about the questions they were playing…We had never seen anything like this before and I've never heard of anything like that before. I can't tell you how fun it is working with the audience that really wants to tell you what they think." Both sides of this collaboration have benefited greatly from the other and we are excited to see that continue in the game. Thank you to all our physician advisors for their tremendous contributions.
We'd love to know what you think, too! Download Top Derm and leave feedback on the challenges you play. Want to do more? Become a physician advisor!