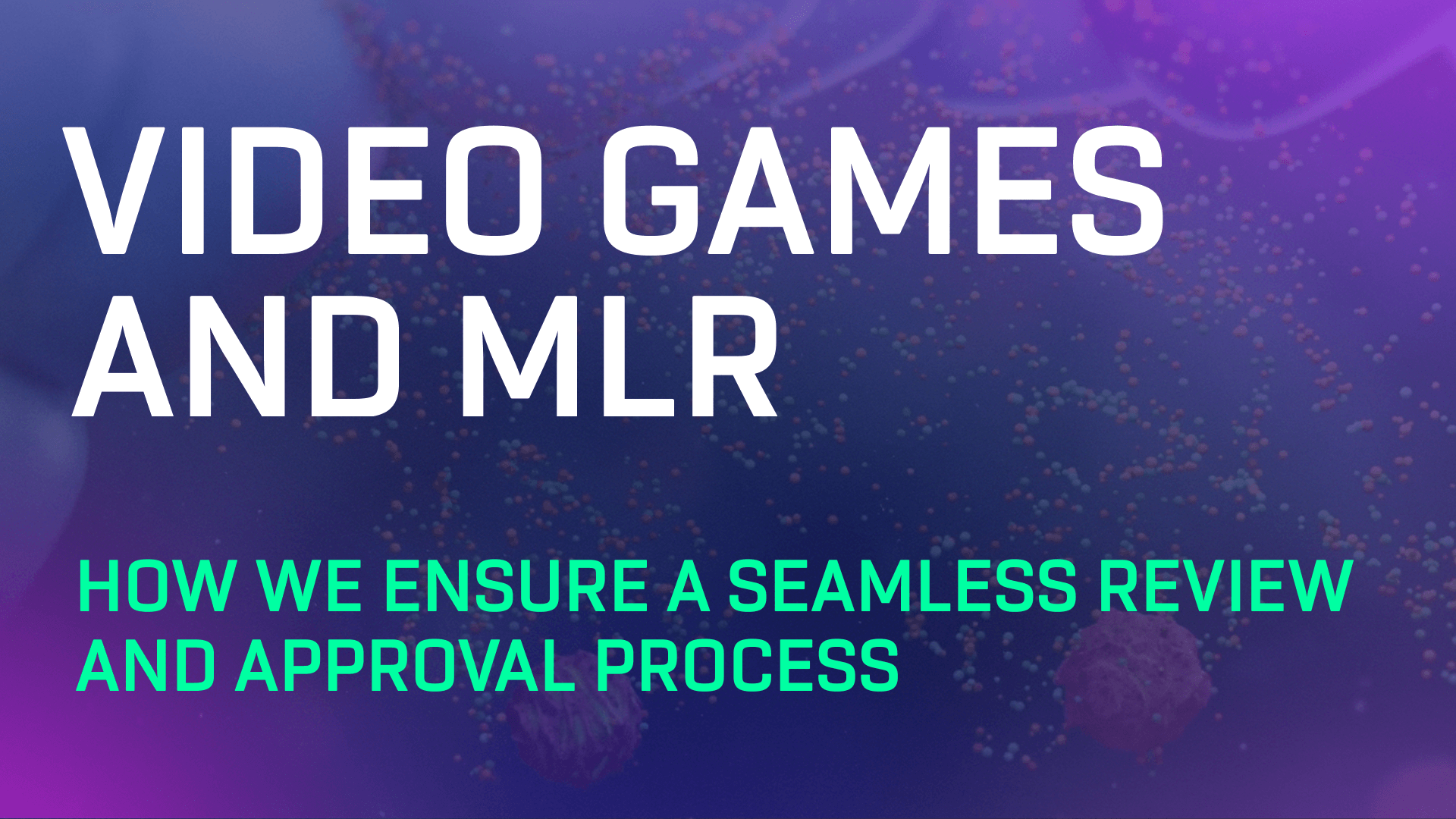 Part 1: Video Games and MLR: How We Ensure Seamless Approval
An MLR Expert's Strategies for a Seamless Review and Approval Process
You can't wait to build this game. After meeting with Level Ex, you've decided on a concept that's going to extend HCP engagement and highlight your brand's differentiation to drive adoption. It's going to light up all the right parts of the brain—rewarding and memorable. You're eager to get this game in front of your HCPs, but a lingering concern gives you pause: the MLR review process. If you're wondering how a video game makes it successfully through the rigor of MLR approval, this post is for you. Below, Senior MLR Product Manager Rachel Mansfield shares her strategies for a seamless review process, ensuring approval.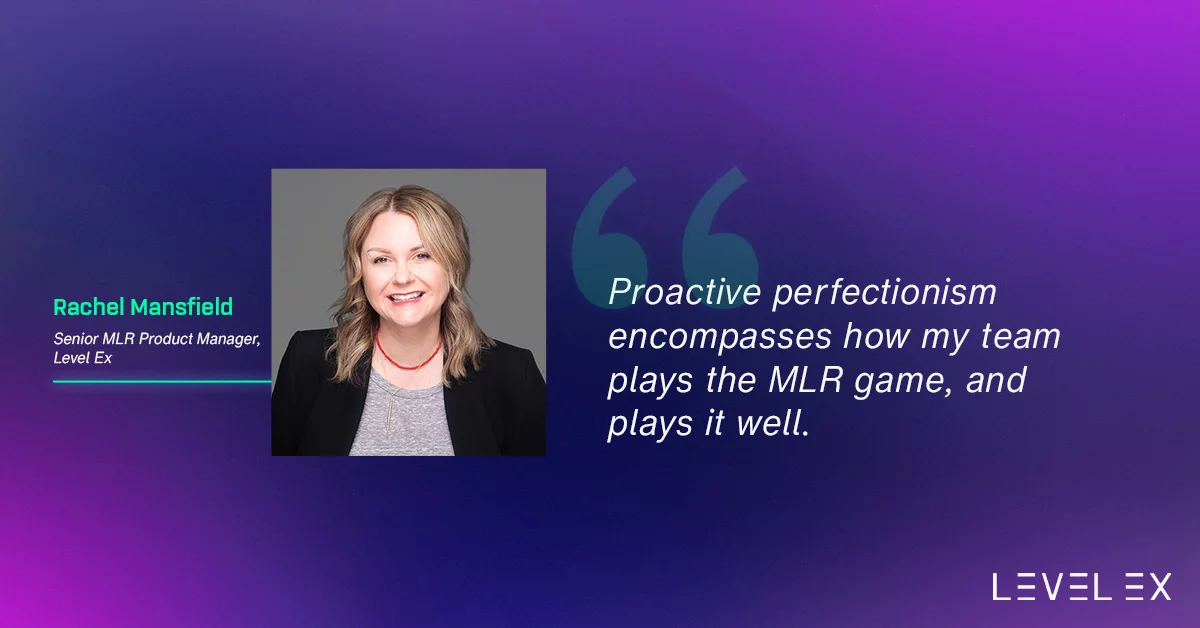 Rachel leads with 23 years of combined experience in agency marketing compliance management, content and design marketing, and project operations. Her role is unique in the life sciences industry–as she leads the only dedicated MLR team embedded in a video game studio. With an unmatched track record of successful MLR approvals, Rachel understands the many unique considerations involved in bringing interactive game content through medical, legal, and regulatory review.
Q: What kind of medical games do healthcare companies create with Level Ex?
We make games that improve the way medical professionals identify, diagnose, and treat patients. We do this across a dozen different therapeutic areas, such as dermatology, gastroenterology, oncology, and cardiology. This includes everything from diagnosing rare diseases on skin of color to performing virtual surgeries collaboratively. Healthcare companies come to us to help doctors understand the benefits of their products and how to use them properly.
Q: How many MLR assets are you bringing through approvals every year?
I've guided successful MLR processes with more than 30 different pharmaceutical and med device companies, receiving MLR approval from over 90 different brands, and more than 500 assets annually. Level Ex has launched a plethora of customized branded and unbranded professional gaming experiences for our clients. At any given time, we have around 20 projects in the MLR review/approval process.
Figure 2: Our MOA solution was designed for MLR compliance. Want to play? Click here to play and interact with our MOA solution!
Q: At what point do you and your team get involved in the MLR process?
At kickoff, I familiarize myself with the specifics of the brand or medical device and all things MLR-related. Once we have developed the content with the brand team, and a storyboard, my team reviews, substantiates, and contextualizes the content before submission. From there, we handle the submission and implement any changes, ensuring that our product is properly prepared for review by our client's MLR team. If possible, we even like to attend all live review meetings to provide necessary context and answer questions as they emerge. By doing so and asking the right questions on the front end for preparation, we set our clients up for smooth, successful approvals.
Q: What are the different submission systems you work with?
Most agencies do not have an MLR team, which generally designates the submission responsibility to their marketing team. Level Ex has dual capabilities: direct management and submission or stewarding the submission with our clients. We are the only video game studio trained and certified to submit materials directly to an extensive list of pharmaceutical companies through their review platforms such as Veeva Vault PromoMats and FUSE.
Q: Let's talk about timing. What happens if an MLR approval takes too long? Or if another MLR review is required?
In a perfect world, approval never takes too long and additional reviews aren't needed, but we know that's often not the reality. We understand the complexity of preparing assets for approval, and we're more than prepared to smooth out any wrinkles and maintain momentum. Our development team follows an agile methodology, so if an asset is held up by review, the team knows how to identify and eliminate the stopping blocks to keep a project moving forward. This is one of many areas where being all-digital is a major advantage—we can make updates to elements like ISI with ease. We design our game mechanics and tools to accommodate a wide range of typical MLR requests such as adjusting scale, ISI positioning, sequencing, branding, and more.
Q: What are some of the obvious considerations that you plan for?
Our MLR team reviews, substantiates, and contextualizes all promotional assets prior to submission. We're proactive throughout every aspect of the planning, development, and MLR submission to ensure a seamless review and approval process. For example, for any first-time clients or new products we develop, our team proactively adds a concept review with the regulatory team to the timeline. Doing this ensures that we address any concerns or red flags early, which drastically reduces any content, design, or development rework at a later stage. We also repurpose pre-approved content when possible and collaborate closely with the brand team to ensure a successful MLR approval.
Q: How does Level Ex balance the structure of MLR with the fun of playing a game?
It may sound strange, but as a team of game creators, we love rules. Rules are what define a game and set the balance between fun and challenge. Can you imagine checkers or chess without the rules that determine how each piece moves? So we actually embrace the rules that come from medical, legal, and regulatory confines. Some of our best—and most effective—designs come from constraints.
Want to see more? Have additional MLR-related questions for Rachel and our team? Contact us.